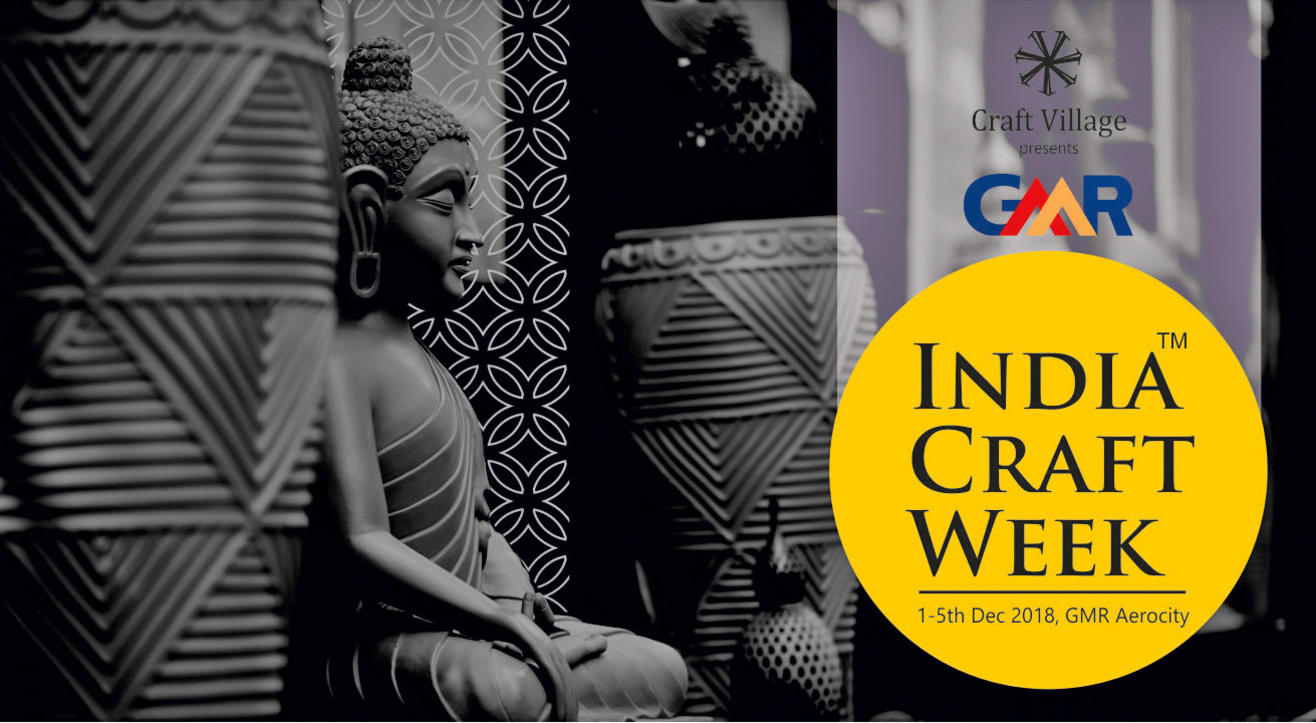 GMR India Craft Week 2018
Aerocity, New Delhi., Delhi
Step out and enjoy this event
Invite your friends
and enjoy a shared experience
GMR India Craft Week 2018
Aerocity, New Delhi., Delhi
Step out and enjoy this event
Invite your friends
and enjoy a shared experience
Invite your friends
and enjoy a shared experience
GMR in association with Craft Village, New Delhi presents the world's 4th Craft Week after London, Sydney & China, the 1st India Craft Week brings on board the rare & exclusive crafts of India together but in a new avatar. The week showcases finest folk/tribal art work by world masters through curated exhibitions, Exhibition by Award Winning Craftsperson, Craft Installations, Craft Workshops by Padma Shri /National Award Winners, Tribute Showcase to the legends of Crafts Sector, Gallery/Stalls by Luxury Brands & Craft-Preneurs, Craft Symposium (Talk & Knowledge Seminars) by Industry Leaders & Celebrities, Traditional/Folk Music & Dance and Much More...
Reasons to attend India Craft Week
CRAFT RARE;
10 hand-picked dyeing Craft Forms of India (as per Conde Naste Traveller's pick)

CRAFT RECORDS;
An exhibition of rare work on theme "Craft beyond Borders" by Artisans and Master Craftsman, Winners of International Craft Awards 2017 & 18, and record holders of Guinness Book of World Records/Limca Book of World Records in Hand-Made and Handicrafts.

CRAFT RHYTHM;
Folk, Traditional & Tribal Dance performances by authentic communities/individual. Folk Song, Folk Music by Various communities from across India

CRAFT PANORAMA; 10 exclusive celebrated folk paintings of India
•"Timeless Treasures" Exhibition of Indian & World Crafts; by witnessing most astounding and breath-taking work of world masters & craft legends, you have never seen before!
•The Art of Finesse: Miniature Paintings by Padmashri Shakir Ali
•Epic of Pabuji: Phad Paintings by Padmashri Shreelal Joshi & Kalyan Joshi
•Wall of Fame-Pichhwai; Deepak Soni (last four generation)
•From the Valleys of Kangra, Pahadi Miniature in Guler & Kangra Style by Padmashri Vijay Sarma
•Sacred Textiles; Mata Ni Pachhedi by Sanjay Chitara, National Award Winner
•Mystical Kalamkari by Padmashri Gurappa Chetty & J Niranjan
•The etched soul- Patchitra by Mantoo Chitrakar, National Award Winner
•The Desi Picasso's: Madhubani Paintings by Icon of Sante Fe, Manisha Jha
•London Diaries: Gond Tribal Art by World famous Bhajju Shyam
•World's First Expression- WARLI Painting, Sadashiv Soma Mashe (Son of Padmashri Jiva Soma Mashe)

CRAFT-LUXE;
•Exhibits by Craftpreneurs, Designers, Organisations and Brands working with handmade & handcrafted participating under following categories;
•Luxury (Premium, Niche, and Hand-Made Brands)
•Sustainability (Organisations/Brand that promote or practice Sustainability OR Sustainable Culture)
•Innovation (Organisations working on disruptive products and processes in Craft Sector)
•Social Inclusion (NGO's & Social Organisations working for Women, and up-liftment of socially backward sections)
•Design (Designer & Design Labels working with Craft Sector)

CRAFT WORKSHOPS;
•One of the largest bouquet of 25+ craft forms for everyone through live demonstrations. The objective is to provide a platform for learning and sharing Rare & Exclusive Traditional Crafts, which finally helps in up-liftment of Craftsman and their communities. The initiative has been taken to educate children in their formative years to understand the importance of Crafts in nation building, livelihood, social inclusion & sustainable culture besides giving major source of employment to millions of people.
•Magic Ikat Weaving by Padmashri Gajam Govardhana & Guda Shrinu, National Award Winner, Govt. of India
•Phad Painting by Kalyan Joshi, National Award Winner, Govt. of India
•Ramgarh Clay & Pottery by Om Prakash Galav, National Award Winner, Govt. of India
•Kantha by Mahamaya Sikdar, National Award Winner, Govt. of India
•Art of Braiding by Erroll Pires Nelson, NID Professor
•Mystical Kalamkari by J. Niranjan, Nantong International Award Winner
•Jaipur Blue Pottery by Ramnarayan Prajapat, State Awardee
•Phulkari by Simran Harika, World renowned Phulkari Artist
•Pashmina Shawl Weaving by Majid Mir, National Award Winner, Govt. of India
•Mandana by Lakhichand Jain, National Award Winner, Govt. of India
•Chamba Rumaal Embroidery by Lalita Vakil, Shilpguru and President Gold Medalist
•Portrait Textile Weaving by Rajendra Ankam, State Awardee
•Jugaad by Shyam Kumar, NID Graduate
•Madhubani by Manisha Jha, National Award Winner, Govt. of India
•Gem Stone Jewelry by Prithviraj Kumavat, National Award Winner, Govt. of India
•Kutch Embroidery by Raksha Ben, Nomadic Craftswomen
•Natural & Indigo Dyeing by Dr. Himadri Ghosh, Academic Head, NID
•Pichhvai by Mahesh Bishnoi, Last generation of Pichhwai Painters
•Gond Painting by Padmashri Bhajju Shyam
•Wood Carving by Rupan Matharu, National Award Winner, Govt. of India
•Patachitra by Srimanta Dash, Authentic Craftsman from Raghurajpur, Orissa
•Miniature Painting by Rajasthan Kalakar
•Hand Carving Workshop by Dr. Gattem Venkatesh, Guinness Book of World Record Holder
•Block Printing by Laxmi Lal Chhipa, National Award Winner, Govt. of India
•Bamboo Mat Weaving by N.C Ayappan, Winner of ICA 2017. (Separate Registrations Charges for all workshops)


*Workshop tickets also grant entry to the event.

CRAFT SYMPOSIUM;
Panel discussions and interactive sessions have been planned by the most eminent/celebrated personalities of Craft Sector on various topics, agenda for developing a comprehensive vision for Craft Sector (Separate Registrations Charges for all Symposium or by Invitation/Registrations)

CRAFT INSTALLATION;
The Craft Installations by eminent artists and Craftspersons.

The only event that promotes Heritage, Culture & Sustainability in Hand-Made/Hand-Crafted.

ICW balances Tradition with contemporary , focuses on 'rare Handcrafted ' products 'Designed, Developed, and Made in India', it brings on board the finest work, skills, creativity and imaginative journey from every participant, who has connected Aspiration with Need, Desire with Want, and Crafted Luxury with responsibility. It is an opportunity for everyone to get connected with Indigenous & Traditional Craftsman whose ancestors have been practising various Crafts for many centuries. The week also brings the best from around India in lifestyle and luxury, which is "Handmade" and "Crafted" with finesse.
Aerocity, New Delhi.
Unnamed Road Aerocity, Indira Gandhi International Airport New Delhi, Delhi 110037
GET DIRECTIONS
GMR India Craft Week 2018
Aerocity, New Delhi., Delhi
Step out and enjoy this event
Invite your friends
and enjoy a shared experience