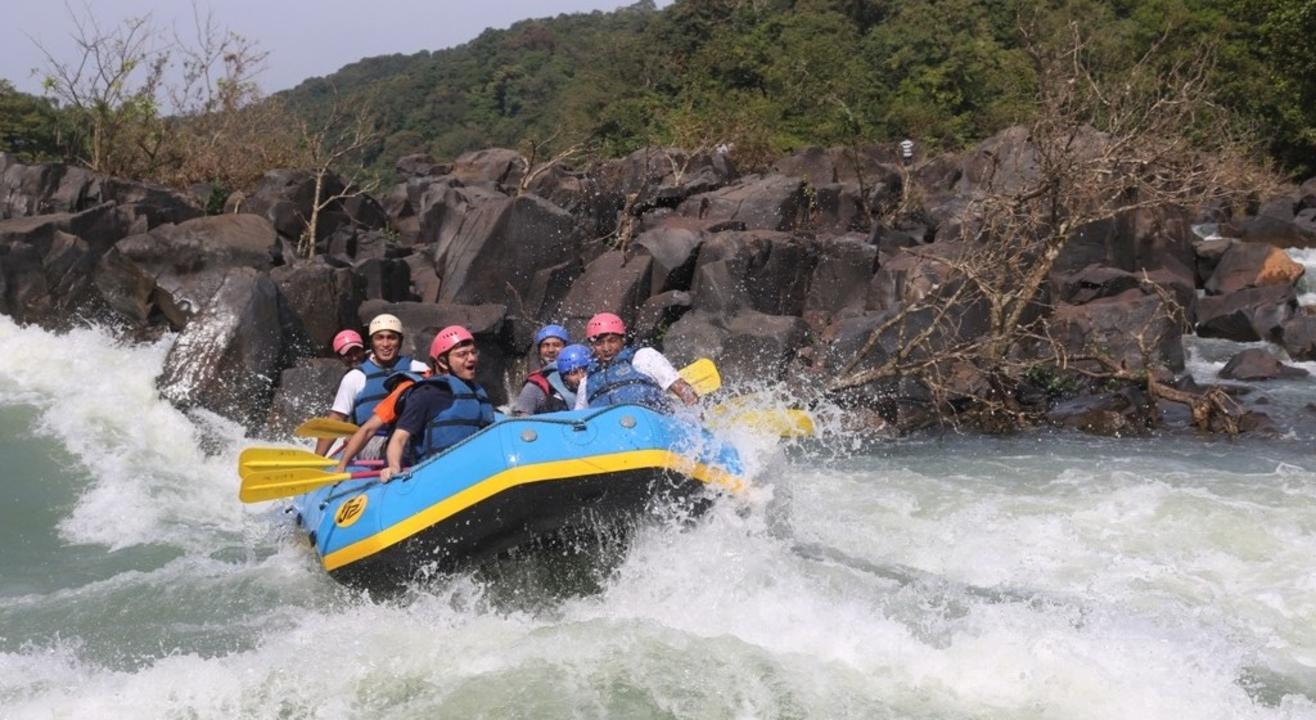 Go Wild In Dandeli | Namma Trip
Step out and enjoy this event
Invite your friends
and enjoy a shared experience
Go Wild In Dandeli | Namma Trip
Step out and enjoy this event
Invite your friends
and enjoy a shared experience
Invite your friends
and enjoy a shared experience
Dandeli is a town in the western Indian state of Karnataka. The Dandeli Wildlife Sanctuary, with its trails and dense forests, is home to animals including black panthers, monkeys, and elephants, as well as many bird species. A temple stands at the entrance to the limestone Kavala Caves, known for their stalagmite formations. West of the caves, Anshi National Park encompasses the Kali Tiger Reserve.
Slots for the trip: Usually between 10-50
Stay: At our cozy jungle campsite on sharing basis with neat & clean basic facilities - Tent stay
Food: 2 Breakfasts, 1 Lunch, 1 Dinner ( Veg/non veg Buffet Included )
Local Style Food Menu
Duration of the Trip: 2 Days/3 Nights
Where: Dandeli, North Karnataka
ITINERARY
DAY 0
We will pick you up from various designated spots in Bangalore and we'll start our overnight Journey to Dandeli
DAY 1
Reach our campsite in the morning, freshen up, load up on some breakfast and get ready for a Day Filled with adventure.
Start Your Crazy adventurous filled water activities
Back to the campsite for lunch and onto the next Adventure
Visit Sun Set Point at Dandeli Back Waters on the way back, relax and unwind for some time and enjoy the breathtaking sunset
Reach the campsite where delicious dinner will be served. We'll have a campfire, you can enjoy some music and good food
When you've had enough of the day, you can rest in your tents or rooms provided, If you want to keep going at it all night, be our guest
Accommodation in tents
DAY 2
Wake up early and get ready for a sunrise hike ( Nature Walk Within the property)
Eat breakfast and keep your belongings packed.
Explore Dandeli town. Hike through the Jungles of Dandeli, Witness Syntheri Rocks in the middle of Dandeli Wildlife Sanctuary
Have some local style Self-Sponsored lunch and laze around Dandeli for a while.
Eat dinner on the way back and reach Bangalore early hours of Monday or by Sunday midnight to Bangalore.
Stay
=> Camp stay on Double or Triple Sharing Basis, with common washrooms
=>Mattresses, pillows, and blankets will be provided with the tents.
Meal
=> Breakfast- 2
=> Packed Lunch-1
=>Dinner-1
=>Evening snacks & tea
Activity
=>Trekking
=>Sightseeing
=>Camping
=>Bonfire (Only If Weather Permits)
=> 10+ Watee activities ( Including Rafting & Zipline )
Other Inclusions
=>Forest Permits.
=>Lifejackets
=>Service of an expert guide.
=>First aid
Excluded
=> Food During travel
Transport
=> Non-A/C Shared Bus, from Bangalore to Bangalore (Route will be decided by trek leads)
IMPORTANT NOTES
Some of the Water activities are seasonal. In that manner the trekkers has to choose the other alternative options which are available.
Due to unavoidable circumstances, if rafting is not allowed, other water activities like , zip lining will be provided.
Once you've booked your tickets, we will reach out to you and provide you with more information like exact pick-up times, coach details and more.
Mode of Transport will be TT or Coach depending on final numbers.
Our facilities are neat and top-notch but not luxurious.
Things To Carry
=>Xerox copy your ID proof
=>Strong backpack for trekking.
=>Water bottles
=>Clothes for two days and an extra set of clothes.
=>Sunscreen and sunglasses
=>Cap/hat
Trek: Cancellation Policy
=>If cancellations are made 7 days days before the start date of the trip, no cancellation fees will be applicable.
=>Same Day cancellations are non refundable.
=>In case of unforeseen weather conditions or government restrictions, certain trips or activities may get cancelled. In such cases we will try their best to provide an alternate feasible. However a cash refund will not be applicable for the same.
Advisory
=> We need minimum 8 participant to confirm this event. In such cases we will try their best to provide an alternate feasible.
=>Make sure you bring one Xerox copy your ID proof without fail.
=>No smoking and consumption of alcohol before or during the activity.
=>Carrying jewelers or other valuables is not advisable.
=>Do not expect separate accommodation as it is a group trip.
=>Drop points will be the pickup points
=>Bring your own mask and sanitizer.
=>Adventurous trek/trip does NOT come with luxury, so please have the mindset accordingly
=>Strictly follow the Reporting time, Program schedule and Instructions given by the Organizers through the entire duration of the program.
=>Please don't throw the plastic and garbage in Forest
=>No door drops/pickups.
=>No hot water available in home stay.
=>Sunday Lunch and dinner will be self-sponsored.
=>Event Schedule, route and Plans are subject to change in case of any inconvenience that occurred at the time of tour without any prior intimation. Travelers have to adjust to any such consequence.
About NammaTrip


We as an Adventure company aim to show you nice people the most beautiful and pristine places in Karnataka.
Preserving the cleanliness & beauty of our beautiful land is our topmost priority.
Go deep into nature
Hike to see the beauty of the sunrise.
Trek to beautiful mountains.
Dip in the beaches of our beautiful coast.
Hike through the mystical rainforest of the Western Ghats.
Come Experience Namma Karnataka
Go Wild In Dandeli | Namma Trip
Step out and enjoy this event
Invite your friends
and enjoy a shared experience