Riva Beach Resort, Goa, Goa
Step out and enjoy this event
Invite your friends
and enjoy a shared experience
Riva Beach Resort, Goa, Goa
Step out and enjoy this event
Invite your friends
and enjoy a shared experience
Invite your friends
and enjoy a shared experience
The final line up of artists playing at Goa Sunsplash 2018 has been announced. The headliners for this edition include legendary Jamaican singer Johnny Osbourne, dub pioneer Mad Professor and two of the hottest reggae stars in Europe, Skarra Mucci and Naaman. There is a strong local
flavour with The Fanculos and Boombay Djembe Folas both from Mumbai, making their debuts at Sunsplash. In addition, stalwarts of the Indian reggae scene like Delhi Sultanate & Begum X, Reggae Rajahs, Dakta Dub, Rudy Roots, Roman NZ and of course the hand built 10,000 Lions Sound System will be there.


Goa Sunsplash is an international reggae festival happening on 13th and 14th January 2018 at Riva Beach Resort, Mandrem. It is South Asia's largest celebration of reggae culture with 3 music spaces catering to all styles of reggae music from dub to dancehall. Guests will enjoy a live stage, a dancehall arena and a roots reggae area powered by the custom made 10,000 Lions Sound System. Food from some of Goa's finest eateries will be available and the flea market will be stocked with crafts from around the world. Artists from over 25 countries have played at previous editions of Sunsplash and guests from over 50 countries have attended the festival before. Previous headliners include General Levy, Zion Train, Brother Culture, Naaman, Cali P and Manudigital.
Goa Sunsplash 2016 // Official Aftermovie
Goa Sunsplash 2017 // Official Aftermovie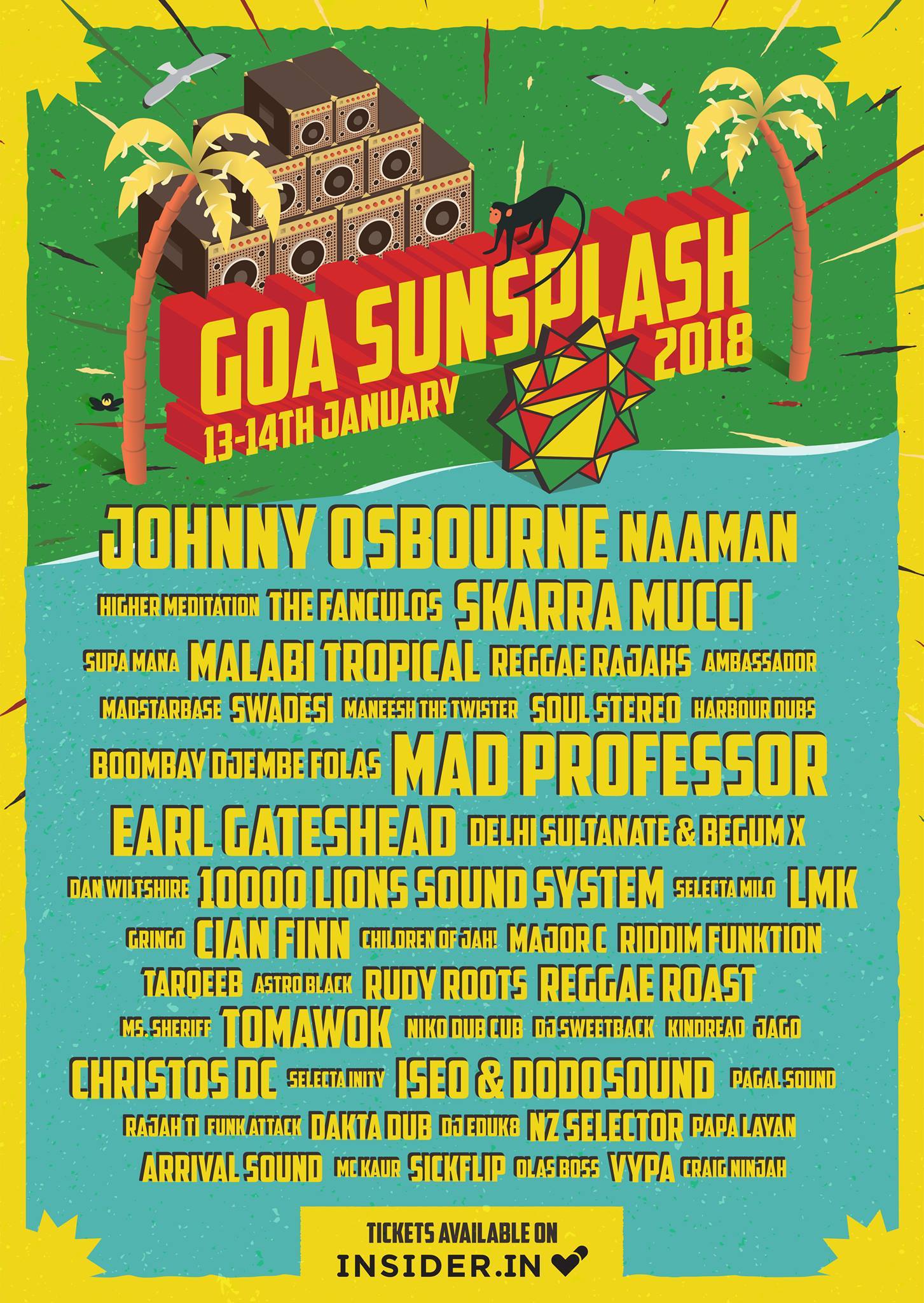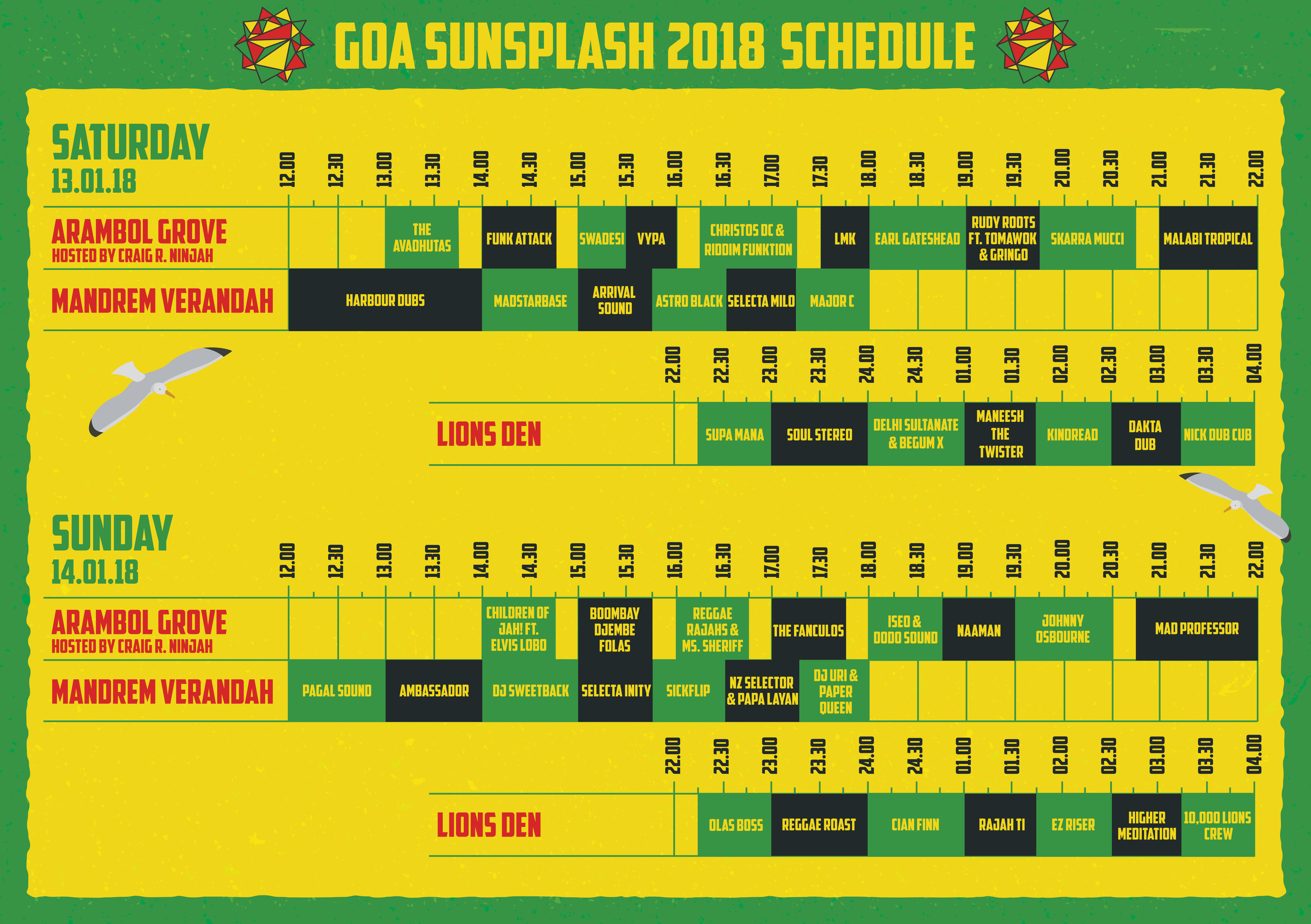 Johnny Osbourne is one of the most popular Jamaican reggae and dancehall singer of all time, who rose to success in the late 1970s and mid-1980s. His album Truths and Rights was a roots reggae success, and featured "Jah Promise" and the album's title track, "Truths and Rights". Johnny also enjoyed big hits with covers of U.S. soul tunes like Ready Or Not and Earth Wind and Fire's Reasons. Osbourne is also the most in-demand vocalist for dubplates due to the number of dancehall classics he's had. This has resulted in the nickname Dancehall Godfather. He is probably best known for his mid-1980s dancehall reggae hits "Buddy Bye" (based on King Jammy's Sleng Teng riddim), "Ice Cream Love" and "Water Pumping
In 2012, his track "Mr. Marshall" was sampled in Major Lazer's single, "Jah No Partial".

Mad Professor is a dub music producer and engineer known for his original productions and remix work. He is considered one of the leading producers of dub music's second generation and was instrumental in transitioning dub into the digital age. He has collaborated with reggae artists such as Lee "Scratch" Perry, Sly and Robbie, Pato Banton, Jah Shaka and Horace Andy, as well as artists outside the realm of traditional reggae and dub, such as Sade, Massive Attack, The Orb, and Brazilian DJ Marcelinho da lua.
Since the 1990s he has remixed tracks by Sade, The Orb, The KLF, Beastie Boys, Jamiroquai, Rancid, Depeche Mode, Perry Farrell and Japanese pop singer Ayumi Hamasaki. His best-known project, perhaps, is 1995's No Protection, an electronic dub version of Massive Attack's second album, Protection. He has also done a version of I and I for New Zealand reggae band Katchafire, three versions for New Zealand electronic group Salmonella Dub and twelve remixes for Japanese musician Ayumi Hamasaki.

Skarra Mucci is a Jamaican born artist, known as one of the most versatile singers of his generation. With constant changes between Soul, Gospel, Reggae, Dancehall, Rap and R and B his talent is incomparable. His endless lyrical flow and creativity make his style unique and which earned him the title "lyrics millionaire".
Skarra Mucci has released 6 albums since his debut solo album Rise and Shine (2007). In 2012 he released Return of the Raggamuffin which went to number 1 across Europe above Sean Paul and many more giants in the business. His latest release "Greater Than Great" was one of the best selling album in 2014 and was awarded the best dancehall album in France.
Riva Beach Resort, Goa, Goa
Step out and enjoy this event
Invite your friends
and enjoy a shared experience