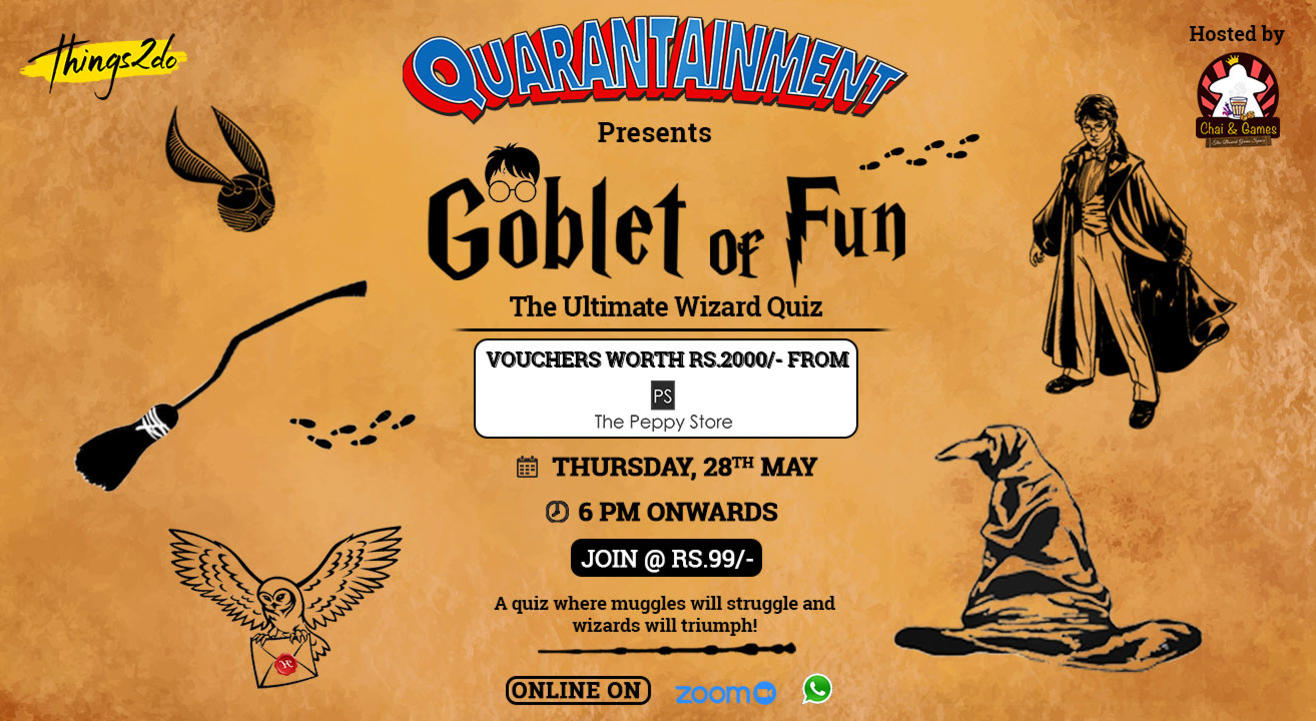 GOBLET OF FUN! The Ultimate Wizard Quiz
Invite your friends
and enjoy a shared experience
Invite your friends
and enjoy a shared experience
About the Event
Attention Potterheads, Things2do presents a magical, Harry Potter inspired quiz night and all you wizards are invited!
A quiz where muggles will struggle and wizards will triumph! Show off your Harry Potter trivia, have lots of fun and take away official Harry Potter vouchers from The Peppy Store.
So C'mon, Prove You're A Wizard By Acing Our Harry Potter Quiz - Goblet Of Fun! Hosted by Chai & Games.
Date: 28th May 2️⃣0️⃣2️⃣0️⃣(Thursday)
Time: 6pm onwards
The winners can win vouchers from The Peppy Store
1st price - ₹2000/- unconditional voucher
2nd price - ₹1000/- unconditional
3rd gets - ₹750/- unconditional
Top 20 Participants - 10% Discount on online shopping
Register with your whole gang so that you can all whisk away somewhere magical during the lockdown.
Tickets: Rs. 99/- ONLY!
Rules & Regulations:
➡️ The game will be played live on WhatsApp and Zoom.
➡️ The clues will be sent on both the WhatsApp group and on Zoom.
➡️ The players and the moderators will be on WhatsApp and Zoom.
➡️ The participants will have to send their answers on the WhatsApp group.
➡️ The first message on the screen will be prioritized.
➡️ Only one answer per person is allowed.
➡️ Correct spelling is compulsory. Points will be awarded only to the fastest answer with the correct spelling. (Exception to this rule will be mentioned for particular questions)
➡️ The answer has to be sent in one message, not via multiple messages.
➡️ The questions will be asked verbally as well as on WhatsApp.
➡️ The order of answers received will be considered from the moderator's phone.
➡️ For each question: 1st, 2nd and 3rd right answer get points. Each round the points awarded are different, the number of points per question will be mentioned at start of round.
➡️ Total of each round determines the winner, in case of more than one winner, a tie breaker question will be asked.
➡️ In case of a winning dispute, the moderator takes the final call.
➡️ The winners will be announced at the end of the game on Zoom and WhatsApp and not after the end of every round.