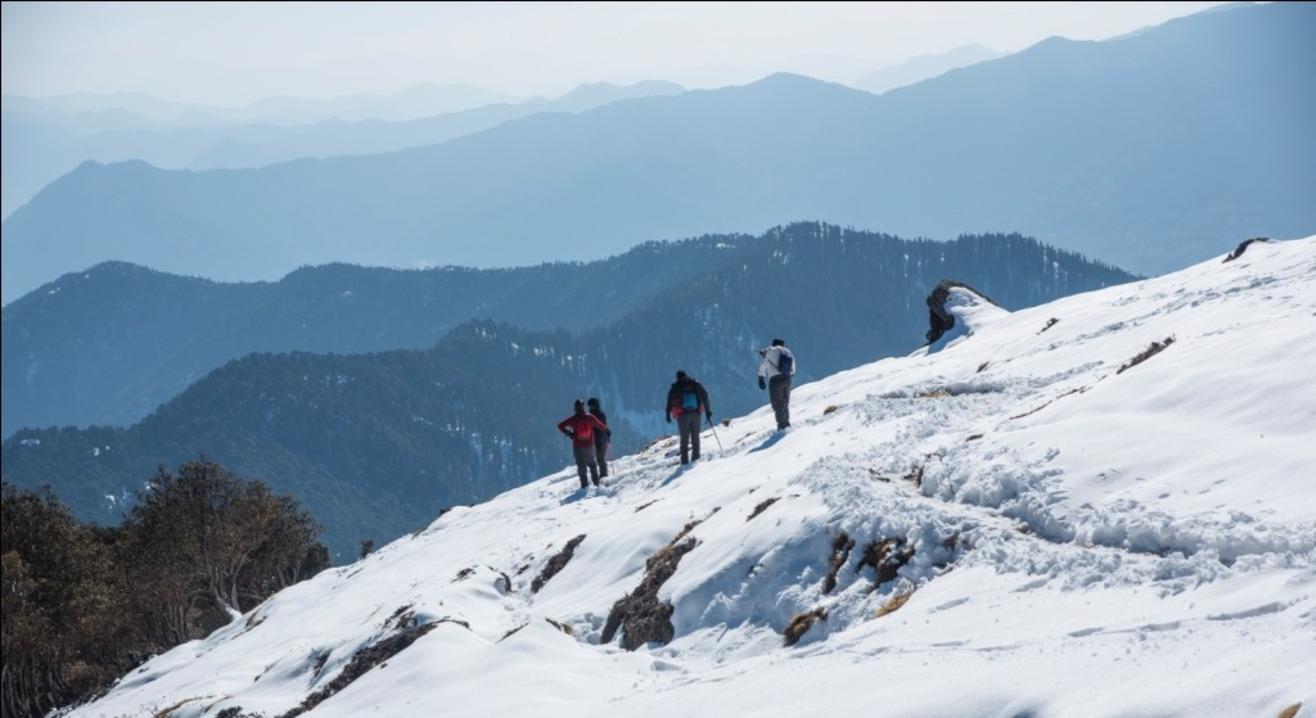 Adventure
Goechala trek, Sikkim, 2020 - Safarnama
April 3 | 6AM - April 12 | 6PM
About
Goechala Trek is a popular trek located in Sikkim, India in the Himalaya range. Goechala Trek is passes through the thick forest of rhododendron, pine, oak, chestnut and maple trees. Trekkers may spot the beautiful animals and birds like mule, yak and the family of leiothrichidae and also get the opportunity to see the close up view of gigantic mountains like Kabru, Simovo and Mt. Pandim. The main attraction of Gancha La Trek is the enchanting views of the Kanchenjunga known as sleeping buddha (8586m), Talung (7349m), Rathong (6679m), Kabrus (7318m), Pandim (6691m) and Jupono (5650m).
At the time of trekking in the Himalaya, physical fitness is an important part. Trekking is like any other athletic sport, you need to be physically fit before startling a trek.
REGION Sikkim
DURATION 9 days
ALTITUDE 16,200ft
BEST TIME April to June, September to October
TOTAL TREKKING DISTANCE 90km.
DAY 1 Arrival to YUKSOM
This day is a briefing and resting day. Arrive in Yuksom and get to know about your Goechala trek. Additionally if you wish you can visit multiple places in Yuksom.
Kanchenjunga Waterfalls
Dubdi Monastary
Norbugang
DAY 2 YUKSOM to SACHEN
Distance 8km
Altitude 7200ft
The trek starts from Yuksom to Sachen. Yuksom is also known as the Gateway of Kangchendzongha. The meaning of the word Yuksom is meeting place of the three lamas. Yuksom is the base camp for many treks
Trekkers may enjoy the local cuisine of this place and get an opportunity to eat yak cheese momos. The trail starts through the beautiful village and along the Prek Chu river valley. After crossing the first bridge Pha Khola, the trail is through the deep forest of oak, bamboo, pine and fir trees. Trekkers may see the landscape, the view of the beautiful river and the bridge which connects these beautiful formations and give some outstanding views to the mountains. After walking few steps, the trail take us to the Tshushay Khola waterfall (second bridge) and continues through the forest to sachen. The last bridge is Mentogang Khola on the way after that you will reach in the first campsite at sachen. Stay overnight in the tents with the relaxing sound of water.
DAY 3 SACHEN to TSOKHA via BAKHIM
Distance 7 km
Altitude 9700ft
The trail goes through the beautiful lush green forest of rhododendron and juniper trees. Trekkers are always eager to go to the evergreen forest to feel the breath of nature and grab the opportunity to spot varieties of birds, animals. The trail continues to Tsokha, which passes through the small hamlet Bakhim. It is surrounded by the forest of orchids, giant magnolia, ferns and rhododendron. Bakhim has a small tea banglows for refreshments and trekkers can refill water from here. Climb up to Tsokha, watch the majestic view of Kanchenjunga, Ratong, Kabru and Koktang. The trek is about 7 kms from sachen leads you to Tsokha. Stay overnight at Tsokha with the beautiful presence of Mt. Kanchenjunga and its surrounding peaks.
DAY 4 TSOKHA to DZONGRI via PHEDANG
Distance 9Km
Altitude 12980ft
Tsokha is a small hamlet. The trail goes through wooden paths and is surrounded by the beautiful rhododendron trees. Rhododendron display their colorful blooms in spring season. After few hours walking to Dzongri, finally reaches Phedang. Trekkers may see the clear view of the snow clad mountains and beautiful landscapes. This is an excellent place to have some refreshment with the wonderful view of the peaks. The trail continue through forest and you prepared for another outstanding view of gigantic peaks from Dzongri like Koktang, Rathong, Kabru, Khangdendzonga and Pandim.
DAY 5 DZONGRI to THANSING VIA KOKCHARANG
Distance -10km
Altitude 12900ft
The beautiful rhododendron blooms everywhere along the trail where you will spot the unique bird species. The trail descent to kokcharang, passes through the forest. Take a break at Kokcharang, have some refreshment and move. After crossing the Prekchu River and the trail passes through the green forest. After few hours walking, you will reach Thansing and from here you get astounding view of Pandim and Tiechen Khang. Overnight stay in the tents.
DAY 6 THANSING to LAMUNEY
Distance 4 km
Altitude 13,650 ft
The trek starts from Thansing to Lamuney, mesmerising view of the Pandim is on left, Jopuno and Tienchen khang on right. The trail is surrounded by the mountains and quite decent to Lamuney. Lamuney is in the base of Pendim peak. Trekkers may see the view of the surrounding mountains. The trail continues through the trekkers hut. After few hours you will reach on Lamuney.
DAY 7 LAMUNEY to GOECHALA VIA SAMITI LAKE AND BACK TO LAMUNEY
Distance 18 km
Altitude 16,000 ft
The trail leads from Lamuney to Goechala via Samiti Lake. This is the longest day trek. Walking towards north, you will reach Samiti Lake. Several glaciers and streams can be seen on the left of the trail. The spectacular natural beauty and the epic view of the sunrise will fall in love with this place. Continuous walk through the side of the mountains and the trail take us to rectangular sand bed called Zemathang, where trekkers may see the beautiful sunrise. After steep descent, there is a lake on our left called Goechala Lake. After few steps, finally reached Goechala. You can simply treat your eyes on the outstanding view of the Kanchendzongha in front and simvo to its right. Apart from the magic of standing at Goechala, natural beauty and peaceful aura is an opportunity to enjoy the beautiful trek. After capturing stunning pictures, we retrace our steps to camp.
DAY 8 THANSING/KOKCHARANG TO TSOKHA VIA PHEDANG
Distance 16 km
Altitude 9700 ft
The trail with small descents and ascents leads us to the scenic forest. From Kokcharang, the forest with covered stone and streams around will keeps you spellbound. Walking towards Tsokha, through a thick forest. The downward trek to Tsokha in few hours. Overnight stay in Tsokha.
DAY 9 TSOKHA TO YUKSOM
Descent back to Yuksom. The last day of the trek is easy does not take much time to reach Yuksom.
Mandatory Things to Carry
Trekking shoes: Not sports shoes. The shoes need to have soles with good grip and ankle support. We recommend FORCLAZ 100 and 600 from Decathlon. Wear the shoes for a week prior to the trek to avoid shoe bites/blisters on slope.
Backpack (40-60 litres): Backpack with sturdy straps and a supporting frame. Rain cover for backpack is essential.
Clothes
Full sleeve woolens (2 pairs including the one you are wearing):We endorse fleece over wool as it is light weight, compact and warm. It is better to layer your clothing with multiple light sweaters than to carry one thick heavy jacket.
Thick jacket: Carry 1 full sleeve windproof jacket/down jacket.
Trek pants (3 pairs including the one you are wearing): We highly endorse synthetic quick-dry pants as they are light. Plus, when its cold you can wear one over the other. While trekking, a pair is what you would carry apart from the worn. You could keep the third pair for your return journey. Alternative would be cotton pants with many pockets or track pants. Jeans, shorts and 3/4 pants are not suitable for trekking.
Collared t-shirts (3 pairs including the one you are wearing):Preferably light, full sleeve t-shirts that prevent sun burns on the neck and arms. Avoid loud colors that would distract birds and animals.
Thermal inners: 1 pair of lightweight, upper and lower. Thermal inners are optional for those who are more sensitive to the cold.
Accessories
Sunglasses: Curved ones will cover your eyes well. No blue coloured sunglass they dont block UV. Blacks, greens, browns are fine. Avoid multi tone sunglasses. Sunglasses are to prevent snow blindness. People who wear spectacles, choose either contact lenses or photo chromatic glasses. If both are not possible, wear your spectacles and carry big sunglass that can be worn over your spectacles.
Cap: To protect your head from the direct heat of the sun, protect your face and neck from sunburns. The cap must cover your ears and neck.
Synthetic hand gloves: One pair of fleece or woolen hand gloves. One pair of water proof/resistant, wind proof gloves.
Poncho: A lightweight poncho is preferred because unlike raincoats, it covers your rucksack as well. A poncho is indispensable for the Tarsar Marsar trek as light showers are expected
Socks (3 pairs): 2 cotton pairs, 2 woolen pairs (mostly to be used on campsites and while sleeping. Keep them dry.)
Headlamp/LED torch: Mandatory
Trekking Pole: Trekking pole is mandatory.
Others
Daypack (20 litres): It is mandatory to carry a daypack if you choose to offload your backpack. If you decide to carry your backpack, day pack is not required.
Toiletries (Sunscreen SPF 40+, moisturiser, light towel, lip balm/chap stick, small soap, toilet paper)
Repair kit (needle & thread)
Camera: Carry all accessories spare batteries, charger, etc.
Cutlery: Carry a spoon, coffee mug and a lunch box. We insist on trekkers getting their own cutlery for hygiene reasons. To save weight, you may use your lunch box instead of carrying a plate separately.
Water bottles: 2 bottles, 1 Litre each. Packaged drinking water bottles like Aquafina, Bisleri and others are not allowed.
Headlamp/LED torch: Mandatory
Plastic covers: While packing, use plastic bags to compartmentalize things and carry few extra plastic bags for wet clothes. While packing, use plastic bags to compartmentalize things and carry few extra plastic bags for wet clothes.
Mandatory Personal Medical Kit
Diamox 10 tablets (to prevent AMS)
Crocin 6 tablets (fever)
Avomine 4 tablets (motion sickness)
Avil 25mg 4 tablets (allergies)
Combiflam 4 tablets (Pain killer)
Disprin 6 tablets (headache)
Norflox TZ & Lomofen 6 tablets each (diarrhea)
Digene 10 tablets (acidity)
Omez/ Rantadine 10 tablets (antacids)
Crepe bandage 3 to 5 meters
Gauze 1 small roll
Band aid 10 strips
Cotton 1 small roll
ORS 10 packets
Betadine or any antiseptic cream
Moov spray (aches, & sprains)
Mandatory Documents
Please carry the below documents. Document two and three need to be downloaded (PDF), filled in, signed and handed over to the trek leader at the base camp.
Without these documents you will not be allowed on the trek.
Original and photocopy of government photo identity card- (driving license, voters ID, etc.)
Medical Certificate, and disclaimer (to be filled by the trekker)
Medical certificate (to be filled by a doctor)
Inclusions
Meals during the trek (Starting Lunch on Day 2 till Breakfast on Day 9)
Forest Permits/Camping Charges , if any (Upto the amount charged for Indian nationals)
1 Nights guest house stay in Yuksom on sharing basis
Tents on twin sharing basis, Sleeping bags, mats
Safety Equipment includes static rescue rope, seat harness, carabiners, pulleys
Services of an experienced Trek guide, cook, helpers.
Porters or mules for carrying common supplies
Mountaineering course certified Trek Leader with First Aid certification