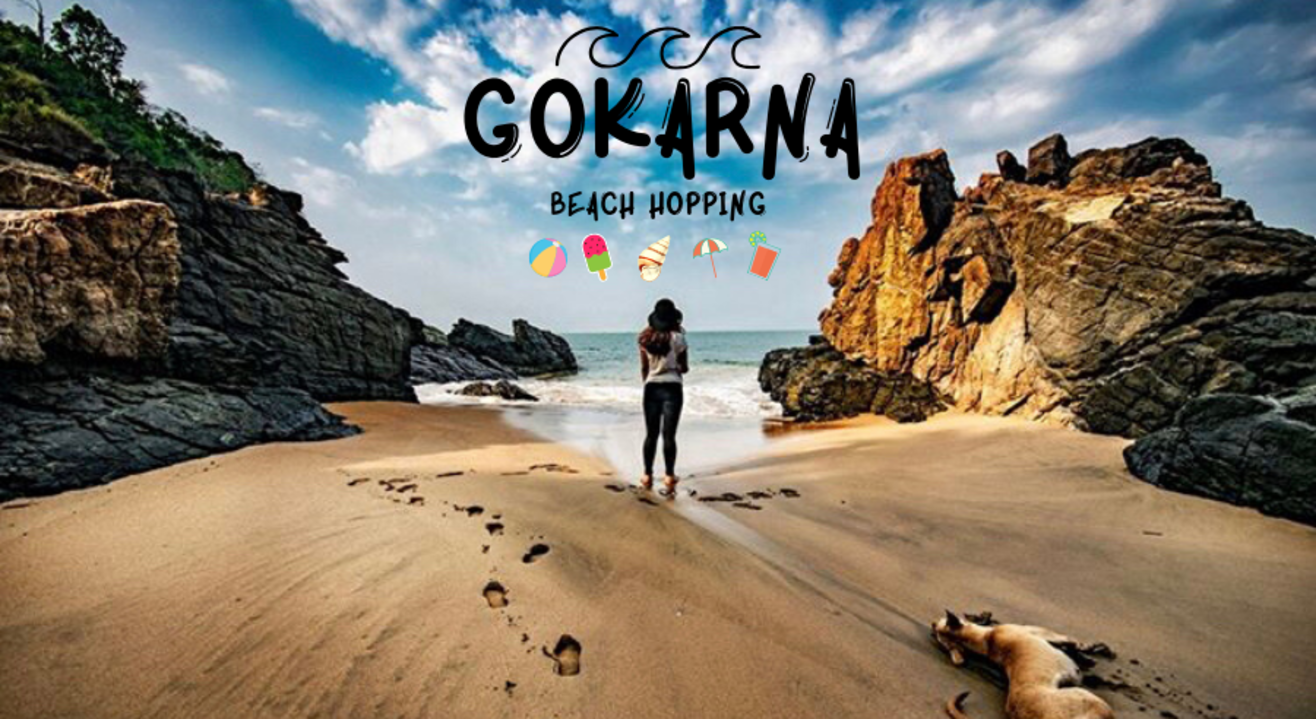 Adventure
Gokarna Beach Hopping
December 6 | 4PM - December 9 | 8AM
About
Goa being too crowded and mainstream, Andamans being a bit too far and Lakshadweep being super expensive, are you looking for an awesome yet budgeted beach holiday? With its unspoiled beaches and spectacular landscapes, Gokarna is one breathtaking piece of heaven in Karnataka for beach hippies like you!!
The land of palm trees, blue seas and golden sands around, where eternity begins and ends with the ocean's tides, Gokarna is a town of contrasts. Not only known as a temple town but also a perfect beach holiday destination and a great place to go for trek lovers.
This has got to be one of the most chilled out & dirt-cheap backpacking trips you'll ever have! :D
Detailed Itinerary:
Day 1: (Friday)
16: 00: Board the Matsyagandha Exp from Mumbai (LTT)
The journey begins right here, in this very train! Sing songs, play cards and read your fav book- as you gear up for what could be the best weekend of the year!
PS: We have booked limited train tickets (RAC/Confirmed; depending on availability) in advance so that you can avoid the headache of booking yourself a ticket (Also, bus tickets to Gokarna are expensive)
If you need any other travel assistance, feel free to connect with us on 88 502 58 278
Day 2: (Saturday)
06:10: Get down at Gokarna Rd railway station where our team will pick you up by private vehicles and transfer to our homestay at Kudle Beach.
Kudle is a picturesque beach bounded by hills on three sides. A perfect beach to spot the beautiful sunset and unwind with nature at its best. A complete loner, this beach offers the most silent and serene atmosphere to walk along the shore or simply sit down and observe the never-ceasing tides!
Here, we check in at our pretty little hostel and rest for a while after having a delicious breakfast. Overnight train journeys tend to be exhausting sometimes, so we'll leave it up to you to do whatever pleases you. Go for a swim, do some sunbathing or simply relax on a hammock. You do you! (The welcome breakfast's on us by the way :D)
14:00: Gather up, troops! Time for a trip to the secret beach!! (Sssshhhhhh)
THIS IS GOING TO BE THE MOST STUNNING BEACH YOU HAVE EVER BEEN TO. PERIOD!
Don't forget to get your picnic essentials here, we're gonna be watching one heck of a sunset today :)
Post the Secret beach trip, we come back to our hostel and call it a day.
BUT not before we go explore some nearby cafes to hog on some delicious food varying in multiple cuisines from Continental to Israeli to South Indian to Italian. And if you're a seafood fanatic; boy, you're in for a treat!
PS: We have really good chances of catching glimpses of the bioluminescent phytoplankton (glowing blue colour) in the waves during the late evening! So if you're planning to stay up a lil late, you might be in for a sweet surprise :)
Day 3: (Sunday)
07:00: Wakey wakey, wanders! Its time for the most awaited day of the trip. After having a hearty breakfast, (it's on us again!) we hop on to our boats and go for a ride!!
Keep your fingers crossed, for there are really good chances of spotting some dolphins in the sea!
We'll conclude our boat trip at Paradise beach (Which is also known as Hippie Beach) and spend good time over there before we buckle up for a BEACH TREK!
Yep, yep! We're gonna trek from Paradise beach to Kudle Beach while hopping on some iconic beaches like Om & Half-moon! We'll take a break at a cafe during the trek as well to refuel ourselves. It's a medium level 2 hour trek; and super-duper scenic! We'll take you to a couple of cliffs overlooking the massive ocean, which is absolutely breathtaking, to say the least.
This trek is one-of-a-kind in our country, and you'll know why ;)
We'll arrive at our hostel just in time for lunch. After freshening up, we check out and make our way to Gokarna town!
15:00: Post-check-out, we shall head to Gokarna town where you're set free again, to do whatever pleases you! You got plenty of options for super cheap street shopping, or you could go temple hopping too! Legend has it that this place was the birthplace of Lord Hanuman, and this town attracts thousands of pilgrims every year throughout the globe for its rich history.
Once done, we quickly make our way to the Gokarna railway station to catch the same train back home.
Train timing: 18:10 (Approx)
Day 4: (Monday)
06:30: We'll reach back home max by 06:30 in the morning, where we conclude this once-in-a-lifetime backpacking trip. Back to our cityscapes with loads of memories in your heart and a very small hole to your pocket ;)
Sadly, all good things gotta come to an end, just like this trip; BUT with a promise to meet and make exciting plans real soon! Give goodbye hugs to the squad, share your social handles and get back to the fast-paced city life with a rejuvenated spirit!
Until next time, Bhatakna!
Please Note:
We're going so as to have fun and enjoy ourselves. So even if this is a guided backpacking trip with a pre-scheduled itinerary, you are free to opt-out of any activity during the trip and do as you please.
Although there isn't any hardcore trekking involved, there will be a fair amount of walking through the course of this trip. Please prepare yourselves accordingly.
Our guesthouse is situated right beside the beach, so the insects get quite irritating sometimes. Please carry insect repellents to avoid inconvenience afterwards.
Inclusions:
-All internal transfers as mentioned above.
-Train tickets (RAC/Confirmed) from Mumbai to Gokarna and back.
-Two breakfasts.
-Accommodation in hostel rooms with attached toilets
PS: This is a budget backpacking trip. We will be staying in a hostel and not Hotels. Each room will be shared amongst 4-6 people (as per availability). There will be an attached bathroom with a western toilet.
-All activities and entries to places as per itinerary
-All guide and local expertise charges
-First-aid assistance
Exclusions:
-Expenses incurred by individuals over and above provisions by Bhatakna tours
-Visit any place not listed in the itinerary
-Meals not mentioned in the 'inclusions' part
Here's a rough estimate of the costs that you'll have to bear on your own (Note that it may vary from person to person, this is only a rough estimate):
Rs 600 Meals
Rs 400 Shopping (Optional)