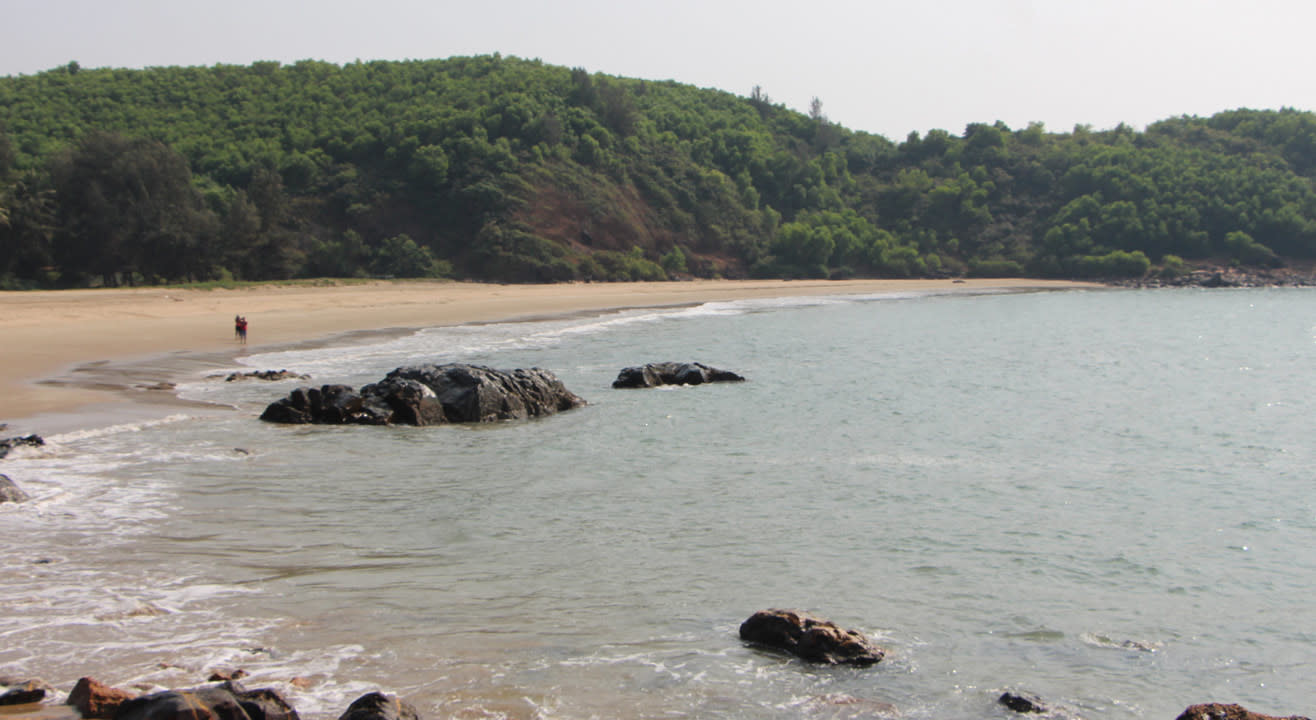 Trek
About
Let the waves inspire you, as they rise every time they fall,
Winds are motivating too, as they move all ships-small or tall.
Scale the green coastline, glare into the horizon, where the sky meets the sea.
Such an enchanting journey, where else you'd rather be?
Attention Beach-bums! If you're looking for the beauty of Goa's beaches minus the chaos, crowd and commercialization, look no further! The magic of Gokarna, Karnataka's best kept secret, is just waiting to be discovered!
Gokarna beach:
Named after the town itself, Gokarna beach is popular with the local pilgrims, with a couple of temples nearby. Trekking to Gokarna will reward you with a splendid hill-top view of the curved beach lined with coconut trees and colourful boats and the vast expanse of the sea! Descend by the steps onto the beach and feel the spiritual vibe envelope your entire being.
Paradise Beach:
150 metres of clean white sand interspersed with rocks and cut off from the rest of the world, this beach is a paradise indeed, true to its name. Also known as 'Full-Moon beach', this is a good spot for camping too, as it has a fresh water well nearby. Witness Nature's own love story as the clear blue sky and the clean blue waters come together at the hazy horizon, and if you look closely you might even see shell-pairs that have just opened!
Half-Moon Beach:
A beach in the shape of a half-moon on one-side, this one's a tiny wonder just waiting to be discovered. Not easily accessible unless you trek or take a ferry to the place, it is so quiet and secluded that it almost feels like a private beach! Touch the crystal clear waters and little fish will swim past your fingers, gently teasing you and you might even see a starfish or two!
Om Beach:
The distinct Om shape of the beach gives it the name. The tiny shacks and cafes lined up along the beachside offer quite a few options which ensure that all you water-babies won't go hungry here! You can easily get yourself a Nariyal paani or some cool buttermilk to beat the heat and you're all set to enjoy the beach!
Kudle Beach:
Secluded and untouched, Kudle beach is the perfect place to relax and unwind. Lounge on the beachside as you witness the spectacle of the blue waters washing up the white sands, as the sunset turns everything a beautiful orange. Photographers can have a gala time clicking the picturesque sights at Kudle. Whether you are with your group of friends or your partner or solo, Kudle welcomes you with a big heart!
Hike through three pristine beaches along the Arabian Sea coast
Enjoy local cuisine especially cooked for you
Fun and games at night
Experience the hippie lifestyle
Witness gorgeous sunset and sunrise by the sea

Home to the Mahabaleshwar temple, Gokarna's laid-back and spiritual appeal draws travellers from all over the world. Indulge all your senses as you walk past the vibrant coloured Temple Chariot and beaded ornaments on the street-side, hippie style 'Om' T-shirts and dhoti pants on sale and vendors selling authentic spices!
Day 1
03:00 pm : Meet the Travel Trikon Team at Lokmanya Tilak Terminus
03:40 pm : Catch 12619/Matsyagandha Express
Overnight Journey in the Train

Day 2
05:00 am : Reach Gokarna
05:30 am : Move to Home Stay
06:00 am : Reach Home Stay , Get Fresh
07:00 am : Breakfast
08:00 am : Start Trek
08:30 am : Start the trek to Gokarna through Paradise , Half-Moon Beach, Om Beach , Kudle Beach
03:00 pm : Reach Gokarna Beach, Enjoy lunch at nearby hotel
04:00 pm : Proceed towards Gokarna Road Station
04:58 pm : Catch 12620/Matsyagandha Express from Gokarna Road Station

Day 3:
05:53 am : Reach Thane Station
06:35 am : Reach Lokmanya Tilak Terminus Station
Non-AC Sleeper train tickets Mumbai-Gokarna & Return
Food – Sunday Breakfast and Lunch
Internal Transport
Travel Trikon expertise charges
Food ordered in train journey
Any personal expenses such as soft drinks etc.
Anything other than above mentioned inclusion
If cancellation done prior to 10 days of outing 75% will be refunded.
If done prior to 5 days of outing 50% will be refunded
After that no refund will be provided.

Transfer of booking to another event will be permitted where feasible and will be at the discretion of the management and participant consent.
If Travel Trikon cancels the event and transfer of the booking amount is done, the full amount will be transferred to the participant.
If the participant cancels a booking and opts for transfer of the booking to any other event, only the refund amount (as per applicable policy), will be transferred to the new event.
In case participant cancels the booking of an event where transfer of booking is done, the participant will be refunded the amount as per applicable cancellation policy.
In case of cancellation of any event due to reasons beyond control (like Natural calamities, riots, political uncertainty, public transport failure etc.), refund shall be payable with respect to the given refund norms.