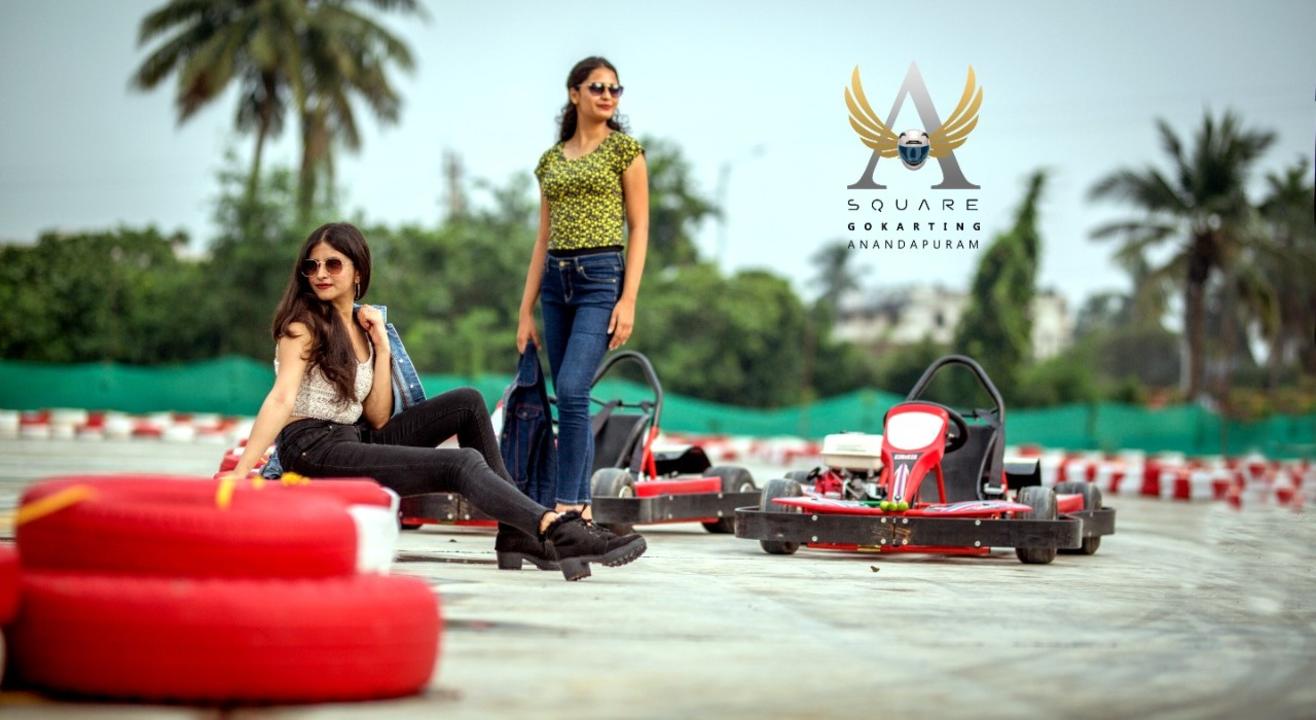 November 2 | 11:50AM - February 28 | 11:50AM
Venue to be announced, Visakhapatnam
Step out and enjoy this event
Event Guide
Masterclass
Learn from an expert
Invite your friends
and enjoy a shared experience
November 2 | 11:50AM - February 28 | 11:50AM
Venue to be announced, Visakhapatnam
Step out and enjoy this event
Event Guide
Masterclass
Learn from an expert
Invite your friends
and enjoy a shared experience
Event Guide
Masterclass
Learn from an expert
Covid 19 Safety Measures
This event adheres to the following

Health & safety measures
Social Distancing
Temperature Checks
Limited Capacity
Invite your friends
and enjoy a shared experience
Covid 19 Safety Measures
This event adheres to the following

Health & safety measures
Social Distancing
Temperature Checks
Limited Capacity
A Square (Go Karting) is an adventurous theme park for youngsters & children with a play arena, Drive-in, and Race track situated in Anandapuram, Visakhapatnam. The track is considered to be India's longest track. Come and test your skills on this route with your friends and family.Our superb and safe and clean Karting track stands unchallenged as the best go kart race track in Visakhapatnam in the state-of-the-art race karts and the best karts to enjoy the thrilling twists and turns. It also features a fully glowing night track with full safety barriers keeping you safe from impact and damaging the karts themselves. The unique feature of the track at A Square (Gokarting) is its 'flexible' nature with Beach view wherein the track can be changed as and when required. This ensures that when our karting enthusiast has mastered the nuances of the present track, he can be rest assured that there will soon be a new challenge waiting for him around the cornerThe track is perfect for all type of races and events , customised tracks, championships, practice sessions for both adults and children. Whether you are a dedicated professional driver or complete rank amateur, this track can offer something exciting for everyone. Your safety is our priority! Enjoy the Asia's Longest track in Visakhapatnam that will keep you coming with more excitements every day.
Clients should follow all instructions of the course staff.
Disobeying any instructions will result in immediate disqualification from the race.
It is compulsory to use a helmet.
Driving after consuming alcohol or drugs is strictly forbidden. Intentional bumping into other go-karts will be followed by immediate expulsion from the race track.
Crashing into the tire will lead into disqualification
Long hair should be tucked in under the helmet.
ENTER and EXIT the pits SLOWLY!! NEVER step on the brake and gas accelerator at the same time.
Do NOT touch the engine, the exhaust pipe and the tank cover are very HOT and risk BURNS!
Slower drivers MUST let faster drivers PASS and not block others on the course.
In case of disobedience of the above-mentioned rules the operator is NOT liable or responsible for any damages
No one who shows any sign of drinking alcoholic beverages may be allowed to operate a go-kart.
Anyone with hair longer than shoulder length must have it tied up with a clip or rubber band or a shower cap.
No loose clothing that flares up may be worn.
Absolutely no bumping together of karts can be allowed.
Riders are advised not to get out of the kart before the pit marshal tells them to.
Only one person per kart is allowed except for the Twin karts
Get a glimpse of the Gokarting Experience!
November 2 | 11:50AM - February 28 | 11:50AM
Venue to be announced, Visakhapatnam
Step out and enjoy this event
Event Guide
Masterclass
Learn from an expert
Invite your friends
and enjoy a shared experience