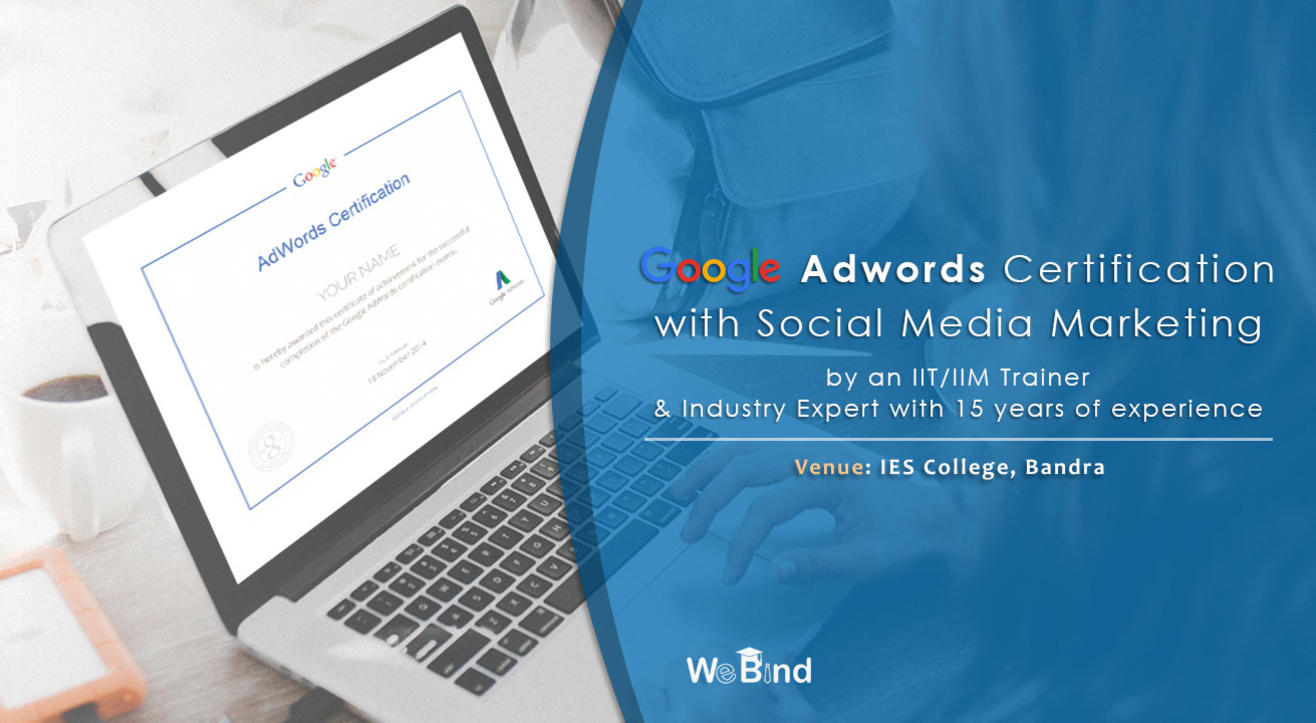 Learn
Google Adwords Certification along with Social Media Certification.
About
WeBind registered as Eighteen95 technologies is a Mumbai company into education
technology space. WeBind develops and delivers skill development courses to individuals and students through online and offline medium. WeBind has more than 500 colleges in the partner network and successful skill development certifications for thousands of professionals. As we get requests from colleges, We help colleges/schools plan and execute their practical learning tours and hands-on training activities in subject-specific companies.
The workshop consists of 4 classes.
Dates:
November 25 & 26, 2017
December 2 & 3, 2017
After completing this Digital Marketing Course:
You will be able to ideate and execute Google campaigns using different channels like Google Search, Facebook, twitter, LinkedIn. You will internalise different strategies for optimising your campaigns and improve ad quality. By the end of this Digital Marketing Course, you will have a solid grasp of Google AdWords network and you will be job ready.Throughout the Digital Marketing course, students will also be equipped with a rigorous step-by-step process in creating, managing, sustaining and measuring their Google Advertising efforts.Peppered with practical international and local case studies, role-playing scenarios, demonstrations, and hands-on activities, Digital Marketing Course attendees will learn how to create, grow, and measure the effectiveness of their Digital Marketing.
DAY 1

9:30 am: Verifying Registration for the Digital Marketing Course (Grab your seats, get your laptops connected to the wifi and begin with Digital Marketing Course) 9:45 am: Ice - Breaking Session

10:00 pm - 2:00 pm: SEM: Google Adwords/PPC (Google Certification Training)
Introduction to AdWords
Different types of campaigns
Certification and business usage

2.00 - 2:45 pm: Lunch (to be carried)

2:45 - 5:30 pm :
SEM: Google Adwords/PPC (Google Certification Training)
Google AdWords Account Structure
Basic Advertising Metrics
Keyword Planner
Conversion tracking
Account creation (Digital Marketing Course - Hands-on Activity)

DAY 2

10:00 - 1.00pm: SEM: Google Adwords & Search Advertising
Introduction to Search
Keywords and Match Types
Creating Search Ads
Bid Strategies and Bid Modifiers
Quality Score
Google Keyword Planner (Digital Marketing Course - Hands-on Activity)

SEM: Google AdWords Display, Video, Mobile, Shopping overview

DAY 3

10:00 am - 11:30 pm: Introduction to Social Media Marketing
Why Social Marketing
Advantages of Social media
Selling on social media and content formats

11:30 pm - 1pm: Social Media Marketing Plan
How to plan a Social Media strategy for businesses
1 - 1:45 pm: Lunch (to be carried)

1:45 - 4:30 pm: Facebook Advertising (Digital Marketing Course - Major Activity)
Engaging with fans on Facebook and growing organically
Advertising On Facebook – Creating And Running An Ad
Facebook Insights – Understanding important metrics to measure audience engagement Ad Manager On Facebook
Business Manager on Facebook
Introduction to Instagram marketing
4:30 -4:45 pm: Snacks (Provided)

4:45 - 5:30 pm: Facebook Insights

DAY 4

10:00 - 11.30 am: Twitter & LinkedIn Ads
Twitter Ads & Analytics
LinkedIn Advertising - Ad Types
11.30 - 2.00 pm: Introduction to YouTube Marketing

Youtube advertising
2 - 2:45 pm: Lunch (to be carried)

2.45 - 4.00 pm: Email Marketing using MailChimp Tool
Email Marketing advantages and When to use it
How to create an Email Marketing list
Using MailChimp (Digital Marketing Course Hands-On Activity)
How to develop an email list

5:15 pm - 5:30 pm: Certificate Distribution for the Digital Marketing Course
Who should attend this Digital Marketing Course:
Working Professional/Student who wish to start a career in Digital Marketing industry. Freelancers, want to work on Digital Marketing projects independently. Small or local business owners, want to implement digital strategies on their websites and generate leads through DM platforms. Companies or individuals, hiring digital marketing freelancers or digital service companies to manage their digital Marketing services.
Venue
IES College, Bandra
791, S.K. Marg, Bandra Reclamation, Opp Lilavati Hospital, Mumbai, Maharashtra 400050