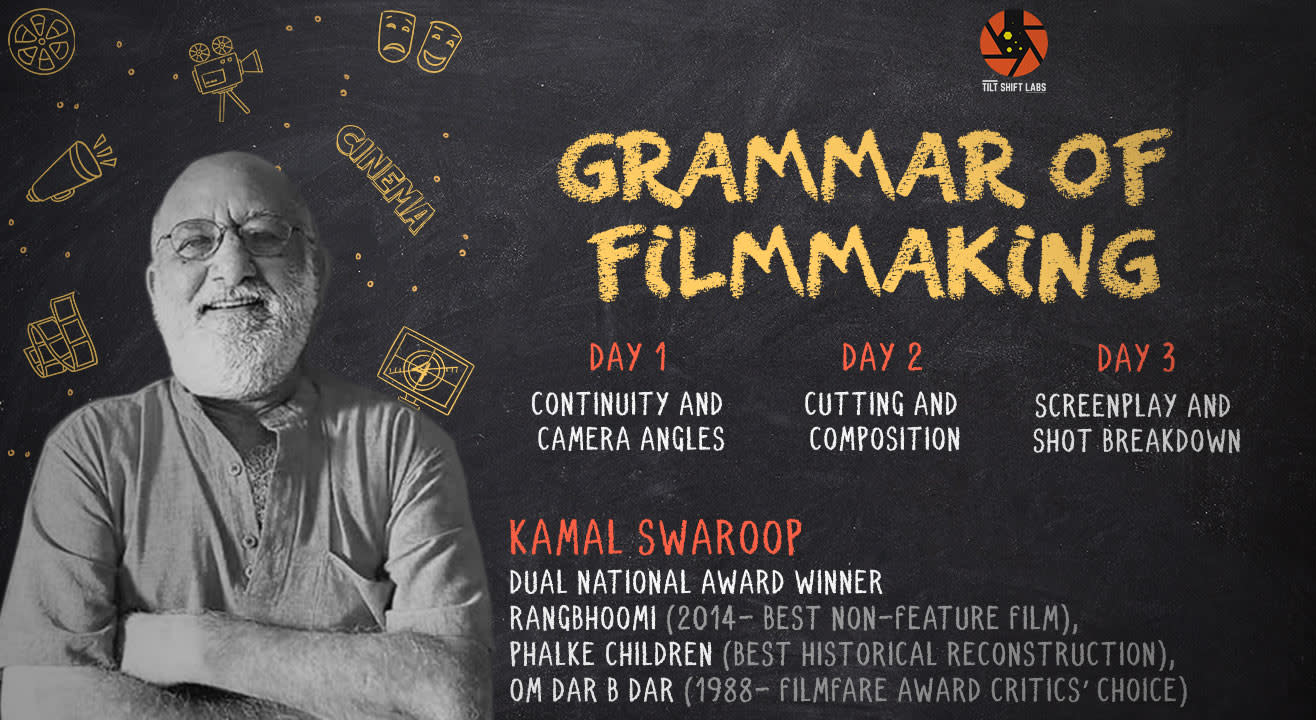 'Grammar of Film Making' by Kamal Swaroop
October 19 - 21 | 10AM - 6PM
The District - Bungalow No. 96, Mumbai
Invite your friends
and enjoy a shared experience
'Grammar of Film Making' by Kamal Swaroop
October 19 - 21 | 10AM - 6PM
The District - Bungalow No. 96, Mumbai
Invite your friends
and enjoy a shared experience
Invite your friends
and enjoy a shared experience
On public demand, Tilt Shift Labs is organizing a certified workshop with National Film Award winning director Kamal Swaroop on film writing and direction.
The workshop, titled 'Grammar of Film Making,' is a three day long (long weekend) intensive workshop for amateur, semi-pro filmmakers or even students of cinema who are looking towards making a career as a filmmaker. This three day filmmaking workshop is the most intensive, instructional program in filmmaking that can be found at any film school. In three days, students are instructed in the basics of writing, directing, camera.
Your film begins here.
Camera angles
Scene, shot, & sequence
Types of camera angles
(objective, subjective, and PoV)
Subject size, angle, and camera height
Extreme long shot
Long shot
Medium shot
Two shot
Close up
Inserts
Descriptive shots
Subject angle
Came height
Level angle
High angle
Low angle
Angle plus angle
Tilt dutch angles
Employing camera angles
Area
Viewpoint
Selection of area and viewpoint
Depicting the action
Change camera angle, lens or both
Scene requirements
Aesthetic factors
Technical factors
Psychological factors
Dramatic factors
Editorial factors
Natural factors
Physical factors
Camera angles on signs and printed matter
Problem camera angles
Conclusion

Continuity
Cinematic time & space
Time & space continuity
Time continuity
Space continuity
Filming the action
Types of action
(controlled action, uncontrolled action)
Filming techniques
(master scene, triple take)
How to use master scene technique
Advantages of filming master scenes
Disadvantages of filming master scenes
Triple take technique
How to use triple take technique
Advantages of triple take technique
Disadvantages of triple take technique
Master scene vs triple-take technique
Directional continuity
Importance of establishing direction
Screen direction
Dynamic screen direction
Use neutral shots
Action axis
How camera set-ups can be used to establish & maintain proper screen direction on moving player or vehicle
Action axis on curves
Action axis on corners
Action axis through doorways
Cheating the action axis
Entrances and exits
Reaction close-up for switching screen direction
Reversing screen direction
Map direction
Location interiors
Planned screen travel
Static screen direction
Matching the look
Look on both sides of lens
Neutral look
Matching look on moving players
Matching look on master scene cut in shots
Matching look with single player
Matching looks on speaker & audience
Action axis for 3 players
Matching looks on group seated around a table
Re-positioning action axis for background cheat
Matching look on stock shots & production scenes
Reverse shots
Types of film editing
Continuity cutting
Compilation cutting
Cross cutting
Cutting on activity
Cutting and composition
Moving shots and static shots
Timing moving shots
Loose camera shots
Protection shots
Dissolves
Sound editing problems
Sound flow
Editorial requirements
(aesthetic, technical, and esthetic)
Narrative factors

Composition
Still v/s motion picture composition
Compositional rules
Compositional language
(lines, forms, masses, & movements)
Balance
(formal and informal)
Centre of interest
Lighting, tonal values, & colors
Selective focusing
Eye scan
Image placement
Image size
Integration with angles
Linear and aerial perspective
Background
Framing
Dynamic composition
Suspense composition
Catalog pictures
Compose in depth
Process of writing
Discussing individual scripts
Story boarding process
Production planning
The need for story-telling
Visualization strategies
Dramatic strategies
Characterization strategies
Dialogue strategies
Melodrama, docudrama, hyper-drama
The experimental narrative
The District - Bungalow No. 96
Jankidevi School Rd, Versova, Andheri West, Mumbai, Maharashtra 400061, India
GET DIRECTIONS
'Grammar of Film Making' by Kamal Swaroop
October 19 - 21 | 10AM - 6PM
The District - Bungalow No. 96, Mumbai
Invite your friends
and enjoy a shared experience