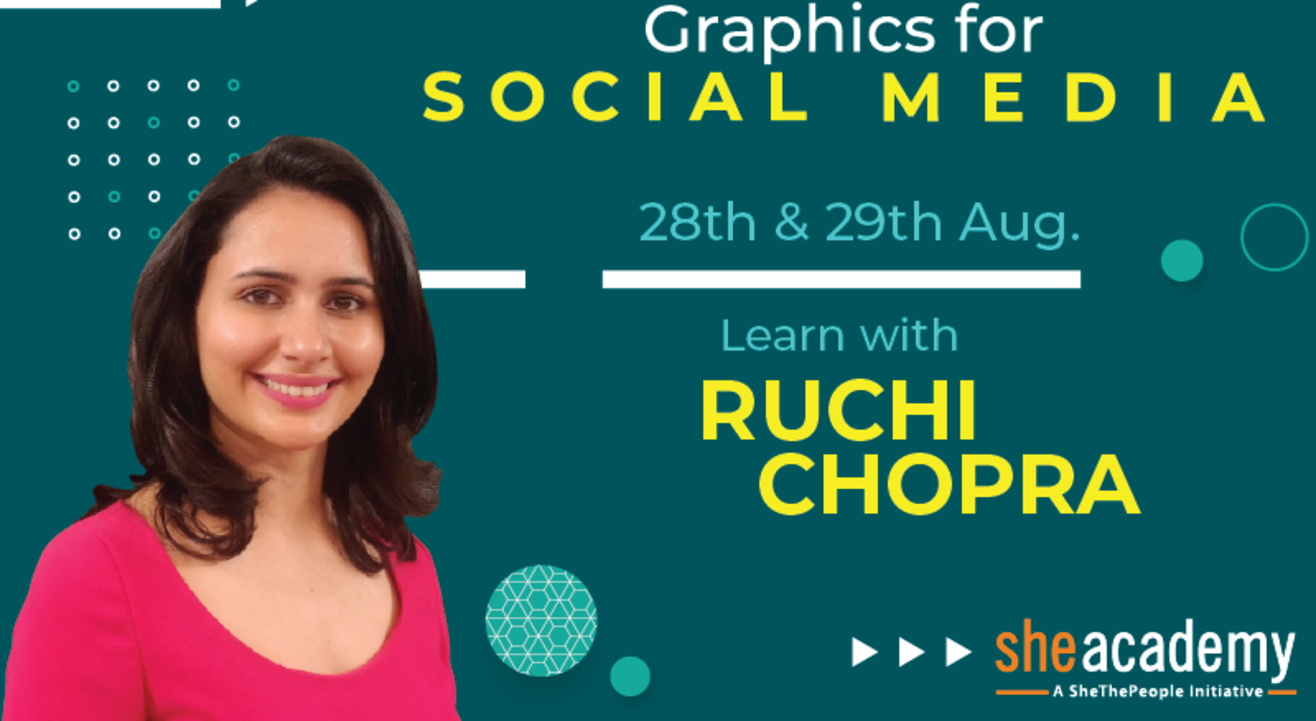 Graphic Design Course for Social Media by Ruchi Chopra
August 28 & 29 | 4PM - 5:30PM
Enjoy this event from your home
Invite your friends
and enjoy a shared experience
Invite your friends
and enjoy a shared experience
About the Event
Browsing through instagram and wondering how to get by making those creatives? We have got a simple Graphic Design Course to help you make a start. With this, you can grow your social media with impactful graphics, attract the right audience to all the work you do online.
Whether its social media, promotions or advertising, an image speaks a 1000 words and carries your communication effectively. So if you are looking to up your graphics game, this is a solid introduction to simple and effective graphics for social media to tell your story in an impactful way.
I take this Graphic Design Course as a Live Workshop over two days so we can talk and discuss to solve your problems. You will come out of this, being confident about your graphics for social media. Whether a home chef, a blogger or just a a kind of person who posts your own photos, we will have this all covered.
Best of it? You can ask me questions right there. So I look forward to seeing you.
Workshop Schedule
Total Duration – 3 hours, 1.5 hr session for 2 days.
28th August, from 4:00 pm – 5:30 pm
29th August, from 4:00 pm – 5:30 pm
Benefits of the Workshop:
Learn to make your own graphics so you are not dependent on someone else.
Build simple, effective graphics for your communication.
A Starter Pack which I will share for free for you to use for your content.
LIVE Workshop – I will see you there. So you can actually ask your questions and have them answered right then.
Secret Tips – These are hacks and secrets you probably don't have knowledge about. I will get you to quickly learn what you really need without wasting half your day or hiring a graphics manager.
Inspiration – I will do the heavy lifting on helping you with some ideas you can drive – from formats to how different graphics go with different social platforms. Ideas is what I will make sure you go back with.
Handpicked tools that really work but don't just throw marketing at you. If editing your photos makes you feel all confused, I will have those tools shared with you. Yes, I will give you tools to go back with.
Course Structure:
Day 1
Introduction to basic graphic tools
How to create an effective creative
Explore social media driven posts
Q&A to solve your challenges
Getting accustomed and being able to comfortably use
the phone app interfaces of easy to use graphic courses
Day 2
Recap of Day 1
Knowing all about instagram graphics
Insta vertical and animated graphics to ace your insta stories
Secrets tips for social media, as a bonus to my graphics module
Q&A to solve your challenges
Sharing of toolkit and open and easy to learn tools
Our Expert:
Ruchi Makkad is Founder, MakkSkills. She is a serial entrepreneur and wears many hats in her professional space. She has conducted sessions for over 3000 people including students and educators. She has hosted many panel conversations with national and international audiences as well.
About SheAcademy:
sheacademy is a learning and skilling platform for women. From design basics to building confidence and facing the external world, sheacademy brings courses on every such subject that are relevant for today's women.
An initiative of SheThePeople, sheacademy is India's biggest digital storytelling for women, dedicated to passionately championing and promoting their journeys.Founded by Shaili Chopra, we Empower, Engage and Elevate, connecting them to an amazing network that inspires and grows each others' efforts. Reach out to the network you have always wanted to have.