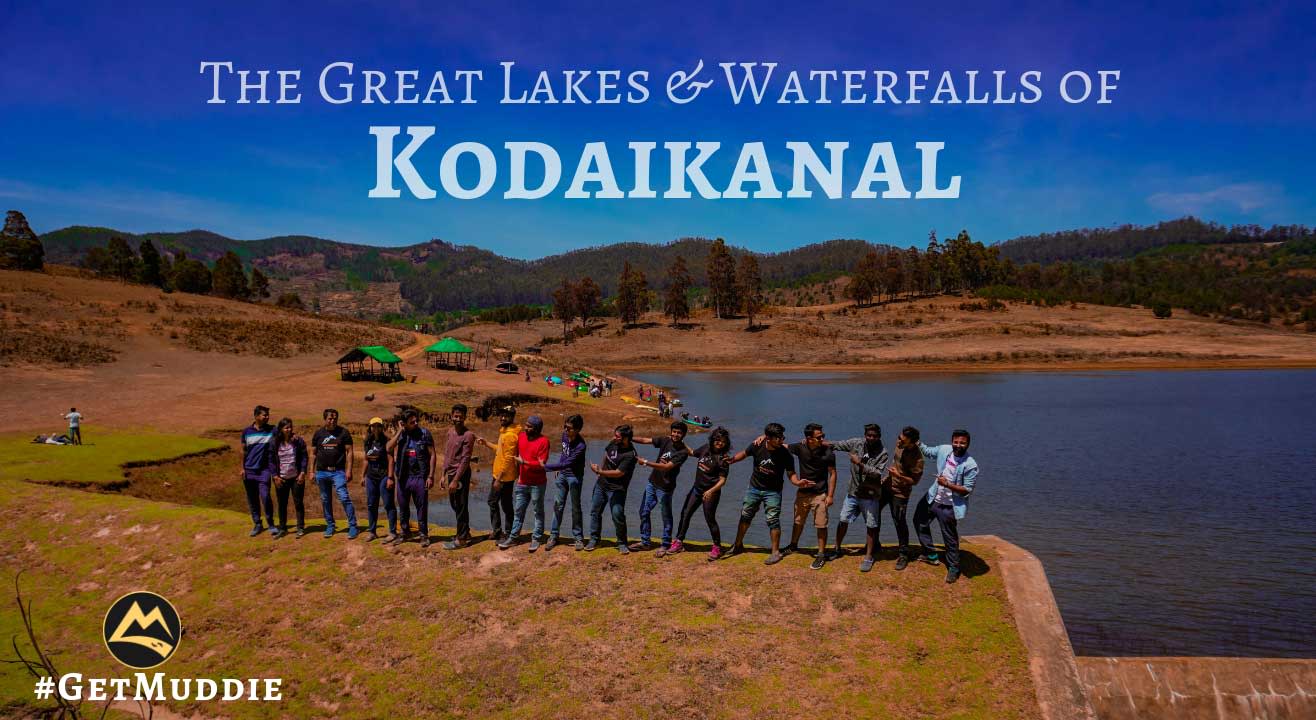 Trek
The Great Lakes and Waterfalls of Kodaikanal | Muddie Trails
4670 (*Inclusive of taxes)
About
Kodaikanal. Sure you have heard this name before!
It's one of the best hill stations you will ever come across in southern India with its altitude of 2100 meters above Sea level, very cold weather & thick forest cover throughout the year. It's a very famous honeymoon destination too!
But we at Muddie Trails, as part of #MuddieSide and #MuddieSeries, will take you on an amazing voyage to the offbeat & never before seen side of this pristine hill station.
Presenting you three great lakes of Kodaikanal. One of them is very famous & known to all, the other one is unknown but extremely beautiful, the third one is the best-kept secret of Kodaikanal where we will head for a fantastic trek!
It's time you #getmuddie in the #MuddieSide of The Princess Of Hills - Kodaikanal!
| | |
| --- | --- |
| Group size: | 10+ |
| Accommodation: | At our beautiful campsite on sharing basis (Tents on 3-4 people sharing bases) |
| Travel: | Tempo traveler(s) (Non AC) |
| Starting time: | Friday 8 PM (Long journey to do) |
| Ending time: | Monday 6 AM |
| Food: | 1 Breakfast, 1 Lunch, 1 Dinner included |
| Pickup/drop locations: | Tin Factory, Indiranagar 100 ft Road, Koramangala Sony World, Silk Board, Electronic City toll |
| Things to carry: | Will be updated in our WhatsApp group to all registered folks |
Day 0 (Friday):
Start from Bangalore around 8 PM
Day 1 ( Saturday):
Drive to Kodaikanal town, quick freshen up & breakfast at a restaurant,

Hit the mountains, two hours drive through picturesque valleys & curved roads to the beautiful mountain campsite close to jungle & wildlife.

Start with hot-hot Lunch in the already cold climate

Trek through the mountain fields, Sholas & Pine forests to a hidden waterfall in the jungle & take a refreshing dip, head back to camp

Mini-hike to a mountain top to see amazing sunset with wild animal spotting Bison & Deer

Hike back to the campsite, hot Chai & freshen up.

Bonfire in the chilling weather, hot dinner & have those long conversations all of us have been longing for!

Rest for the night in the cozy tents with beds and blankets
Day 2 (Sunday):
Start the day with awesome breakfast

Say bye to homestay/camp & drive to the almost unknown but pristine lake

Go on an optional coracle ride if you wish to

Small nature walk around the lake to reach the far end of the lake that has a wooden bridge & pose for innumerable selfies!

Break for Lunch

Head to a hidden lake, relax & rejuvenate in the silence of the natural setting

Pose with Rabbits & Sheep, Eat some fresh & sweet carrots!

Drive back to Kodaikanal town & visit the man-made star shaped lake, shop your bags full at a flea market around the lake.

Head back towards mainland & stop over for dinner at a Dhaba
Day 3(Monday):
Reach back to BLR early in the morning
Travel everywhere!

Stay at our lovely village private home-stay with a fantastic ambiance

Food: 1 Breakfast, 1 Lunch for trek(Veg), 1 Dinner(Veg & Non-Veg)

Bonfire

Experience the #MuddieSide of Kodaikanal

Local guide for the hidden lake trek

Forest department entry tickets for the lake & research zone

An organizer from MT to look after all activities & entertainment!
1 Breakfast, 1 Lunch & 1 Dinner

Coracle ride

Any misc/personal expenses that are not mentioned in inclusions above.
Travelers are expected to sign a Liability/Waiver form given by the organizers before starting the trip/trek/event

Everyone must get their photo ID cards - like Aadhar or Driving License!

Muddie Trails is NOT a tour operator. Muddie Trails is an offbeat travel experience provider.

Our facilities are basic. If you expect any luxury, please do not register.

Our itinerary is flexible & Organizer may choose to switch/re-arrange parts of the itinerary based on need. Please co-operate with organizer & other travelers.

Do not forget to read our "Terms & Conditions" before registering!
Terms & Conditions of Muddie Trails
No alcohol & smoking during Treks & adventure activities. There would be separate window and space (usually at night) to have these at campsite/homestay for interested people
No Luxury. We assure awesome memories every trip, but not awesome facilities! We provide basic facilities in terms of food, travel & accommodation.

The itinerary is fixed. No special requests to change itinerary/schedule are permitted

Absolutely No littering during our travels. We swear to protect our environment.
Co-operate with the organizer(s) in following the schedule set for the day (especially getting up and getting ready in the morning). This will ensure travelers won't miss out on the real fun part - that is traveling.
Every traveler is responsible for his/her for your own safety while traveling with Muddie Trails. Don't indulge in any

illegal or silly activity

that causes harm to you or fellow travelers.
Every traveler is expected to sign a liability/waiver form given by the organizer(s) after boarding the vehicle that discharges Muddie Trails of any unexpected incident like injury/death/theft etc.
Unexpected situations: It may happen we do not cover all the places mentioned in the itinerary because of unpredictable reasons like bad weather, wild animal presence, abrupt blocking of sites by the police/forest department, delay in travel because of an issue with our group itself, traffic conditions etc. In most cases, if the time permits, organizer(s) will take travelers to an alternative place. But in some cases, we may have to skip a place altogether.
Travelers are expected to respect each other and help each other. Avoid discussing sensitive matters like sex, politics and religion/caste/race.
Using foul or abusive language, eve teasing, arguing with fellow travelers/organizer(s) and/or involving in physical assault will not be accepted and will stand a chance of being deserted by Muddie Trails.
Cancellation and Refund policy
Cancellation by Organizer (Muddie Trails):
Muddie Trails may decide to cancel the event if there are less than 8 travelers signed up for the trip/trek

The organizers will inform you about the cancellation 24 hours before the event start time so that you have enough time to make an alternate plan

In this case, the full amount will be refunded.

Alternatively, you can also choose to postpone your ticket to the future event or switch to another event by Muddie Trails.
Cancellation by you (The traveler):
The Organizers have to be informed 48 hours before the event start time if you wish to cancel your event

In this case, the refund would be processed as per "Refund Policy"

Alternatively, you may postpone your ticket to future event 48 hours before the event start time

No postponing your ticket to future events and no refund within 48 hours of event start time

You may provide a replacement from your end (your friend, colleague or any other) in case you cannot make it to the event because of unforeseen circumstances. This way you can save your hard earned money
Refund policy:
80% refund before 48 hours of event start time

No refund within 48 hours of event start time whatever be the reason (Health, Accident, Family crisis, Office issue or anything else)

No refund during/after the event

Registration fee or partial payment is done to book your slot is non-refundable
The "Offbeat" theme of Muddie Trails
Muddie Trails provides real offbeat experiences for the travelers like trekking, hiking, camping, bonfire, adventure activities, barbecue, visiting, exploring and experiencing the less known but awesome destinations that are not crowded with tourists. We do NOT take travelers to a tourist place unless it is required as a "filler" in the itinerary between two offbeat places.
Travelers are requested to refrain from asking our organizers to take them to ABC temple or XYZ church. The itinerary is already decided and posted based on our offbeat theme. The organizer will only change the itinerary/schedule if any place cannot be done because of unpredictable reasons. If you have a wish list of tourist places to tick off in your mind, then probably Muddie Trails is not for you and we request you - please do not register.