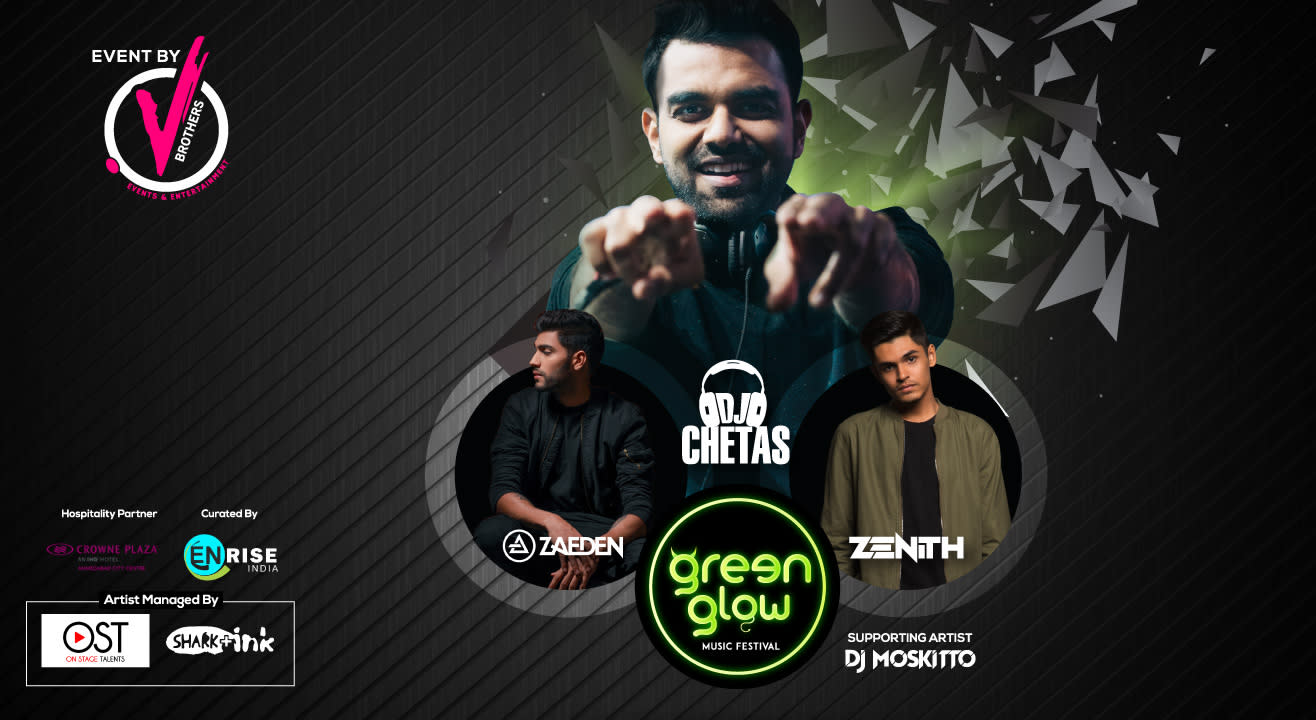 Music
Green Glow Music Festival
About
India's first and one of the largest color splurging extravaganza called the Green Glow Music Festival, where India's ethnicity will meet the Thailand's urbanised Full Moon Party festivity. GGMF would be a full day event for all Enthusiasts, where a large line- p of Legendary Djs
& famous Musical Bands would be grooving the arena by playing from an anthology of genres. At GGMF Experience the dazzling display of Neon Laser lights featuring Characters, Sories, Graphics, Fireworks, Glow Sticks and long-exposure photography to enhance with mesmerizing streams of colorful light. Undisruptive organic neon paint would be splashing all across the dry arena to uplift the towering enthusiasm of participants. 
This event will set its own history as there is part of holistic healing session were through cosmic
energy whole crowd would be replenishing the ambience of venue. So people of Ahmedabad, this
festival buckle up your party shoes and get ready to experience the revolution of festival events,
where music will speak your heart & will embark your mind, souls will be quenched through the combination of EDM & Bollywood Music.
Ranked at World's No. 59 on DJ MAG's Top 100 DJs list and India's No.1 Bollywood DJ, DJ Chetas is without a doubt, India's favourite Bollywood DJ. 11 years into the industry, DJ Chetas has garnered massive attention and fans for promoting dance music to the masses. On the musical front, DJ Chetas debuted in Bollywood with an original hit number 'Itna Sannata Kyu Hai?' in Rohit Shetty's Golmaaal Again in 2017, after the release of his debut album LIFE IS A MASHUP. He is best known for his official T Series mashups and remixes. He is the only Indian DJ to host a 2 hour show at prime time on 9XM every Friday and Saturday called House Of Dance. He also curates his exclusive property 'BDM with DJ Chetas' across Red FM in India and other radio stations in the US. He has performed alongside leading artists and at some of the country's most prestigious events over the period of time and has been the Official DJ for the Kolkata Knight Riders. DJ Chetas never ceases to put up a great live show and stands out for the same in the music scene. He is one of the first Indian DJ's to integrate visual drama and live instruments in his set.
Sahil Sharma aka Zaeden joined Nucleya, Lost Stories, Anish Sood in the line of globetrotting DJs, producers and remixers to come out of the burgeoning Indian dance music scene. He is one of the first Indian DJs to be signed to EDM Record label giant, SPINNIN Records. With hitmaking releases such as 'Yesterday' with Borgeous, 'Never Let You Go' & 'City Of The Lonely Hearts' , Zaeden's extensive touring calendar in India and overseas began with some of the most prominent music festivals like Tomorrowland, Marenostrum Festival, Pacha Tour, Sunburn, Timeout 72, Enchanted Valley Carnival, Supersonic, Mood Indigo, and clubs like Pacha, Privilege Ibiza. He even went on to become the first Indian producer to become the fashion brand ambassador for Adidas and Koovs. Dance music forerunners like Hardwell, Dimitri Vegas Like Mike, Avicii, Tiesto, KSHMR have endorsed Zaeden as one of the most promising homegrown electronic music producers from India. And most of the time it's his onstage enthusiasm that translates into an energy and a vibe that is quite remarkable. An influencer amongst the millennial generation, Zaeden was awarded as Best House DJ by MyFav Awards, India apart from featuring in the GQ Best Dressed 2016 List and Mens XP "Top 50 Indians Who Defined Fashion In 2016" List. At the top of his game, there's no looking back for Zaeden as and he will continue to create and produce breakthrough music.
ZENITH is the duo consisting of Harshit and Aniruddh, who go by the name Zenith. These two aspiring artists kicked off their illustrious journey back in 2014 when self-taught producers Harshit and Aniruddh teamed up to create their first bootleg – Above & Beyond vs Blasterjaxx (Thing Called Titan). Moreover, Harshit, one half of Zenith, went on to collaborate with India's No. 1 Bollywood DJ NYK for a remix of the track 'Whistle Baja' from the movie Heropanti. This collaboration with the renowned DJ NYK proved to be just what they needed to boost their career and following which, Harshit made a Bollywood remix album in the year 2012 which got 20,000+ downloads over the Internet. DJ NYK also featured Harshit in his Electronyk podcast as the 'Electronyk Maestro' for his house remixes of 'Galliyan'. In 2014, Zenith proved their worth and went on to win the MTV Bloc Party competition with a whopping 37 original mashups in 30 minutes. Their victory saw them share the stage with some top names like DJ Bl3nd and Bassjackers at MTV Bloc Party. Zenith has moreover performed at some India's best clubs and several Sunburn shows in places such as Neemrana, Jaipur, Trivandrum and Mumbai.
Gaurav Machchhar HAILING FROM INDIA DESCRIBE HIS WORLD AS "DJ MOSKITTO" His career has expanded from 2013 and has learned unique style reigns from his extensive musical background,using the decks themselves as an instrument to cut,scratch and mix up the hottest tracks as well as his own produced remixes. Over the past few years "DJ MOSKITTO" has created a shout in the music world with his show stopping performances, Groovelectrifying live combination of Tracks & Crowd busting Micing. His mania and catchy beats leaves the audience totally grooving and out of control.He has all whole unique to the Indian EDM & BOLLYWOOD scene..!! DJ Moskitto always makes sure that his first priority is crowd reaction because he believes that music that reaches your heart can make anyone and everyone thump their feet. Always keep the crowd grooving and up on their feet is the prime agenda on his mind.