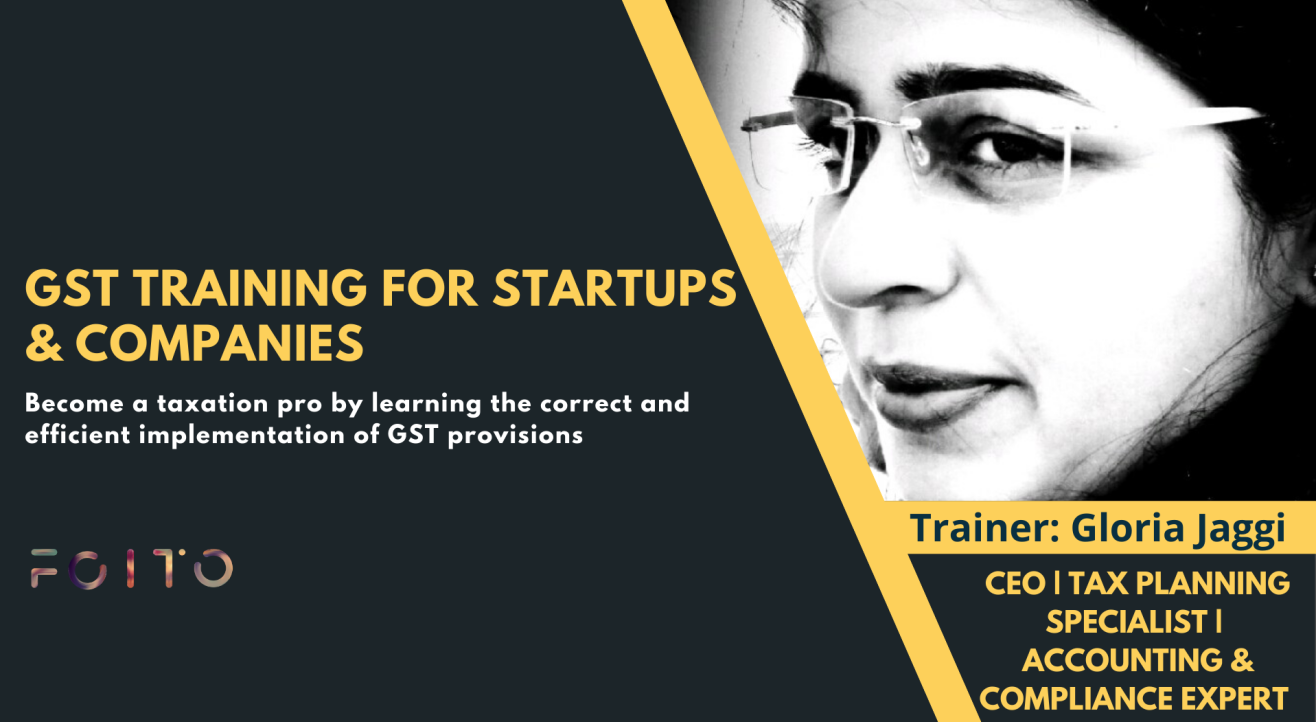 Tax Planning & Analysis Training
Invite your friends
and enjoy a shared experience
Invite your friends
and enjoy a shared experience
About the Event
NOTE: Our training sessions are conducted on a 1-2-1 basis (batches are not formed) as our workshops are tailor-made to your specific problem statement.
If you are facing a problem in comprehending the taxation policy framework and are unable to analyze its implication on your business, then here is your chance to get all your queries clarified by an Industry Professional.
This comprehensive training on tax planning and analysis has been specially designed keeping in mind the various doubts and problems being faced by people regarding the new rules and regulations.
This module is aimed at discussing the broad policy frameworks covering both direct and indirect taxes, in detail and at the same time, the attendee will get a clear picture of how the rules are likely to impact their business in the long run, thereby helping you curate effective tax plans for short-term as well as long-term.
Topics Covered:
(A)Indirect Taxes Applicable to your business (GST/ Customs Duty/Other Local or State Govt Taxes) - Based on all the provisions applicable to your business
• GST Registration: Threshold limits, Procedure, Documentations, Implications
• GST Terminologies and Calculations: Aggregate Turnover, Meaning of Supply, Value of Supply, Exemptions from Supply, Time and Place of Supply, Usage, and Implication of each concept in the practical scenario.
• Understanding the GST rules and policies applicable to your business structure (rates, type, ITC claims, RCM if applicable, filing procedure, penalties, specifications of a valid GST invoice)
• Understanding the impact of GST on your business based on the provisions discussed in the above section
• Customs Procedure, Baggage & Exemption, Valuation under Customs (if applicable)
• Valuation and implication of other local or state government indirect taxes
(B) Direct Tax (Corporate Tax) - Based on all the provisions applicable to your business
• Corporate Tax Terminologies and Calculations (profit calculation as per the income tax act)
• Understanding the current Corporate Tax Regime of Dual Rates (old rate + exemption or new rate without exemption) - A detailed discussion of the various provisions and exemptions for a comprehensive understanding.
• Analyzing and evaluating your business in light of new dual-rate regime and provisions introduced in the budget 2020 (removal of DDT, ease of ESOP, etc wherever applicable).
2) Analyzing Financial Statements from Taxation Point of View
• Identifying the items likely to affect the taxable amount and understanding their implication.
• Using accounting ratios to compare post-tax and pre-tax profits for detailed analysis.
• Understanding tax treatment in the books of accounts (deferred tax, tax payable, tax deductions, provisions for tax, etc)
3) Tax Treatment and planning
• How to treat the taxes as per the provisions discussed in the previous sessions
• Understanding and analyzing multiple factors for drafting suitable taxation plans in view of the financial position of your business.
• Creating short term as well as long term tax plans as per the financial conditions and data points identified
Duration of Standard Course: 1 Week
(Duration for a customized module may vary)
Disclaimers:
1) This will be an online training using screen-sharing.
2) This training module can also be customized to cover up your specific industry requirements.
3) This training can be taken up on a 1-2-1 basis as well as for a team
4) Upon confirmation, you will be connected to the trainer/course analyst for a technical call for a deep understanding of your training, and customization needs.
5) The date and timing for each session will be flexibly decided as per the mutual understanding between the attendees and the trainer and coordinated by our team.
Add-Ons Post Training:
1) Post-Training Support
2) Certification Advisory
3) Business Networking Support
4) Skill Validation Report signed by Industry Expert