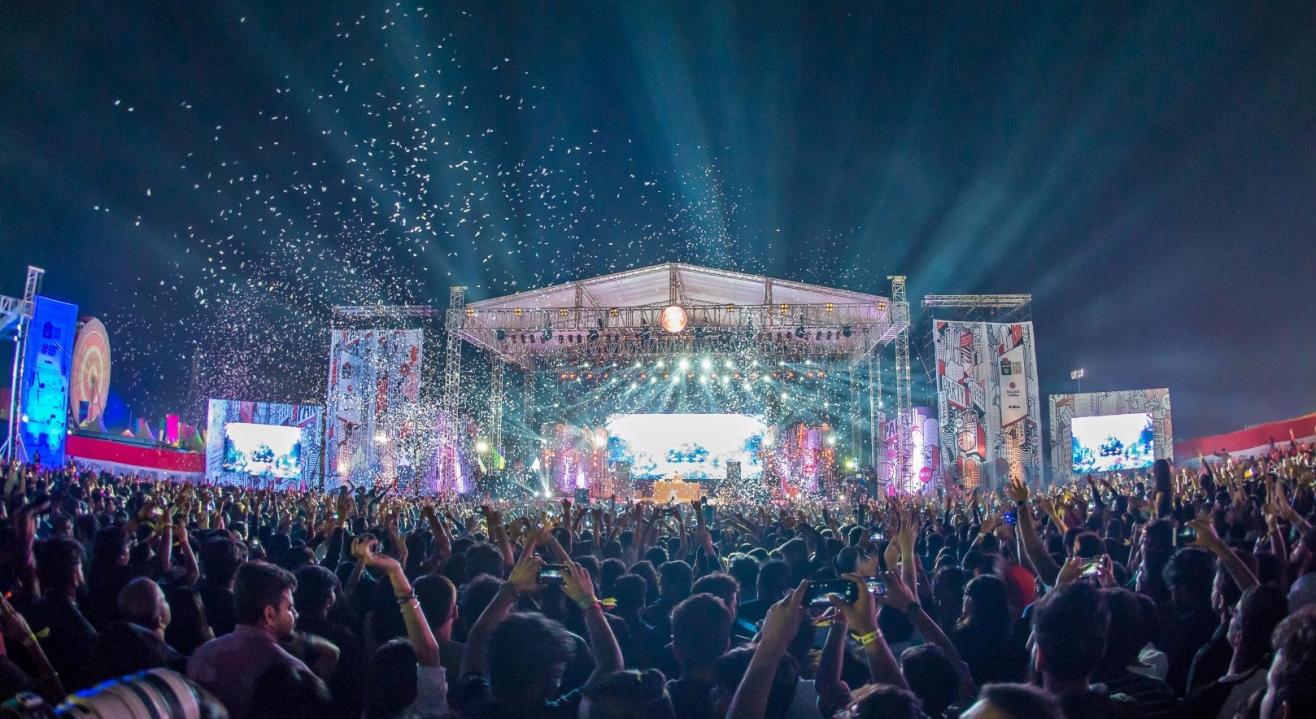 Events
First Bacardi NH7 Weekender? Here's what you need to know.
Is this your first visit to The Happiest Music Festival? If yes, welcome! You're in for a glorious thing, an experience like never before and hopefully, a bucketload of memories. Read this handy-dandy guide before you go, to get the most out of your experience.

Welcome to the world of music festivals!
Music festivals are what concerts become when they grow up. There will be multiple stages, with multiple genres - all at the same time. It's not unusual to have metal, folk music and electronic all at the same time! Thanks to the magic of acoustics (and some wicked production work!) sound doesn't overlap. A festival is where you'll see a musically secular crowd: Black tee-adorned mosh-pitters along with bling-wearing EDM fans passing by Bollywood-loving families. It's all here.
Have your first mug. And bucket. Then your second.
Much like VHS tapes and dial-up internet, glasses remain in the past. The new best way to hold your drink are awesome aluminium mugs, and (when you're ready), a glorious mug. Both treasured souvenirs post-festival, they hold drink and memories during.
Try Something New.
A music festival is a great place to get out of your comfort zone. Many a 'I lissen to rawk only d00d' has discovered a hip-hop act, and many a 'how can anyone listen to that loud music' has ended up headbanging. While you must certainly check out your preferred genre, Bacardi NH7 Weekender actively encourages musical discovery. While a schedule is nice, sometimes serendipity is better.
The magic of wristbands
When you come to the box office, the friendly Weekender staff will greet you with a smile and a wristband. Keep that doohickey on - it's what lets you access the festival grounds. It'll survive mosh pits, baths, sleep and then some. Keep it on for the duration of the festival... And after, if you like. #swag
Need a bite?
You can't spell The Happiest Music Festival without food (figuratively, anyway). The Bazaar is where you'll be able to get that pre-mosh fuel and post-dance revival - choose from excellent local establishments to chains, from Indian to pizza, from Chinese to shawarma, from shakes to sandwiches. It's a culinary delight at the festival, and check out some merch as well! Hint: If you're traveling to Meghalaya, you can find yummy local cuisine at the Bazaar!
What to carry
Look forward to a detailed checklist on Insider soon. But in short:
Recommended: Good footwear, cash/card/PayTM balance, sun protection, backpack, hand sanitizer, an open mind.

Good-to-have: Camera, earplugs (especially if you're a front-row warrior), portable charger, signs & headgear, pets.

No-no: Outside F&B, outside cigarettes, drugs & other naughty things, a bad attitude.
Right ho, see you at the Happiest Music Festival, then! Check out the lineup here and get your tickets to the Pune edition here.
Photographs by: Himanshu Rohilla, Perizad D, Maanas Singh, The Clique Photography, Chuck
Subscribe to receive our newsletter!
Find the best experiences happening out there in your city or enjoy handpicked content while sitting comfortably at home. Insider is your go-to place to figure out what to do today!