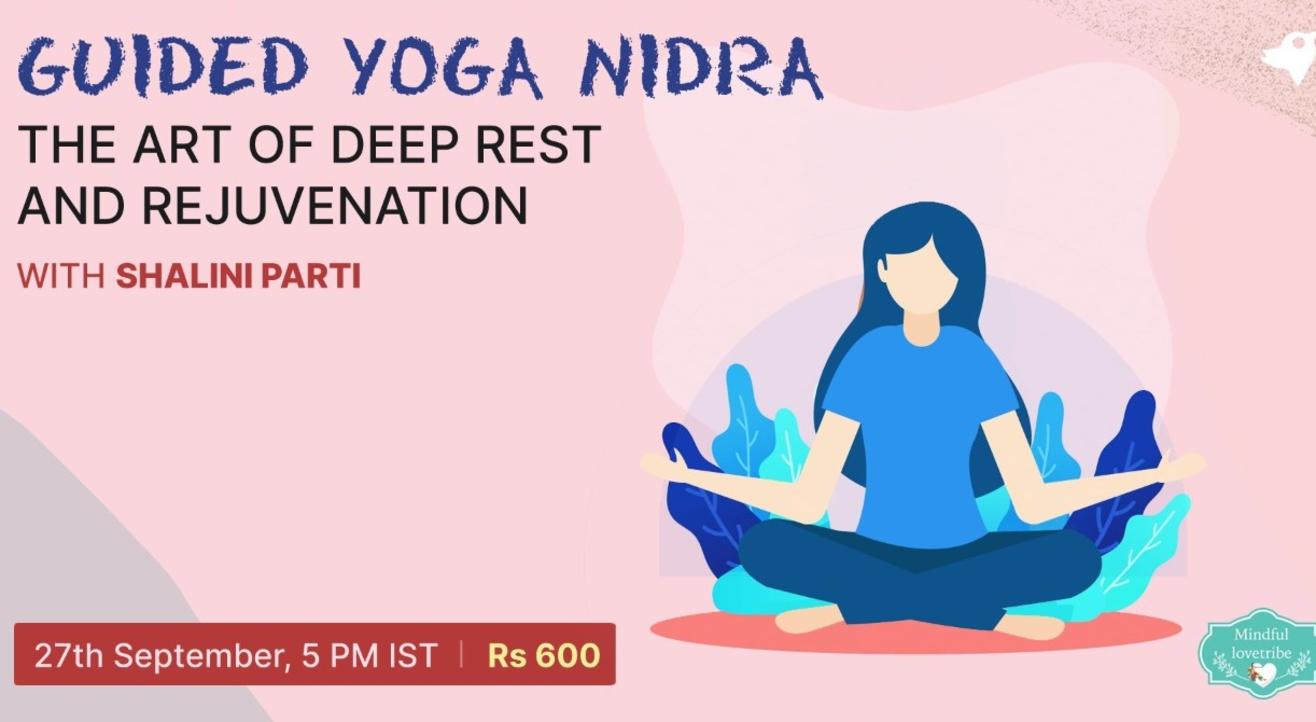 Guided Yoga Nidra : Art of Deep Rest & Rejuvenation
Event Guide
Digital Event
Watch on Zoom
For Age(s)
Family Friendly
Masterclass
Learn from an expert
Invite your friends
and enjoy a shared experience
Event Guide
Digital Event
Watch on Zoom
For Age(s)
Family Friendly
Masterclass
Learn from an expert
Invite your friends
and enjoy a shared experience
About the Event
Give yourself the gift of deep rest & relaxation through Yoga Nidra.
Yoga Nidra or Yogic Sleep, is a meditative practice that takes you into Deep Theta & Delta brain wave states through guided meditation allowing your body and mind to experience much needed deep rest & rejuvenation.
How does it work?
There are four categories of brain waves ranging from most activity to least activity.
1). Beta : Beta waves are released when the brain is actively engaged in doing any task and it's what we experience mostly throughout the day in our busy schedules.
2). Alpha : Alpha waves are released during quietly flowing thoughts.They are dominant whenever we are living in the present and experiencing flow.It is the resting state of the brain and induced when we take a break like going for a run or reading.
3). Theta : Theta waves occur most often in sleep but are also accessible through deep meditation.In Theta,our senses are withdrawn from external world and focused within, making it a highly receptive state to auto sugggestion.It is where we can access the subconscious and plant positive suggestions and intentions.
4). Delta : Delta brainwaves are low frequency and deeply penetrating.They get generated in dreamless sleep or very deep meditative states.They suspend all external awareness and that is why deep restorative sleep and delta waves are so essential to healing and rejuvenation.
Yoga Nidra takes you through a guided meditation through "Beta" brainwaves of "Doing" to "Alpha" and "Theta" brainwaves and finally "Delta" waves of just "Being" and deep rest.
Benefits of Yoga Nidra:
1). Deep rest & relaxation
It helps to reduce stress and tension by slowing down our thoughts by accessing Delta and Theta waves & gives our body much needed time to rejuvenate and repair.
2). Plant the seed of future growth :
Yoga Nidra for personal growth.
It helps you to access your subconscious and plant any positive suggestions and intentions to release limiting beliefs and create a life more aligned with your intentions.
3). Improves sleep and reduces Insomnia
Insomnia and sleep deprivation badly affect our ability to manage stress and the immune system.Yoga nidra trains the mind and body to relax and move more easily into the deeper states of sleep. Forty-five minutes of yoga nidra is equal to up to 3 hours of sleep!
Who can attend ?
This class welcomes all levels - no meditation or yoga experience necessary. We will begin with gentle movement and then make our way down for a restful Yoga Nidra practice in Savasana.
Please wear comfortable clothing and bring a mat for the class.
About the Instructor :
Shalini is a certified Hatha Yoga and Ayurveda wellness instructor from Sivananda Vedanta Ashram Kerala.
She has been practicing & teaching Hatha Yoga for over 8 years. She truly believes in Sivananda Yoga philosophy of "Health is wealth, peace of mind is happiness & yoga shows the way" & is passionate about helping people attain Holistic Well-being through yoga.