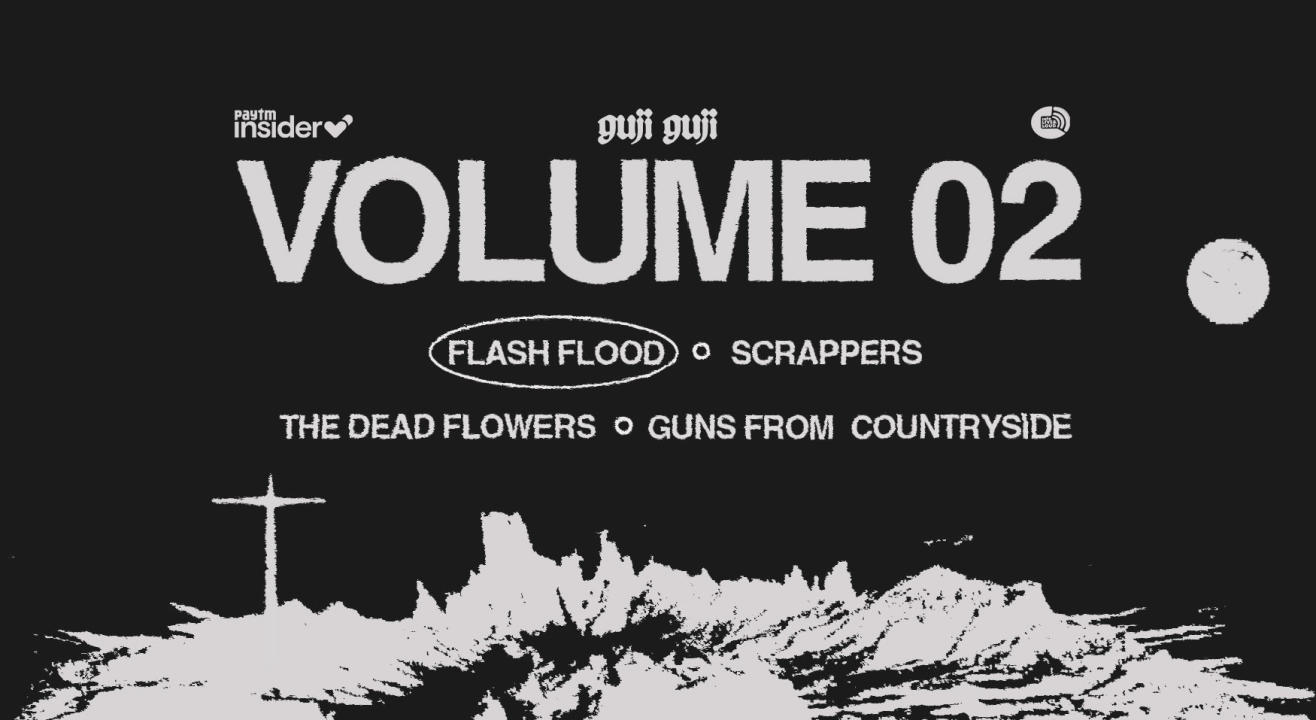 Cafe Live & Loud, Gangtok
Step out and enjoy this event
Invite your friends
and enjoy a shared experience
Cafe Live & Loud, Gangtok
Step out and enjoy this event
Invite your friends
and enjoy a shared experience
Covid 19 Safety Measures
This event adheres to the following

Health & safety measures
Social Distancing
Limited Capacity
Invite your friends
and enjoy a shared experience
Covid 19 Safety Measures
This event adheres to the following

Health & safety measures
Social Distancing
Limited Capacity
gujiXguji is finally back with its inaugural show of the year "gujiXguji Volume 2". This time bringing in all the greatest acts from the state of Sikkim itself.
This Volume 2 marks the return of the groove metal giants FLASH FLOOD after their 10-year-long hiatus. The lineup also consists of the stoner rock power trio GUNS FROM COUNTRYSIDE; Namchi's post-hardcore quartet THE DEAD FLOWERS; Gangtok-based grunge outfit Scrappers.
Make sure to witness all of these great acts live at "gujiXguji Volume 2", on the 9th of April at Cafe Live and Loud, Gangtok, Sikkim.
Pre-Sales tickets are now available for ₹299/- (excl. GST).
The line-up:
___
FLASH FLOOD
Crossover Thrash/Groove Metal
Flash Flood is a groove metal band from Sikkim. Formed in 2008 playing its unique blend of heavy, hard-hitting music, the band aimed to showcase metal music's raw energy and power while incorporating elements of Sikkimese culture. Their music is a reflection of their beliefs and the challenges faced by their community, giving it a strong sense of purpose and meaning.
After making a name for themselves in the local music scene and building a loyal following of fans, the band, unfortunately, went on a hiatus in 2013 but this year marks the comeback of the giants back to the scene.
FFO: Sepultura, Soulfly, Machinehead, Haunted, Chimera.
___
GUNS FROM COUNTRYSIDE
Stoner Rock/Sludge/Hard Rock
Guns From Countryside are a power trio formed in 2016 from Rinchenpong, West Sikkim. Although they started off as a typical rock n roll band they slowly expanded towards stoner rock, sludge, blues rock and hard rock striking a fine balance between all of these genres and reinventing their sound.
With four singles under their belt and also an upcoming debut album "Cahoot With The Devil" on its way they are a force to be reckoned with their fuzz-laden riffs.
FFO: Black Sabbath, Kyuss, Fu Manchu, Motorhead.
____
THE DEAD FLOWERS
Post Hardcore/Punk
The Dead Flowers are a quartet from the hills of Namchi, South Sikkim. The members of the band also happen to be a part of other great acts of the state and their want to push the boundaries of music a bit further led to the inception of the band around 2022. They bring their unique blend of hardcore and punk with numerous shows under their belt and also an EP release on the way.
FFO: At The Drive-In, Turnstile, Glassjaw, Rival Schools.
___
SCRAPPERS
Grunge/Alt-Rock
Scrappers are a Gangtok Based outfit that screams nothing but pure grunge. The recently formed band in 2021 stood as the 1st Runner Up of Red Fest Season VI and has played in various shows in and around the state and has been garnering names for themselves in the scene.
FFO: Stone Temple Pilots, Pearl Jam, Wager War, Ayurveda.
___
gujiXguji is a Sikkim-based community, dedicated to bringing in the best shows in the state. All of the shows are done completely DIY and were formed out of a necessity to revive the underground scene and bring about a cultural impact in Sikkim.
Poster by Aloran Sattar (ig: joshovisuals)
- 18 years of age and older only. If under 18, a parent must accompany them. For admittance, a parent's signed undertaking is required for their child to attend the venue.
- Valid ID proof is required to enter.
- Illegal drugs and unopened cigarette packs are not permitted on the venue.
- If any property damage has been done inside the venue, the person will be solely responsible for it and have to borne all the charges
- Please be aware that by purchasing a ticket to a gujiXguji performance, you consent to receiving information about upcoming events. We never spam.
Cafe Live & Loud
Tibet Road, Arithang, Gangtok, Sikkim 737101, India
GET DIRECTIONS
Cafe Live & Loud, Gangtok
Step out and enjoy this event
Invite your friends
and enjoy a shared experience