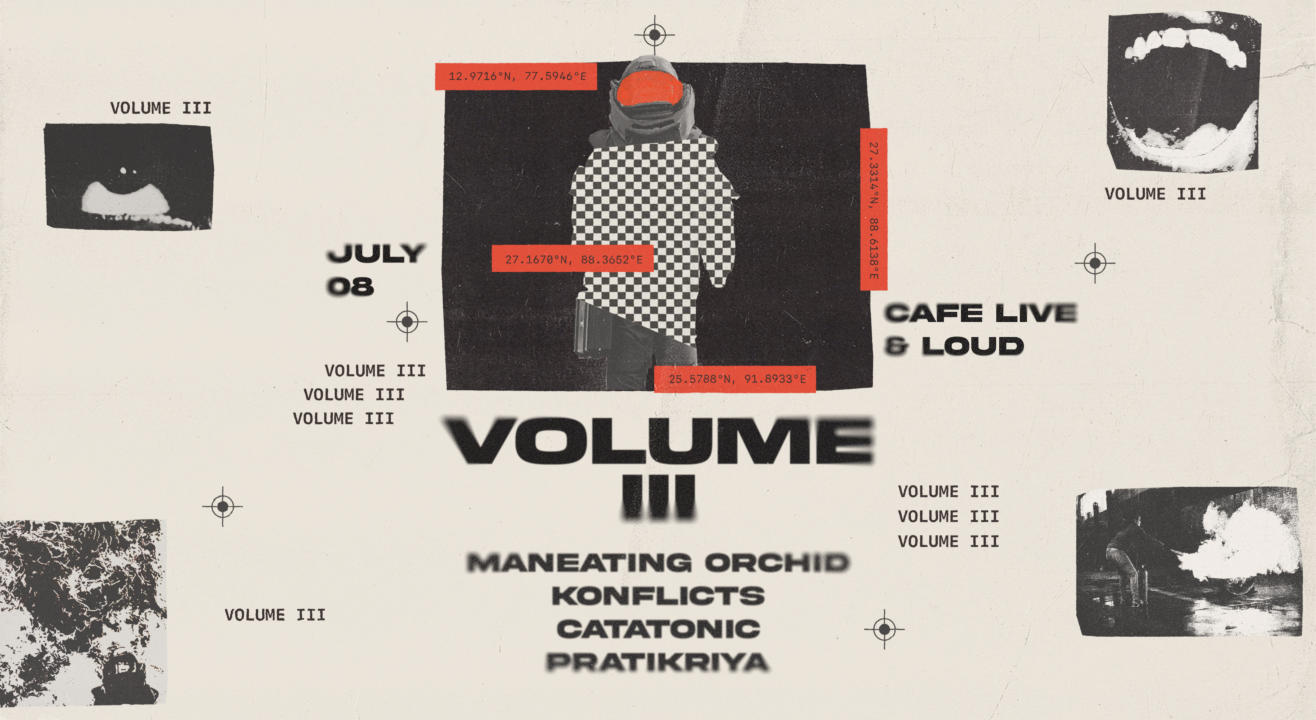 Cafe Live & Loud, Gangtok
Invite your friends
and enjoy a shared experience
Cafe Live & Loud, Gangtok
Invite your friends
and enjoy a shared experience
Covid 19 Safety Measures
This event adheres to the following

Health & safety measures
Social Distancing
Contactless Service
Sanitisation before the show
Organisers wear masks
Invite your friends
and enjoy a shared experience
Covid 19 Safety Measures
This event adheres to the following

Health & safety measures
Social Distancing
Contactless Service
Sanitisation before the show
Organisers wear masks
gujiXguji after their huge success of the second edition has returned with its third edition "gujiXguji Volume 3". This time, the lineup is colossal, consisting of the greatest bands from India.
This Volume 3 will showcase the appearance of the supreme mathcore lords MANEATING ORCHID from Bangalore on Sikkim soil for the very first time. The lineup also consists of Sikkim's very own noise-grind band KONFLICTS; Shillong's metallic-hardcore outfit CATATONIC ; Sikkim's first progressive death-metal band PRATIKRIYA.
__________________
MANEATING ORCHID:
Mathcore/Progressive Metal
Formed in late 2011, Maneating Orchid plays a dense blend of heavy music with metal, noise, and prog/psych-rock influences. With dissonant guitars, abrasive vocals, noise passages, and bizarre song structures, the band has been pushing the boundaries of heavy music in the subcontinent and remains one of the most original bands to emerge from the region. In 2016, Maneating Orchid released their self-titled debut EP, with Rolling Stone calling it "one of the best cult classics of 2016" & "one of the most intriguing metal releases of the year." The band released its first full-length record "Miasma" in January 2019 which received praise from various publications worldwide. The band released its sophomore LP "Hive Mind" in March 2022 which featured a dialed-up sonic intensity as well as a raw & honest yet ferocious production, pushing their notorious brand of chaotic prog into more aggressive territories. The band will be performing "Hive Mind" in its entirety along with a few tracks from older releases at the show.
FFO: Voivod, Watchtower, Dysrhythmia, Gorguts, Spastik Ink, Converge, Cardiacs, Blotted Science, Botch, Discordance Axis, Martyr, Death, Behold… The Arctopus
___________________
KONFLICTS:
Noisegrind
Konflicts from Sikkim mix ambience with noise/soundscapes & melancholic-but-eventually-gut-wrenching-guitars, blending various genres like grindcore and noisecore. They present a scattered but unhinged palette of sounds, for any who likes heavy music without any genre restrictions.
They released their debut EP in 2020 "Bedlam" which was well-received well within the punk and noise community.
Last year after the release of their second EP "Antya Ko Shuruwaat" followed by a successful run of shows around the country they managed to showcase a powerful intent to discomfort, questioning and dismantling all traditions of performance in their live shows.
They were also featured in the Rolling Stones as "11 Indian Metal Acts To See Live" and Decibel Magazine also reviewed their new EP as "incredibly creative, ferocious music that puts them in the same class as the Gridlinks and Takafumi Matsubara's of the world".
FFO: Kill The Client, Nasum, Magrudergrind, Sangharsha, Full of Hell, Chepang, Spazz, Man Is The Bastard, Prurient, Wormrot, Fuck The Facts
___________________
CATATONIC:
Metallic Hardcore/Death Grind
Catatonic is a metallic hardcore band from Shillong, Meghalaya, a small state on the Northeastern region of India, formed in 2021 amidst the coronavirus lockdowns. The band is also fronted by Nangsan Lyngwa who if you know is one of the staple names in the Indian Metal scene and has been part of many greats band.
Catatonic started out as a Deathgrind band, but has now started incorporating more punk, thrash and rock influences into their music.
FFO: Melvins, Converge, The Jesus Lizard, Sonic Youth, Queens of the Stone Age, Discordance Axis, etc.
___________________
PRATIKRIYA:
Progressive Death Metal
Pratikriya is one of the first progressive death metal bands from Sikkim that combine the raw power of death metal with intricate and wizardry elements of progressive music. Their sound concuts brutal aggression and complex compositions characterised by a seamless fusion of intense blast beats, crushing guitar riffs, intricate baselines, and dynamic melodic/ technical singing with the raw prowess of blistering growls. The band's ability to seamlessly shift between blistering aggression and serene melodic passages showcases their mastery of the progressive metal genre.
FFO: Cynic, Ne Obliviscaris, Opeth, Defeated Sanity, Exist, Athiest
___________________
gujiXguji is a Sikkim-based community, dedicated to bringing in the best shows in the state. All of the shows are done completely DIY and were formed out of a necessity to revive the underground scene and bring about a cultural impact in Sikkim.
Poster by Aloran Sattar (ig: joshovisuals)
- 18 years of age and older only. If under 18, a parent must accompany them. For admittance, a parent's signed undertaking is required for their child to attend the venue.
- Valid ID proof is required to enter.
- Illegal drugs and unopened cigarette packs are not permitted on the venue.
- If any property damage has been done inside the venue, the person will be solely responsible for it and have to borne all the charges
- Please be aware that by purchasing a ticket to a gujiXguji performance, you consent to receiving information about upcoming events. We never spam.
Cafe Live & Loud
Tibet Road, Arithang, Gangtok, Sikkim 737101, India
GET DIRECTIONS
Cafe Live & Loud, Gangtok
Invite your friends
and enjoy a shared experience