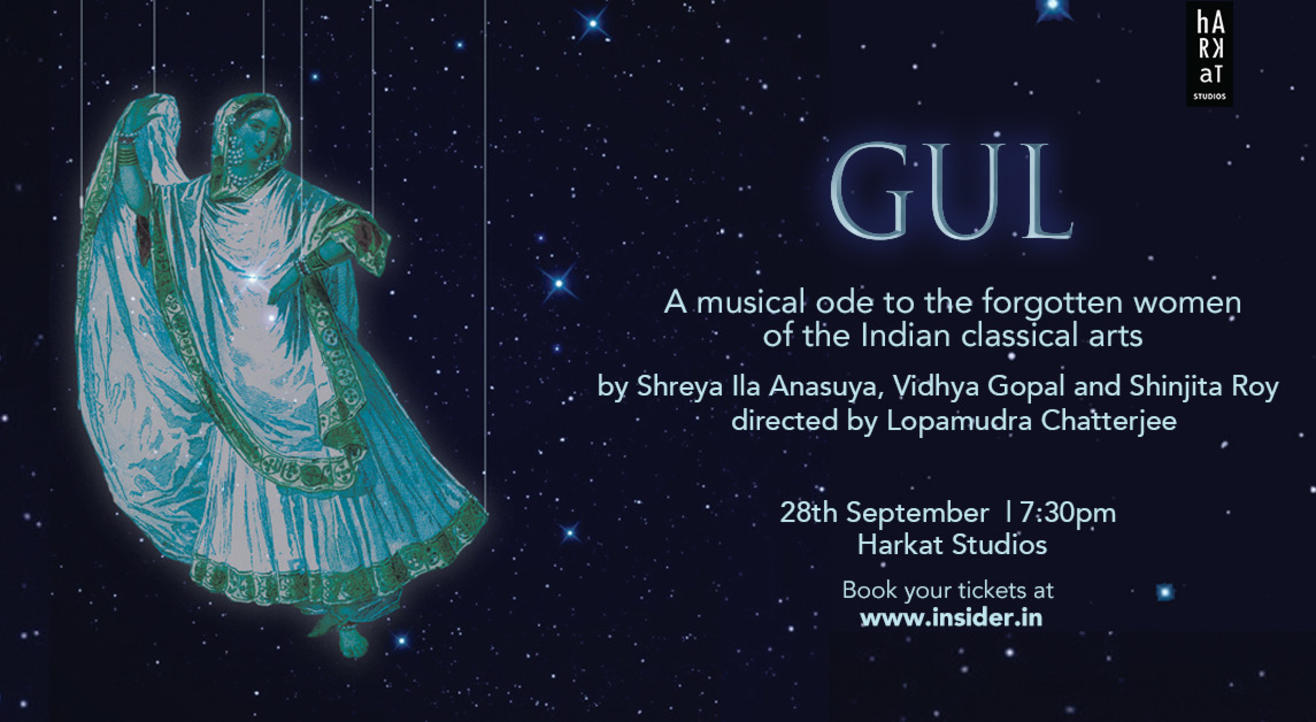 Performance
Gul - A Story in Text, Song and Dance
Harkat Studios, Versova, Mumbai
About
1857, Lucknow. Muniya, a tawaif, encounters Gulbadan – a woman who will forever change her life.
'Gul' is a short story adapted for the stage – narrated by its writer, Shreya Ila Anasuya, it will be brought alive in song by Vidhya Gopal and dance by Shinjita Roy, in an intimate production directed by Lopamudra Chatterjee.
At its heart, 'Gul' is an ode to music and dance – and to the forgotten women who nurtured the North Indian classical arts for hundreds of years.
"Ghazal, thumri, qawwali – she could sing it all with ease, locking eyes with each person in the audience so that, for a moment, they felt like the only person in the world.
Anyone who was alive then and knew her will tell you as much. That she was skillful. That she was magnetic. That she was a mistress of her arts.
But what nobody knows about her is that she was my Gul."
Show duration: 60 to 75 minutes.
Direction: Lopamudra Chatterjee
Performers: Vidhya Gopal, Shinjita Roy, Shreya Ila Anasuya
Price : 350/-
*********
About the artists:
Lopamudra Chatterjee is an educator and performance studies scholar, and is very interested in how process and class dictates the change of traditions. She has been invested in theatre as an actor, but is currently branching out into dramaturgy and direction. After a bachelor's degree in literature from Jadavpur University, and a master's degree in performance studies from Ambedkar University (Delhi), she is currently invested in the role of performance as a transformative agent in education.
Shreya Ila Anasuya is an award-winning writer of fiction and non-fiction, an independent journalist, and the managing editor of Skin Stories at Point of View, Mumbai. Shreya's work has been recognised by several UNFPA/Laadli Media Awards, a South Asia Laadli Fellowship, and a TOTO Award for Creative Writing in English, among others.
Shinjita Roy is a site-specific choreographer, with training and experience in architecture and Indian classical dance. Her background in Kathak and her architectural knowledge informs her performance- making process, drawing emphasis on features of architecture comprising our everyday spaces. She co-founded Chaturangana, where she generates performance from lesser known heritage architecture of India. She is currently taking her praxis explorations further to find a sustainable context for Indian classical dance in site-specificity.
An architect and a musician, Vidhya Gopal is an independent artiste looking to carve a unique path. She is trained primarily in Hindustani Classical music but holds a special love for poetry and ghazals. Vidhya has conceived two original music projects – The Betel Leaf and Chaturangana- which is the cross-roads of music, dance and architecture. She also conducts workshops titled "Journey of a Song" that encourages song-writing and original music making. Apart from this, she engages in some recordings for short films, web series and ad jingles.
Vanraj Shastri - Sarangi
Aditya Panwalkar - Tabla
Venue
Harkat Studios, Versova, Mumbai
HARKAT STUDIOS, BUNGALOW 94, FIRST FLOOR, ARAM NAGAR 2, VERSOVA, ANDHERI WEST, 400061-MUMBAI
GET DIRECTIONS