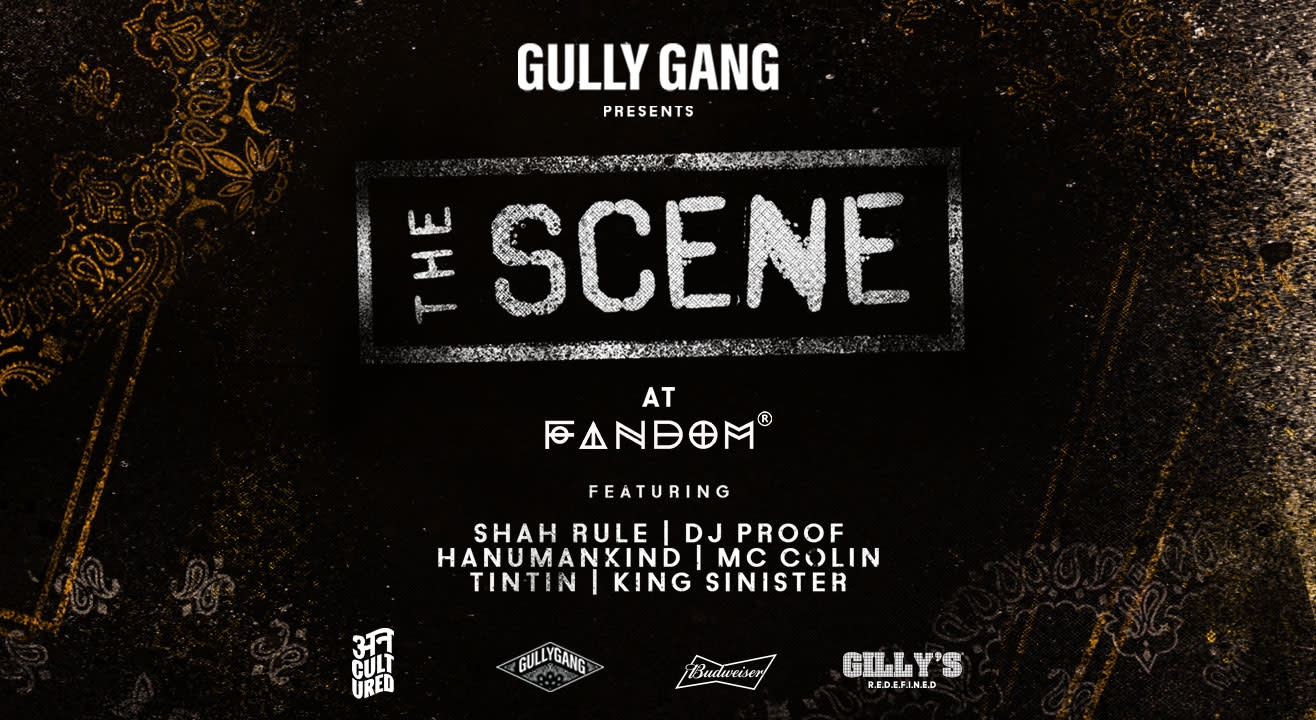 Music
Gully Gang Presents The Scene At Fandom
Fandom at Gilly's Redefined
About
GULLY GANG presents The Scene at Fandom At Gilly's Redefined featuring:
Shah RuLe
DJ Proof
HanuMankind
MC Colin
TinTin
KING Sinister


Shah RuLe
Born in Hong Kong, raised in Moscow, Russia, and of Indian origin, Shah RuLe is a Recording Artist, Music Producer, and Audio Engineer living in Mumbai. Shah RuLe's music is an eclectic mix of Hip-Hop, R&B, Pop, and Electronic. In June of 2015, Shah released a free album titled "Visualise Greatness", containing 8 tracks Produced and Mixed by himself featuring local UK acts like Hope, Swami Baracus, Paulaa, Words Ali, Kay, and more. Each track on album samples a classic Bollywood film song onto of 90's Hip-Hop drum breaks and modern 808's.


DJ Proof
Vinayak Pasula widely known as DJ Proof has translated his passion for music by being the man himself behind the wheels of steel. DJ Proof started off DJ'ing professionally from the year 2010 and has already performed to full houses in the city of Mumbai. He specializes in Hip Hop, Trap, Moombahton, Dubstep, Reggae, Dancehall, Glitch Hop and many more.


Colin Terence
An Indian rapper, a music programmer, a composer, an arranger and a solo performing artist, Colin gained popularity when he took part and performed on the reality TV show - MTV Rock On in 2009. Colin is well known around the country for his rare talent of rapping in not just English, but in South Indian languages too - Tamil and Kannada. He has produced several singles with various artists during the past few years in the music industry and also worked for movies in Bollywood and the Kannada industry. Colin simultaneously performs in clubs, at concerts, events and collaborates with other artists to make music, producing radio jingles to movie soundtracks.


HanuManKind
Suraj Cherukut AKA HanuManKind won the 2017 Mic Drop Tournament which recognizes up and coming rappers. Originally from Kerala, HanuManKind moved to Texas as a child. He returned to Bengaluru in 2015 and has been making music independently since. He brings out a fiery flow that immediately stands out, and he's just getting started.


KING Sinister
Sreejith JS aka King Sinister has carved his path to fame in a competitive and conniving world . As a boy who started jotting down rhymes that would haunt his mind at the age of 16, he later developed the same and successfully produced songs which are not only hypnotic, but also prodigious. Being able to move to the rhythmic divines of music as a 4 year boy, he has today, mastered the art of hip hop in various fields. Wanting to influence and educate yet and more hearts, Sreejith is bound to touch the stars and inspire millions


Unclutured India
Uncultured India is a platform that is created to bring the entire hip hop community of artists and fans together to experience the true culture of hip hop. It is their belief that the community does not get enough of the culture and Uncultured wants to provide a voice for the community through news and events.


What is Fandom At Gilly's Redefined?
At Fandom, our new live venue, prepare to be blown away by sensational live performances. Our 500 standing capacity venue is fully equipped with a grand stage and a robust sound and lighting system. To find out who is performing at Fandom, just check out our Event Calendar!


What is Gilly's Redefined?
Gilly's Redefined is the next step in the gastronomic evolution of our signature resto-bars - Gilly's. We have kept in mind the years of feedback we've received from our guests, threw in some spices of inspiration and hard work, blended it with yumminess, and topped it off with top-notch entertainment throughout the week so that every day feels like the weekend.
We have carefully and lovingly curated three floors of unique experiences - our vibrant resto-bar, Myu Bar and towering rooftop, The Terrace.
Be it a working lunch, catching up with friends, a relaxing event with family… you can celebrate it here within one groovetastic destination because it's always a good time at Gilly's!
*Club rules apply.
Venue
Fandom at Gilly's Redefined
1st floor of Gillys redefined, # 413, 100 Feet Road, 4th Block, Koramangala, Bengaluru, Karnataka 560034