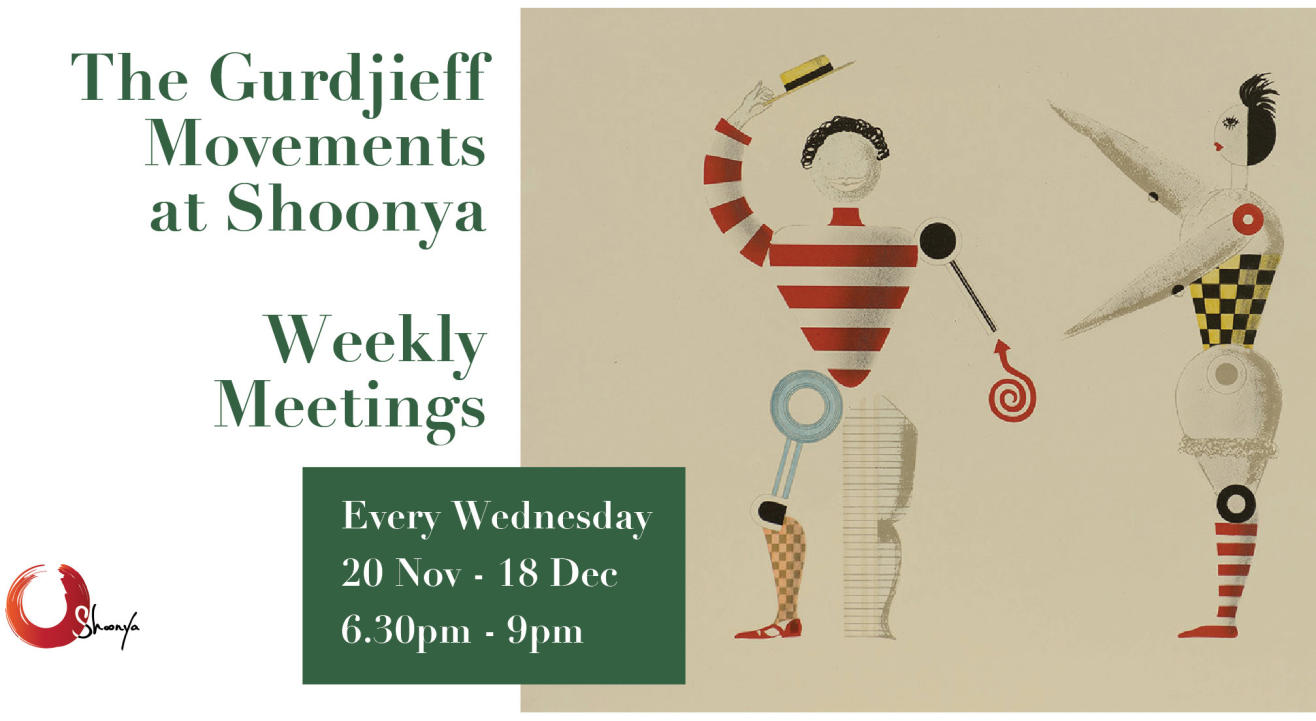 Gurdjieff Movements Weekly Meetings
November 20 - December 18 | 6:30PM - 9PM
Shoonya - Centre for Art and Somatic Practices, Bangalore
Invite your friends
and enjoy a shared experience
Invite your friends
and enjoy a shared experience
About the Event
Gurdjieff Movements Weekly Meetings
Every Wednesday
20th Nov - 18th Dec
6.30pm - 9pm
For ages 18+
Rs 2,000
"It always starts with innocence, the fool's road, demanding the courage to take risks, to experiment with the unknown." - Dr.Edith Wallace
Dance as vehicle **
"When the movement enters there is joy, the movement has a body and the body has a meaning, it's a kind of marriage, so make way, make way... "
From simultaneous inner and outer actions of attention, energy is released, then collected, and then blended in accordance with the laws of body-space-time existence. From simple yet profound actions of attention, body, and mind, a Gurdjieff dance is brought to life. Reciprocally, when the dance becomes actual in the doers, new energies are present in, among, and between the dancers -- energies then available to the doer for the work of her transformation and to the doers for the work of their dance. The process researches consciousness as an agency of being, moving us deeper in our work with active attention and bare attention — building collective mindfulness and individual freedom.
Music allows for the temporary learning triad of teacher-dancers-dance to give way to the manifesting triad of music-dancers-dance. In the former, the teacher is a temporary active element; in the latter, the music is active, the dancers receptive, and the dance manifests through the dancers.
The movements consist of abstract gestures and positions that have mathematical precision. However, the deeper emphasis in movements is on inner work that develops in time. Music has a vital role to play in transmitting these teachings. Each movement has a piece of music especially composed for it in order to facilitate the desired effect on the practitioner. The true function of music is not merely as an accompaniment but a living part of the inner work that takes place in the classes.
Within this model, participants, in maintaining the holistic attention appropriate to each dance or inner exercise, quickly experience reciprocal feeding. The implications -- for life, education, health, relationships, and community -- of this cooperative way of working become obvious in the experience of it.
(** Blake, Tomarelli)
|| About the Facilitator
Tabasheer Zutshi began her journey with "The Fourth way", in 2001 when she met Akash Dharamraj, in New Delhi. Akash had recently set up a Fourth way school called 'Akhaldans'. Here Tabasheer was introduced to Gurdjieff's dances and movements. Over the next decade her practice deepened and she also participated in a number of public Movement Demonstrations. Parallel to her inquiry of the Fourth Way, she began learning Transactional Analysis as a means to compliment her practice from a psychological perspective. As her study intensified she trained with other senior practitioners of the work from the J.G. Bennett Lineage. Bennett was a direct student of Gurdjieff and one of the few who carried his work forward after his death.
Later, under the guidance of her teacher Akash, Tabasheer was trained as a teacher of the movements. Tabasheer now explores Gurdjieff's teachings from the perspective of the 21st century and its relevance today. Her Fourth Way study has been fervently guided by the teachings of P.D. Ouspensky, Mme De Salzmann, J. G. Bennett, Maurice Nicoll. Her ongoing research is influenced by the contemporary work and writings of Anthony Blake, Wim Van Dulleman, James Tomarelli and Avrom Altman.
Born in Bombay in 1975, Tabasheer Zutshi graduated in Ancient Indian Culture from St. Xavier's College, Bombay and later studied painting at The Delhi College of Art. Professionally she is a Production and Costume designer. Her work extends to theatre, site-specific installation and performance and sound art. Her artist collaborations as Costume Designer and Art Director have been part of art and theatre festivals.
She views environments as possessing a metaphysical quality that impacts the viewer's perception of the narrative and characters. She experiments with the minutiae of everyday life and found objects to bring an emotional and sensorial response to her work.
Currently she lives in Bangalore, teaches the Gurdjieff Movements and ideas, practices yoga and is an almost full time gardener.
|| A little about Shoonya
A light-filled space surrounded by beautiful palm trees, in the heart of Bangalore on Lalbagh Road - Shoonya is a non-profit, which was established in 2014 with the aim of helping people further their journeys of self-discovery through deeper engagement with the arts and somatic practices. We host workshops, performances, open events, classes, film screenings, discussions, jams and more, and ensure that everything we do is done mindfully - with love, joy, care and warmth.
Shoonya - Centre for Art and Somatic Practices, Bangalore
4th Floor, Rear Wing, Brahmananda Court, #37 Lal Bagh Road, Bangalore
GET DIRECTIONS