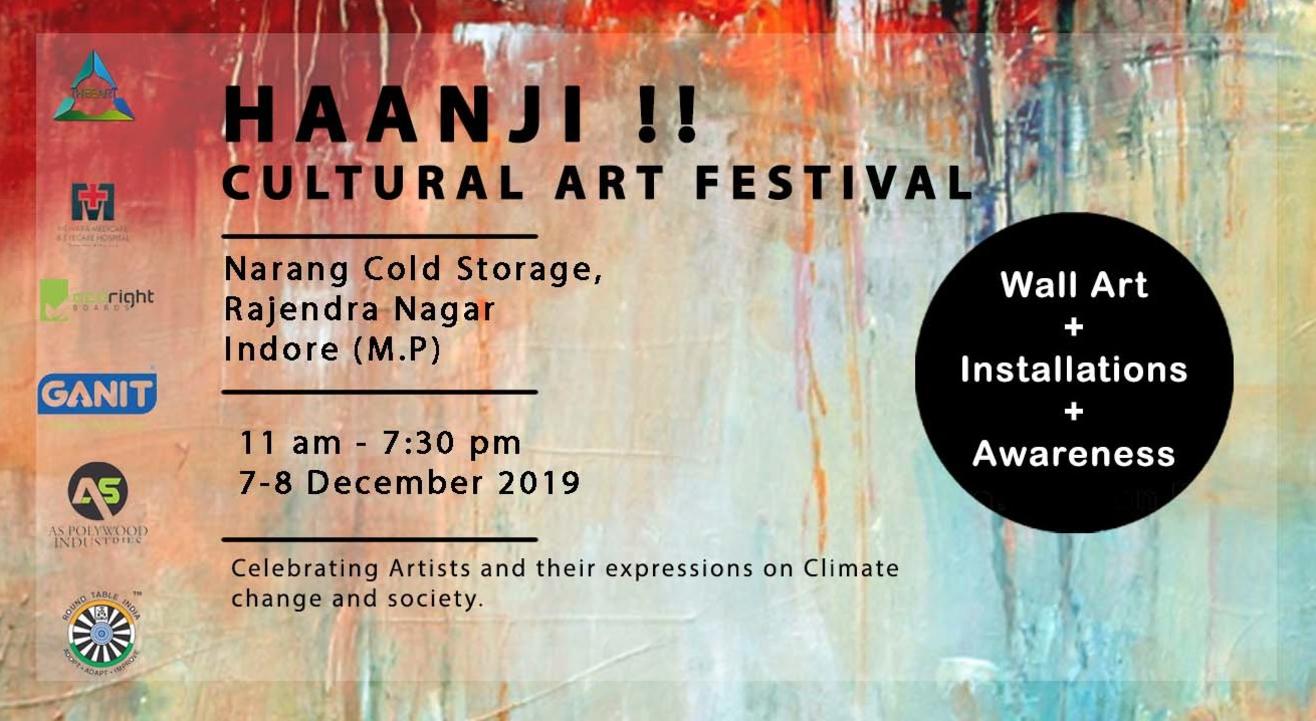 Art
Haanji Art Festival
NARANG COLD STORAGE AND ICE FACTORY
About
HAANJI ART FESTIVAL BY THEEART - INDORE's FIRST ART AND CULTURAL FESTIVAL - Celebrating Artists and their expressions on Climate Change and Society.
The 1st edition of the Haanji Art and Cultural Festival will take place at Indore from 7th December to 8th December 2019.
What this is about - Haanji as a platform aims to promote collaborations amongst artists on a global level. This festival series Haanji by Theeart is about bringing an art dialogue with the locals where they can expose themselves to new ideas of creativity. We commence this event with our first three fine contemporary artists from Mumbai and New Delhi to paint murals on a reputed cold storage facade located in the city of Indore. Along with murals, artists from various cities will showcase their works, from canvasses to art installations, from sketches to video art, from speeches to workshops, this makes a truly unique experience for all the festivalgoers.
Here's what to look forward to:
Wall Paintings by three fine artist from Mumbai and Delhi.
20+ Artist's artwork from all over India Displaying and selling their artwork
Pop-up and Stalls from various brands supporting sustainability
Fun Art workshops for relaxing weekend for Adults on Saturday
Kids Art workshop on SUNDAY
Live artwork by very talented artist from Mumbai on SATURDAY
Tree Planation Drive
Kids play area to keep the little ones busy with games & art / craft workshops all day
QUICK LOOK:
Dates - 7th and 8th December 2019
Venue - Narang Cold Storage, Rajendra Nagar, INDORE
Entry Fee - Rs. 100
Timing of the Festival - 11am to 7pm
Adult Alcohol Ink Painting Workshop - Fee - Rs. 1850 (all materials included + 1 CUP + 1 artwork) - Time (Saturday 3pm to 5pm)
Kids Knife Painting Workshop - Fee - Rs. 1350 (all materials included + Painting knife + Brush + 1 artwork) (Sunday - 12pm to 3pm)
Tree Plantation Drive
No food, cigarettes, beverages from outside will be permitted