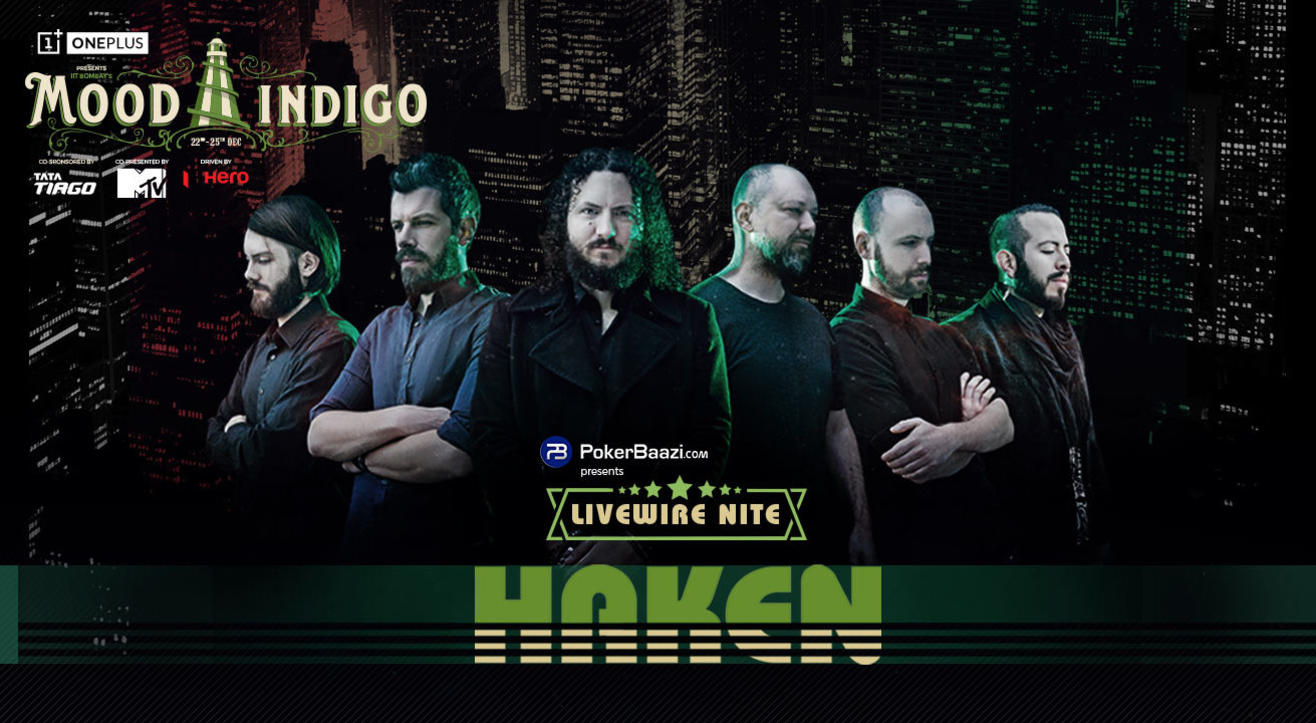 Music
Haken: Livewire Nite at Mood Indigo
About
Get your friends along! Buy 5 tickets and get 10% off or buy 10 and get 20% off!

Are you ready to set to up those horns? Headlining Mood Indigo's Livewire Night is none other than British Progressive Metal sensations, Haken!


The super talented lads will tear the stage in half with their performance. Madness will ensue and people will go havoc, as if there's cobras in the moshpit! You better prepare yourself well!


Prior to Haken taking to stage, there will be an exciting opening act (to be announced) and the three finalists of the Livewire competition - India's oldest and biggest semi-professional band launchpad.


Tickets will be free for IIT, Bombay students as well as those who avail official accommodation at Mood Indigo, IIT Bombay
One of the torchbearers of the progressive metal genre in the 21st century, Haken are a London-based band who formed in 2007 and have amassed critical and popular acclaim with each release.

Consisting of Ross Jennings (vocals), Richard Henshall and Charles Griffiths (guitars), Raymond Hearne (drums), Diego Tejeida (keyboards) and Conner Green (bass), the band has had four releases: Aquarius (2010), Visions (2011), The Mountain (2013) and Affinity (2016).

"Aquarius landed just two years after the sextet's initial creation, and yet the breathtaking scope of its ambitions, stylistic hybridization, and sheer instrumental skill suggest entire decades of accumulated experience between those involved," read a review on Allmusic.

Their latest album, Affinity, well and truly cemented the band's place as one of the leading progressive metal bands of this era, Progressive Music Planet giving it a perfect 10/10 score.

Fans of progressive rock and metal cannot afford to miss this once-in-a-lifetime chance to see the band play live, in one of the best settings Mumbai has to offer!
​Mood Indigo, a non-profit organization established in 1971, is the annual cultural festival of Indian Institute of Technology, Mumbai, a premier educational institution in India. With a footfall of over 139,000 in its 46th edition and more than 317,000 hits on it's official Facebook page, Mood Indigo is the Asia's largest college cultural festival.

Over the years, Mood Indigo is an event progressive rock and metal fans have looked forward to with anticipation: after all, the festival has featured legends like Porcupine Tree, Karnivool, Katatonia and Mike Portnoy (Neal Morse band) as headliners.
Livewire, the oldest semi-professional band launchpad in India, is one of the flagship events of Mood Indigo. With a phenomenal legacy of over 34 years, Livewire is widely known for promoting independent music scene in India. The previous winners of Livewire include some of the India's biggest bands like Parikrama, Pentagram, Motherjane, Zero, The F16s, Kraken, Demonic Resurrection and Goddess Gagged. The finalists of the Livewire competition make for a perfect start to an epic night of music - they are followed by the opening act and headliners such as Karnivool, Porcupine Tree and now, Haken!