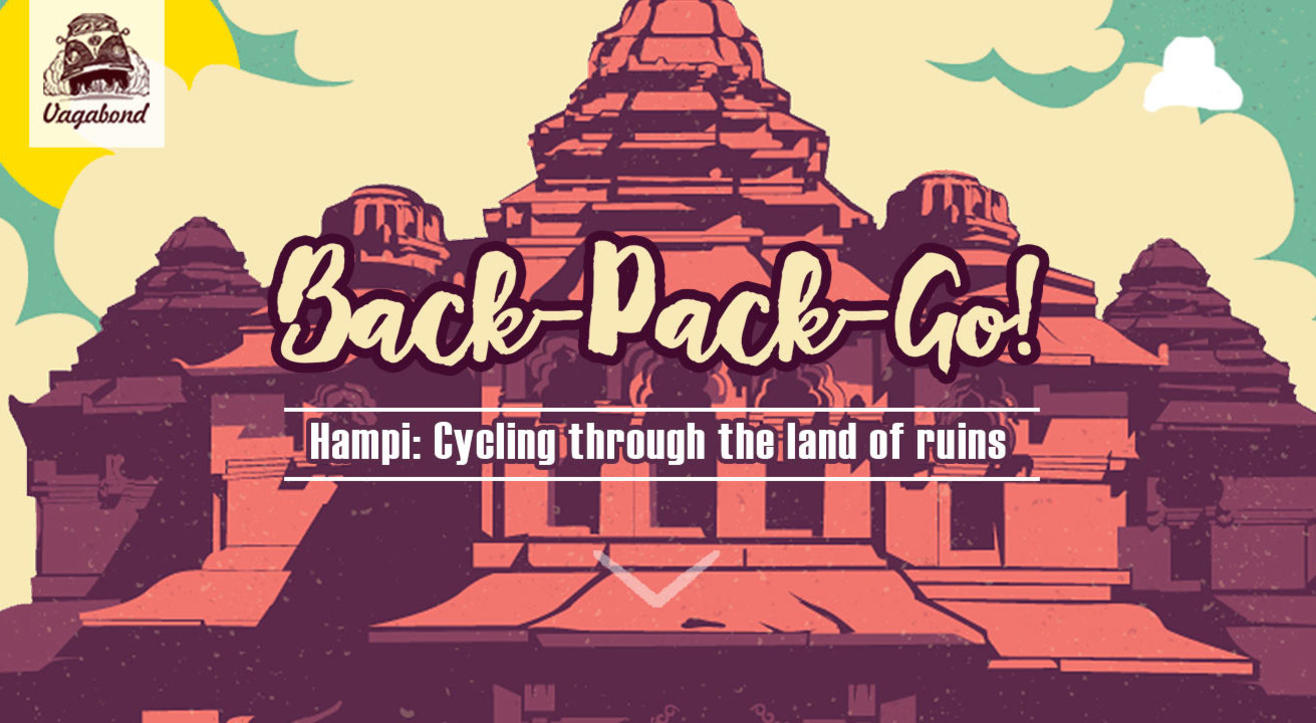 Cycling
Hampi- Cycling Through The Land Of Ruins
November 24 | 27 | 4:30PM
Bisleri International Pvt Ltd
About
Vagabond presents a journey to the city of ruins, where you will come across a plethora of landscapes, people and experiences. With a history that dates back to the 3rd century B.C., Hampi will leave you in awe of its culture and beauty.


Witness some spectacular sunsets that paint the sky in blazing shades of orange, magnificent piles of boulders stretching as far as the eyes can see and the history of one of India's glorious empires left behind in the form of ruins. If you're interested in cycling through ancient ruins, while also jumping in rivers and eating some great food, Hampi is the place to be!


For further inquiries:
WhatsApp/call: Elton 9867952811 or Shannon: 9819765950
Mail Vagabond at: vagabondexperiences@gmail.com
Day 1
Pack your bags cause as you will be heading to the city of ruins! Meet at Andheri (E) outside the Bisleri building (near WEH metro station) at 4:30 PM.
Day 2
Reach Hospet by 8:00 AM and take your rickshaw to Hampi. Keep a lookout for the ever changing landscapes. They're gripping, to say the least. You will reach Hampi Bazaar in around 30 minutes and make your way to the guest house which is across the river on the hippie island (Virupapur Gadde). If the river is full, cross it in the coracle boats. If not, then it's just a lot of fun jumping across the boulders sticking out of the river. Check-in to your guest house, freshen up and have a hearty breakfast. Post this, go on a walking tour of the Hampi ruins and cross some gorgeous landscapes and rivers. Head back for a late lunch. You have a few hours to rest. Then, head for a beautiful sunset experience to Hanuman Temple (Anjanadri Parvatha). It's a 5 km walk followed by an arduous climb up 575 steps. But in the end, it's all worth the effort. Spend the evening on top of the mountain, looking down on the ruins that cover all over Hampi. Before it gets too dark, head back to your guest house and laze around in the cafe. Hog on a heavy dinner and get good night's rest, cause you're gonna need a whole lotta energy for the next day.
Day 3
Rise and shine Vagabonds! Nourish yourself as much as you can, cause today you're gonna cycle around the ruins of Hampi. There's a fair bit of uphill cycling but don't worry, you can just get off and walk up the slope (none will judge). The roads are wide with barely any traffic, so make sure you enjoy the pleasant climate and beautiful views. You'll find 'nimbu-paani' and souvenir vendors along the way. So refresh yourselves and even do your part of the shopping. Head back to Hampi Bazaar for a late lunch. You have a couple of hours to explore the bazaar on your own or just go sit by the river or cycle around the town. Meet by 5:00 PM sharp and take rickshaws back to Hospet. Take one last look as the ruins of Hampi whiz past you. Time to board the bus back to Bombay.
Day 4
You will reach Bombay around 9:00 AM latest. Say your final goodbyes. Back to the grind.
AC sleeper bus Bombay-Hospet-Bombay
Rickshaw ride from Hospet-Hampi-Hospet (3 pax per rickshaw)
Accommodation in guest houses with attached toilets (2 or 3 pax per room)
1 day rental of cycles (Day 3)
Entry fee to monuments run by the UNESCO (Day 2 & Day 3)
All activities and visits to places as per itinerary.
All guide and local expertise charges
First-aid assistance
Vagabond merchandise
Expenses incurred by individuals over and above provisions by Vagabond.
Visit to any place not listed in the itinerary.
Meals.
Extra pair of clothes, toiletries (towel, soap, toothbrush. toothpaste etc)
Cap, insect repellent (Odomos spray/cream)
Photo ID proof
Personal medication (for eg. inhaler)
Camera/binoculars (optional)
Slippers, long pants, long t-shirts/shirts, socks, warm clothes.
Please contact Vagabond to inquire about availability of seats and to register for the trip.
A basic knowledge of cycling or riding a scooter (extra rental cost) is expected of everyone joining this trip.
There is barely any network in Hampi. BSNL works best. Airtel and Vodafone get erratic network at some places.

Vagabond is an event management company. But, they more than just 'manage' events; they design experiences and would love to design an event especially for you. They also do off-beat corporate getaways and training programmes.
Venue
Bisleri International Pvt Ltd
Western Express Hwy, Parshiwada, Chakala, Andheri East, Mumbai, Maharashtra 400099