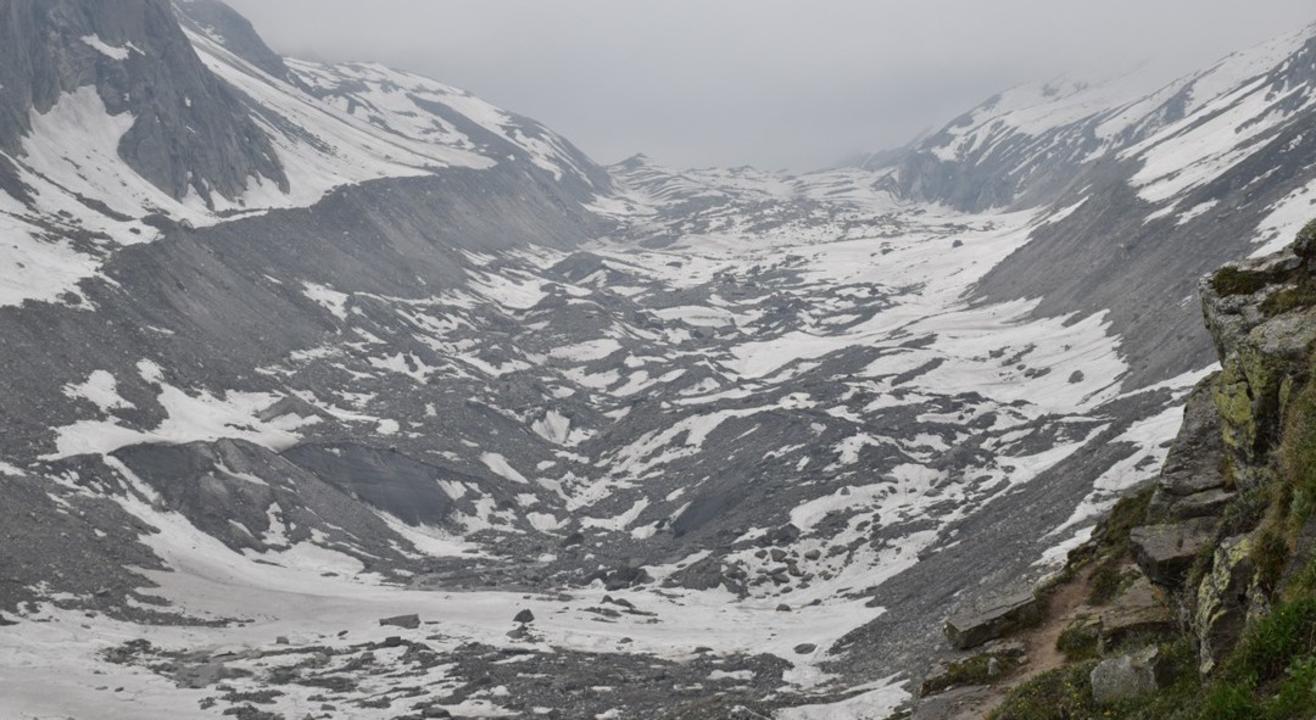 Trek
Hamta Pass and Chandrataal
About
Level : Moderate
Height : 13,800 ft
Day 1 : Reporting at base camp in Manali.
First Day is kept for rest and Acclimatisation. For reaching base camp on time, one should board a bus for Manali with reaching time before 9 am. Get down 20 kms before at a junction called "Patli-kuhal". Our cabs are already present there from 7 am to 9 am to take you to Rumsu base camp. Participants coming after 9 am have to take a share cab for Rumsu village by their own, which is 11 kms from Patlikuhal.
Once you reach Camp, you will undergo registration process and then for an acclimatisation walk. After walk participants will be distributed Trekking bags, Microspikes( for better grip on slippery snow), Gaiters( to prevent snow enter your shoes) and trekking sticks.
Day 2: Drive to Hamta dam and trek to Chikka.
After morning breakfast we will start the day's trek with a beautiful drive to Hamta dam from Rumsu at 8 am.The trek to Chikka starts from Hamta Dam and is easy. It takes around 2-3 hours to complete it. There is a small forest patch and then two wooden bridges before you reach the campsite. Chikka has big rock boulders and a beautiful waterfall.
Overnight in tents at Chikka.
Day 3: Chikka to Balu ka Ghera.
After morning breakfast we will start the trek for Balu Ka Ghera. Trek duration is around 5 to 6 hours from Chikka to Balu ka Ghera, scaling to an altitude of 11,900 feet. The initial part of the trek goes through the bank of the river crossing few rock boulders. There is a water stream that needs to be crossed on the way.
Balu ka Ghera is a large plain ground on the bank of the river and camping at this spot is a dream in reality. One can spot Indrasan, the highest peak of Manali valley from here. Snacks would be served in the evening followed by dinner. Overnight camping at Balu Ka Ghera.
Day 4: Balu ka Ghera to Shia Ghoru
Today's trek starts early as we will try covering the maximum snow patch before sun rise. The trek route from Balu Gehra towards Shia Ghoru is a moderate climb, scaling 4,200 meters. The trek duration is relatively long and starts by 5 am in the morning from Balu ka Gera. It takes around 4 to 5 hours to reach the top of the Hamta Pass. The aerial views of Spiti valley from Hamta Pass is quite breathtaking. We will then descend from Hamta top towards Shia Ghoru. The descend is steep and at times when snow is abundant one can slide down to reach Shia Ghoru.
Day 5: Shia Ghoru to Chandrataal to Chatru.
After morning breakfast we will start the trek to Chatru. From Chatru we will drive in vehicles to the majestic Chandrataal lake. Participants will get their deposited luggage bag and they have to return all the issued gear at Chatru camp site. Before dinner Certificate distribution will happen and overnight camping at Chatru.
Day 6: Jeep Ride from Chatru to Manali bus stand
After morning breakfast we will start the jeep ride to Manali via Rohtang Pass. We will be reaching by 1pm. While booking return bus tickets, book after 7 PM volvo from Manali to keep some buffer time as there are chances of traffic at Rohtang while driving down towards Manali..
THINGS TO CARRY:
Trekking shoes: Carry trekking shoes with good grip and ankle support. Do not carry sports shoes.

Jackets: Carry three jackets - a hard shell type that can protect you against rain and cold wind, a warm jacket padded type for the camp and a fleece as an additional layer for warmth during the trek.

Three trek pants: Carry a minimum of 2 trek pants and 1 cotton pant. Trek pants should be quick dry material. Denim/jeans and shorts are not suitable for trekking.

Three trek t-shirts (quick dry/dri-fit): Full sleeved t-shirts that prevent sun burns on the neck and arms and are quick dry will be recommended.

Thermals: Carry thermal base layer (top and bottom).

Sunglasses: Sunglasses are mandatory. There will be lot of snow on the trek and can cause snow blindness.

Sun Cap: At high altitude, the sun is extra harsh so carry a cap to protect yourself. A woollen cap or scarf can be quite helpful for the cold nights.

Water proof hand gloves: Carry water proof gloves. Avoid woollen gloves as they will get wet if you touch snow.

Cotton Socks: (3-4 pairs) and a pair of woollen socks.

Headlamp/LED torch: Mandatory

Raincoat/Ponchos: At high altitudes, snowfall and rain are quite common and it's mandatory to carry a poncho so that you don't get wet. A poncho is made from a watertight material designed to keep the body dry from the rain. It covers the whole body with the backpack .We rent a Poncho at 300 INR per

person .

Daypack (20 litres): You will need this to carry water bottles, lunch box and personal medical kit in case you decide to offload your backpack. Lunch box and water bottle: Every participant should have their

personal lunchbox and good water bottle.Two water bottles of 750 ml each are recommended.

Plastic Packet/Garbage Bag: Carry a minimum of 3-4. These can be quite helpful to give an extra protection to your clothing against getting wet during the rain. Theses can be also used to store garbage.

First Aid Kit: It is advisable to carry a basic medical kit comprising items like Cotton, Blister tape, savlon, antiseptic cream, band aids, crepe band aid, pain spray and few medicines like Diamox, Dexmethasone, Disprin and few antibiotics.

Toiletries: Carry a minimum of items like mouthwash, sun's cream, hand sanitiser and a small towel.
INCLUSIONS:
• Accommodation : You will be staying in tents on all days of the trek (3 person/tent). Tent is separate for male and female participant. For 2 sharing tents, you have to pay 2,500 INR per person extra.
• Meals : (Breakfast, lunch, snacks and dinner). We provide simple, nutritious veg/Jain food on all days of the trek. Non-Veg food at 800 INR per pax - [ Includes non veg food at Kasol, Grahan and Biskeri Thach]
• Rucksack : A 60 litre bag withrain cover is provided for using in trekking. You can deposit your extra luggage with your bags at our campsite.
• Camping charges : All trekking permits and forest camping charges are included.
• Trekking equipment : High quality tents and sleeping bags in all the camps. Sleeping bags can
withstand temperatures as low as -10 oC.
• Gaiters: It prevent snow from entering inside your shoes.
• Safety equipment: First aid kit, oxygen cylinders, oximeter etc. will be with guide/trek leader and
at campsite as well to deal with emergencies.
• Expert trek Leaders : All our trek leaders are at least qualified in basic/ advanced mountaineering and first aid course.
• Expert Trek support team: The mountain staff on this trek consists of certified guides, cooks, helpers and porters.
• HAPO Chamber bag at Nagaru and Balu Ka Gera Campsite
• GST 5%.
EXCLUSIONS:
• Cost of Emergency.
• Bottled water.
• Any personal expense.
• Backpack offloading charges .
TERMS AND CONDITIONS:
BOOKING AND PAYMENT: The booking and payment options are available on the website. Once you book an event with Kailashrath Treks, that represents unconditional acceptance of our terms and conditions. The terms and conditions are same for all the members. As a matter of fact all adventure activities like High Altitude treks, peak climbs and mountaineering inherent risk to life and property. Kailashrath Treks team will not be responsible for any accidents or mishap happening during the trek. However, Kailashrath Treks team does its best to reduce all types of risks, accidents and mishaps.
DOCUMENTS ON MEDICAL FITNESS: All the participants will have to produce Medical Certificate signed by an MBBS doctor certifying that the person is fit for the trek. Failure on producing the certificate will deprive on from participating in the event. Participants will also have to fill a participant info and a NOC (No Objection Certificate) form.
PROMOTIONS: The pictures that have been put on the website are for marketing purposes. It doesn't guarantee you that the pictorial content will be part of your trek because the landscape depends on weather and amount of snowfall that the place has received.
ITINERARY : The safety and well being of all the trekkers is always our prime concerns. In pursuance of this responsibility, we have the right to modify or cancel the program, under circumstance like heavy snowfall, cloudburst, road blockage, political unrest or any unavoidable circumstances that are not in our control. If possible, Kailashrath Treks shall intimate you of the change in itinerary at earliest. In addition to this there will not be any refund if one is dropping out of the event voluntarily/involuntarily for any unused services like transportation, accommodation, sightseeing, meals or any underutilized services.
COMMUNICATIONS : All communications from Kailashrath Treks team regarding inquiry, booking and payment can be done on +91-7807166769 / 9805155151. Any request regarding change in itinerary or cancellation of the event has to be mailed on kailashrathtreks@gmail.com and then should be informed on call also.
BEHAVIOR ON TREK: All the participants are required to behave in a manner that is acceptable to group travel. In case of any such situation, the trip will be terminated and no refund will be done for any unused services from that point of time. The final decision in this kind of scenario will be taken from the group leader. Behavior that causes danger to other participants, leading to loss of property or distress to other members will not be tolerated at all.
OPTIONAL/EXTRA ACTIVITY: In case if Kailashrath Treks is providing assistance for any extra activity, it will not take responsibility or claim either in terms of booking or service of the third party.
MEDICAL EMERGENCY: In the event, you fall ill or suffer a fatal accident during the trip, all hospital expenses, doctor fees, repatriation expenses, evacuation from road or mountain, any other charges incurred as a direct or indirect result of your illness / accident are your responsibility. In the event if someone is suffering an accident, Kailashrath Treks will take the responsibility of escorting the participant at an earliest to nearest hospital. Any other expense like hospital expenses, doctor fees, evacuation or any other cost that is as result of the accident will not be covered.
DISCONTINUATION/WITHDRAWAL from the Event: On grounds of medical reasons or injury, if someone wants to discontinue from the event, neither there will be any refund nor the participant can demand for any service. However, in such a case one can stay at the base camp for the promised duration of the program with both food and stay facility.