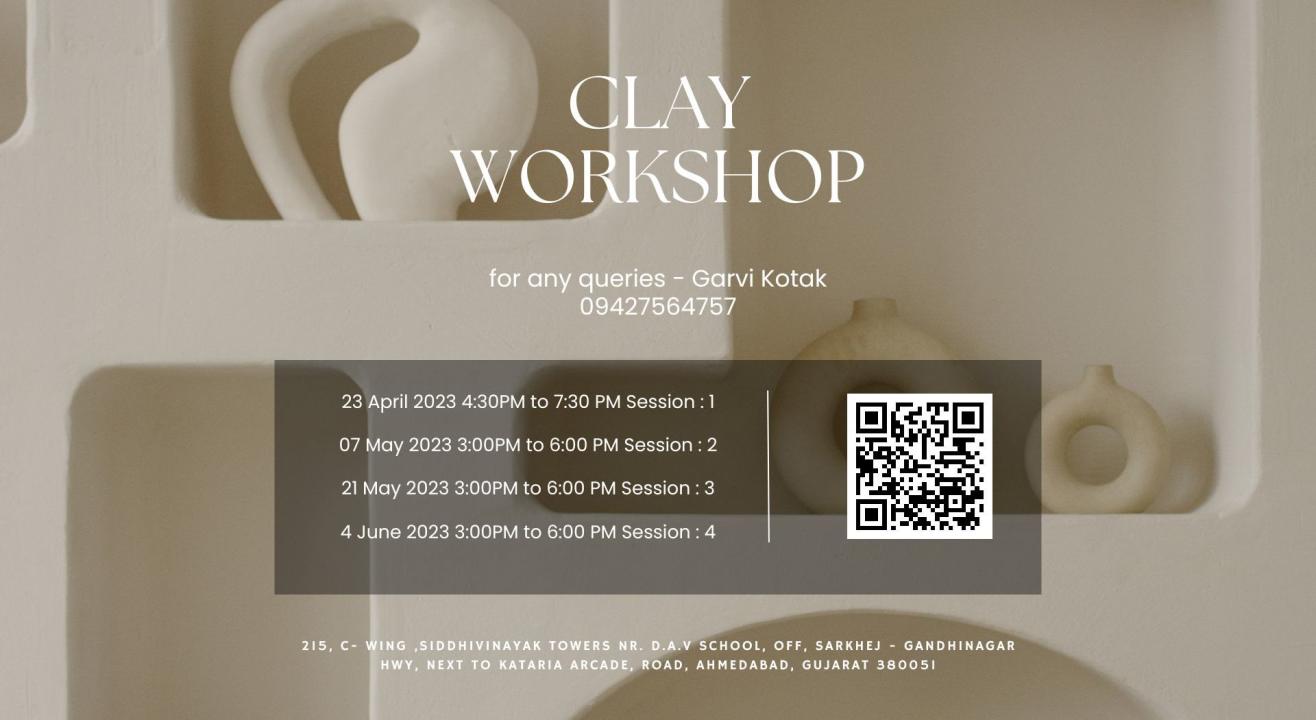 HandBuilt Pottery Workshop
April 23 | 4:30PM - June 4 | 2:00PM
Akshat Drama Group, Ahmedabad
Invite your friends
and enjoy a shared experience
HandBuilt Pottery Workshop
April 23 | 4:30PM - June 4 | 2:00PM
Akshat Drama Group, Ahmedabad
Invite your friends
and enjoy a shared experience
Invite your friends
and enjoy a shared experience
Imaginations are meant to be expressed!
Come relax and unwind in a place made for the playful artists within each one of us by the artists . Here everyone is encouraged to be creative and original. We love having fun with our art and with the people around us.
Come learn the basics of the indigenous crafts and develop your art in your own unique manner. We invite guests to gather and inspire each other to cultivate the inner creatives.
WHAT WE ENVISION
Creatives determined to Explore
We understand the importance of that small push in an artist's life. Our community serves as a support system for all artists who visit our studio by being a special space where their creative side can fly freely.
The idea is to immerse in the unique experience that each material has to offer through the traditional techniques of crafts developed over time.
FOR WHOM IS THIS STUDIO?
Dreamers and Shapers
Doesn't matter if you're experienced in a craft or not the will to explore is the key ingredient to visit this space. All creative individuals keen to build something through the years old techniques of Indian crafts are welcome.
TERRACOTTA
They say that each clay article is a piece of someone's life. They even say it has its own small voice and sings in its own way.
A series of 4 short sessions followed by a display of the artworks created during the sessions. In this guests will be introduced to basic techniques to work with terracotta. This includes the life-cycle of clay from its making to firing. Clay and clay-products have different characteristics at each stage. Your time at the studio would be about experiencing these closely with context to your own artworks and more.
1) Handbuilt Pottery
During this session we'll see how a lump of clay can be transformed to beautiful pot only with the use of hands
Building pots without the help of a potter's wheel can be both- restrictive and freeing from its limits. This technique brings one closest to clay.
23 April 2023 4:30PM to 7:30 PM
Session : 1
2) Coiled Pottery
During this session we'll see how fine clay coils can be turned into fascinating shapes. These can further be molded into 3-dimensional forms. This technique teaches one patience and precision.
07 May 2023 11:00 PM to 2:00 PM
Session : 2
3) Tiles
Malleability of clay gives us the liberty to make flat tiles out of it. Here we will create beautiful designs on these tiles by either adding or carving on the tiles. These can later be hung on the wall as decorative art pieces.
Session : 3
21 May 2023 11:00 PM to 2:00 PM
4) Shifting Forms
Clay is a very obedient material. It can take any form that we give. In this session we will learn to make flat tiles of clay. These will eventually turn into interesting vases mugs or anything that you can imagine.
04 JUNE 2023 11:00 PM to 2:00 PM
Session : 4
RULES FOR PARTICIPATION
Be prepared to get your hands dirty but to keep your space neat.
Bring an apron to avoid staining your clothes.
Trimmed nails are a must.
Akshat Drama Group
215, C- Wing ,Siddhivinayak Towers Nr. D.A.V School, Off, Sarkhej - Gandhinagar Hwy, next to Kataria Arcade, Road, Ahmedabad, Gujarat 380051, India
GET DIRECTIONS
HandBuilt Pottery Workshop
April 23 | 4:30PM - June 4 | 2:00PM
Akshat Drama Group, Ahmedabad
Invite your friends
and enjoy a shared experience