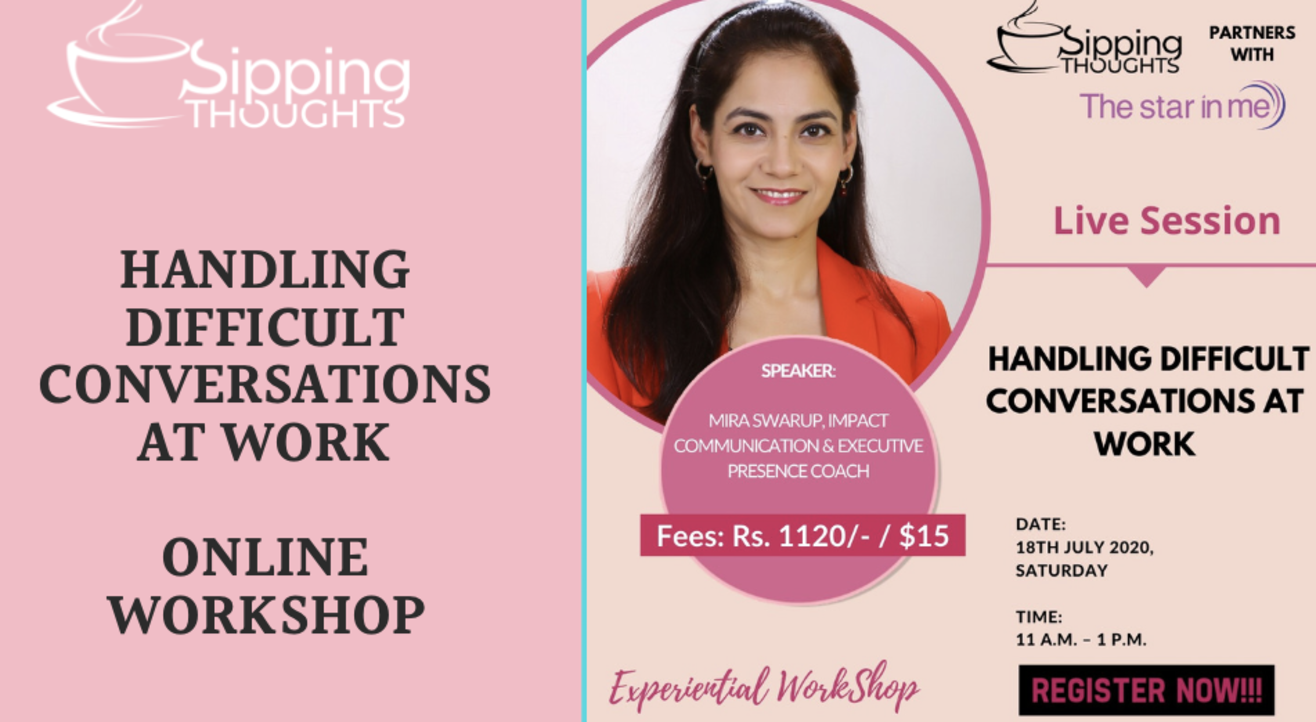 Handling Difficult Conversations At Work
Invite your friends
and enjoy a shared experience
Invite your friends
and enjoy a shared experience
About the Event
Sipping Thoughts partners with The Star In Me to bring you a Premium Workshop on "Handling Difficult Conversations At Work" – with Mira Swarup, Impact Communication & Executive Presence Coach, on 18th July | 11:00 AM – 1:00PM
Difficult conversations are hard. Knowing the right words to use to defuse inevitable tensions makes them easier. Carelessness in the choice of words leads to hurtful, demoralizing and at times tragically devastating consequences. Words matter and this course will show you why and how.
In this session with impact communication coach Mira Swarup learn how to deal with high-stake situations when emotions are involved. The 2 hour workshop will cover:
How to Handle Difficult Conversations
- What strategy to use in managing difficult conversations?
- What are the critical body language signals and gestures to be aware of in a conversation?
- Why is it important to understand other people's needs and how this can help you to improve your conversation?
- How to gain respect and show it
How to Deliver Bad News
- How to handle a conversation when you know the other person may become very emotional as a result of what you say
- How to prepare to deliver potentially bad news
- A step-wise approach to deliver bad news
- What kinds of reactions can you expect to receive when delivering bad news and how to handle it?
How to Apologize
- How can apologizing significantly strengthen your relationship?
- What happens when we don't apologize?
- A step-wise approach to apologize in a way that shows you mean it
So, Join us for a session on – Handling Difficult Conversations At Work
Date: 18th July, Saturday
Time: 11:00 AM – 1:00 PM (IST)
Venue: Online
Fees: Rs. 1120/- ($15)
After registering, you will receive a confirmation email containing information about joining the meeting.
About our Partners – The Star In Me:
The star in me is a global career advancement platform for women and a diversity partner for organizations. It is an ecosystem of professional connects, personal branding tools, curated global coaches and learning resources. The platform enables cultivation of a robust professional network, engaging seminars and discussions, while providing its users with the ability to grow as individuals. Sign up for free at https://thestarinme.com
About The Facilitator:
Mira Swarup is an army child who uses the panache of the Olive Greens to help people create an Impactful 1st impression that lasts. Being an Impact Communication Coach, she equips her participants to use words in a strategic manner to achieve their goals.
Studied Clinical Research from Cranfield University, she led a career in healthcare for over 10 years in companies like Johnson and Johnson and Avegen Health. 8 years ago she discovered her passion for personifying people and since then has led workshops on Executive Presence, Likeability and Difficult Conversations. Her clients include BCG, KPMG, Coca-Cola and eBay.
Her mission on this planet is to simplify communication for people in a way that allows borders to dissolve and communities to thrive!
About SIPPING THOUGHTS:
Sipping Thoughts is a multi-platform Media company, co-founded by Sukirti Gupta & Meeta Gutgutia. It was set up keeping in mind the tagline 'Real Women, Real Thoughts'. We are a No Judgement platform where we want to create a network of 'Women for Women'!
Facebook: www.facebook.com/sippingthoughts
Instagram: www.instagram.com/sipping.thoughts
YouTube: www.youtube.com/sippingthoughts
Website: www.sippingthoughts.com