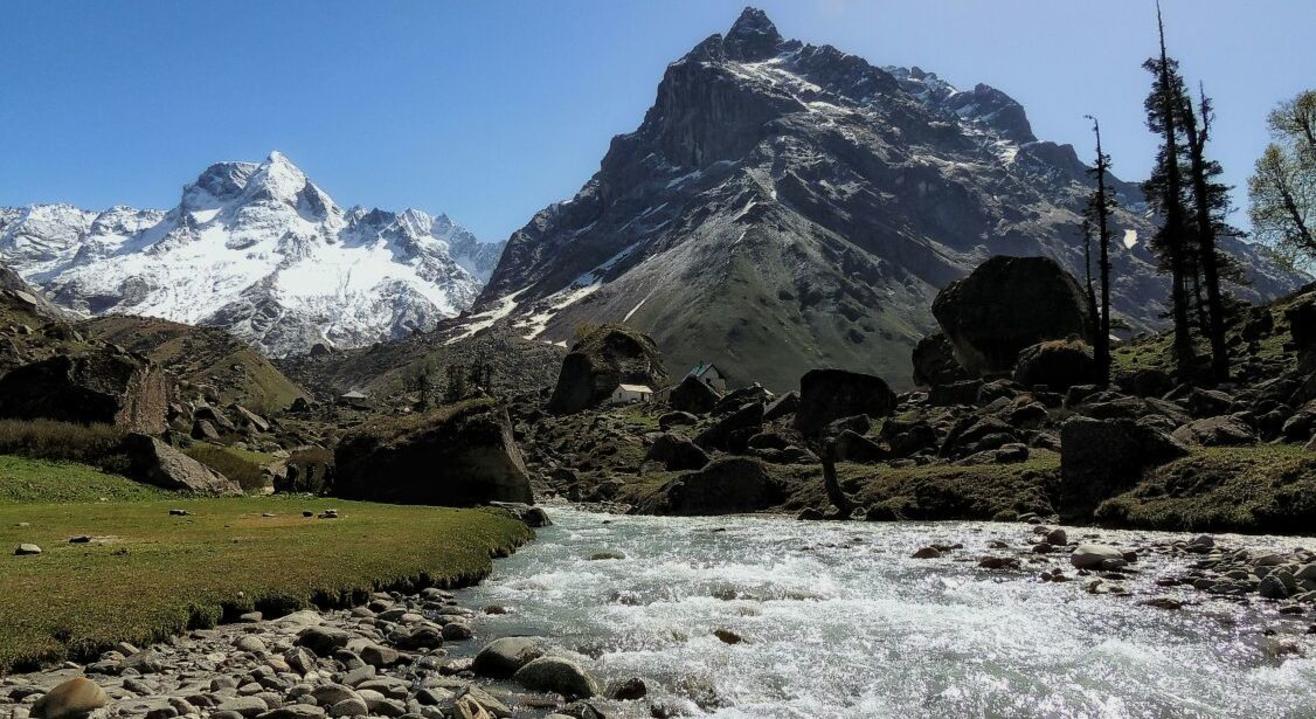 Trek
Har Ki Dun Trek
April 4 | 6AM - April 10 | 9PM
About
Description
Har ki Dun is a little different from all the other treks when we look into the rich historical and cultural significance of the place. It is said to be the land of Duryodhana from Mahabharat, who remains to be the locally worshipped god till date. The people, places and the whole trail captures an insight of a different world as compared to what we've seen in our daily lives.
The locals believe that Har ki Dun valley is the same route that Pandavas took in order to reach Heaven and it is locally known as 'Valley of Gods'. Also, there exists a mountain peak called Swargarohini and the subsequent valley is called the 'Stairway to Heaven', which may intrigue you if you're a Led Zepplin fan.
The trek is suitable for any beginner and proves to be exciting for even an experienced trekker. The Har ki Dun difficulty is rated from easy to moderate and provides a good overall experience. The best time to visit Har ki Dun is during summers and post-monsoon season.
The valley is famous for its orchids and especially rhododendrons, which are specially grown in this region. The flora and fauna mixed with rich culture and immense historical importance secure its position among top contenders in the list of best treks in Uttrakhand.
Trek to Har ki Dun takes a total of 7 days and starts from a small village named Sankri situated in the Uttarkashi district of Uttrakhand. It takes 2 days to traverse from Sankri to Har ki dun and then the group heads onto aundhar Glacier/ Maninda Tal. From there onward the group starts to pull back and return to Sankri, marking the end of the 7-day long trek.
The reasons you need to check out Har ki Dun trek in 2019 are far more than many but if you still got doubts then let us clear them up while you are on a trip to Har ki Dun with Justwravel.
Mythological stories about the trek:
The trail of this trek is ancient and is linked with legendary stories. According to locals, it is the same route that Pandavas took on their way to heaven and that is why it is called "Valley of Gods". There is one beautiful peak visible from the valley named Swargarohini and it is called the stairway to heaven. As Yudishthara (one of the Pandavas) climbed this peak with his dog and reached the heaven. Apart from all this, there is one quaint village called Osla, situated on the way to Har ki Doon and it is one of the rare villages having a temple of Duryodhana (a Mahabharata character).
Day 1 : Drive from Dehradun to Sankri
You will have to report at Dehradun in the morning by 7 AM. Pick up will be from Dehradun ISBT. Then we will start our drive towards the Garhwal Himalayas. Sankri is around 200 km far from the capital city of Dehradun. It usually takes around 7-8 hours to reach there.
We will drive through Mussoorie, Kempty, Nainbagh, Purola and Mori. The drive will be along the Yamuna River until we enter the tons valley. Tons valley is formed by the confluence of Rupin and Supin rivers. Till Mori, the views remain the same but it gets changed after crossing it. After Mori, you will be driving through the pine forest and the journey is quite scenic. The road journey will end at Sankri.
Sankri is a small village having few houses, hotels, restaurants and shops. It is a starting of several treks such as Kedarkantha, Har ki Dun, Bali Pass, etc. To reach the village, we will have to enter the Govind Pashu Wildlife Sanctuary through the Netwara check post. Then the further drive will be through the forest. Overnight stay will be at the hotel/guest house at Sankri.
Day 2 : Drive from Sankri to Taluka and Trek to Seema
We will start our day with the early morning drive to Taluka which is 12 km from Sankri. The drive takes 1 hour as the condition of the road is bad. Reach Taluka and start your first day trek towards Seema campsite. The trek is 16 km long and takes 7-8 hours usually.
The trail is a blend of uphill and downhill. It is mostly even and passes through the thick forests of chestnuts, chinars, walnuts and willows. There are some small waterfalls also amidst the way where you can take rest and fill up your water bottles. We will see some tiny villages on the way such as Dhatmeer, Gangaar, etc. We will reach Seema campsite by late afternoon.
Enjoy the sunset. Overnight stay in dome tents.
Day 3 : Trek from Seema to Har Ki Doon
Today we will trek up to the Har Ki Doon valley. We will take the route towards the Osla village after crossing the bridge over Supin river and continue our trek on the steep section. The trail reaches a ridge named Kalkatti Dhar, from where you will get the first view of Har Ki Doon valley.
Further the trail passes through some green meadows and finally we will reach the campsite. The campsite is situated near the shore of a river stream having mountain peaks right in front of you.
Overnight stay in tents.
Day 4 : Trek from Har Ki Doon to Jaundhar Glacier/ Maninda Tal to Har Ki Doon
Wake up with the cool morning and majestic views of Swargarohini peaks. After having breakfast, today we will hike up to Jaundhar Glacier/ Maninda Tal. The glacier is huge and situated in the Har Ki Doon valley. The initial terrain will be through the boulders and soon you will reach the glacier.
You will have to climb a bit high on a steeper stretch to reach the glacier. The surrounding views from the glacier are just amazing, Later we will get back to the Har Ki Doon campsite.
Overnight stay in tents.
Day 5 : Trek from Har Ki Doon to Seema
The route for the descent will be same as the ascent. We will start early morning after having breakfast. The descending trek will be less tiring. We will reach Seema campsite by afternoon. Overnight stay in tents.
Day 6 : Trek from Seema to Taluka and Drive to Sankri
Today will be our last trek day as we will proceed towards Taluka. We will drive towards the Sankri village on the same day. Reach Sankri by evening.
Overnight stay in tents
Day 7 : Drive from Sankri to Dehradun
We will start our drive early morning and reach Dehradun by late afternoon. Trip Ends.
Inclusions
Tents ,Sleeping Bags & Mats
Trek guide, cook, helpers, porters & mules for carrying common luggage
Camp Stay
Meals during trek
Forest Permits/Camping Charges , if any
Safety Equipment
Services of a Trek Leader
Exclusions
Any expenses for optional activities or tickets, unless quoted in Inclusions.
Insurance, Items of personal nature like porterage, tips, laundry etc
Any Entry Fees
Any additional expenses arising out of unforeseen circumstances like cancellation / roadblocks/landslides/ strike or any other natural causes out of human control or any emergency evacuation expenses.
Anything not mentioned in Inclusions
Any Kind of Expense for Loss / Misplaced / Theft of personal belongings.
Cancellation Policy
No cancellations will be taken over call or whatsapp msg. Please reply to the email of payment receipt that you have received at the time of booking.
Free Cancellation upto 60 days before the departure date
59 Days to 45 days of Departure date. 10% of total Trip cost. (Booking amount is non-refundable)
44 Days to 30 Days of Departure date. 25% of the total trip cost
29 Days to 15 Days of Departure date. 50% of the total trip cost.
15 Days to 8 Days of Departure date. 75% of the total trip cost.
7 Days to Trip Departure date. 100% of the total trip cost.
No Show . No refund.
Incase of government orders, harsh weather conditions , protests , landslides or any other unforseen circumstances , we work out the best possible alternate plans or trips/treks. At times even even certain activities are cancelled , the organization provides the best alternate but no refunds are provided.
If a trek is called off at the last moment due to a natural calamity/unforeseen circumstances (like rain, snowfall, earthquake, landslides, strike, bandh etc.), JustWravel will issue a trek voucher for the full amount and if possible will provide an alternate trek. The voucher can be redeemed upto same amount for the same trek or another trek in the next 365 days from the trek departure date.
If a trek or trip cannot be completed due to natural calamity/unforeseen circumstances (like rain, snowfall, earthquake, landslides, strike, bandh etc.). No refund would be provided.
Any extra expense coming due to any natural calamity/unforeseen circumstances (like rain, snowfall, earthquake, landslides, strike, bandh etc.), Will be beared by customer. Company will not be liable.
Cancellations policy will differ during the peak season and popular places.