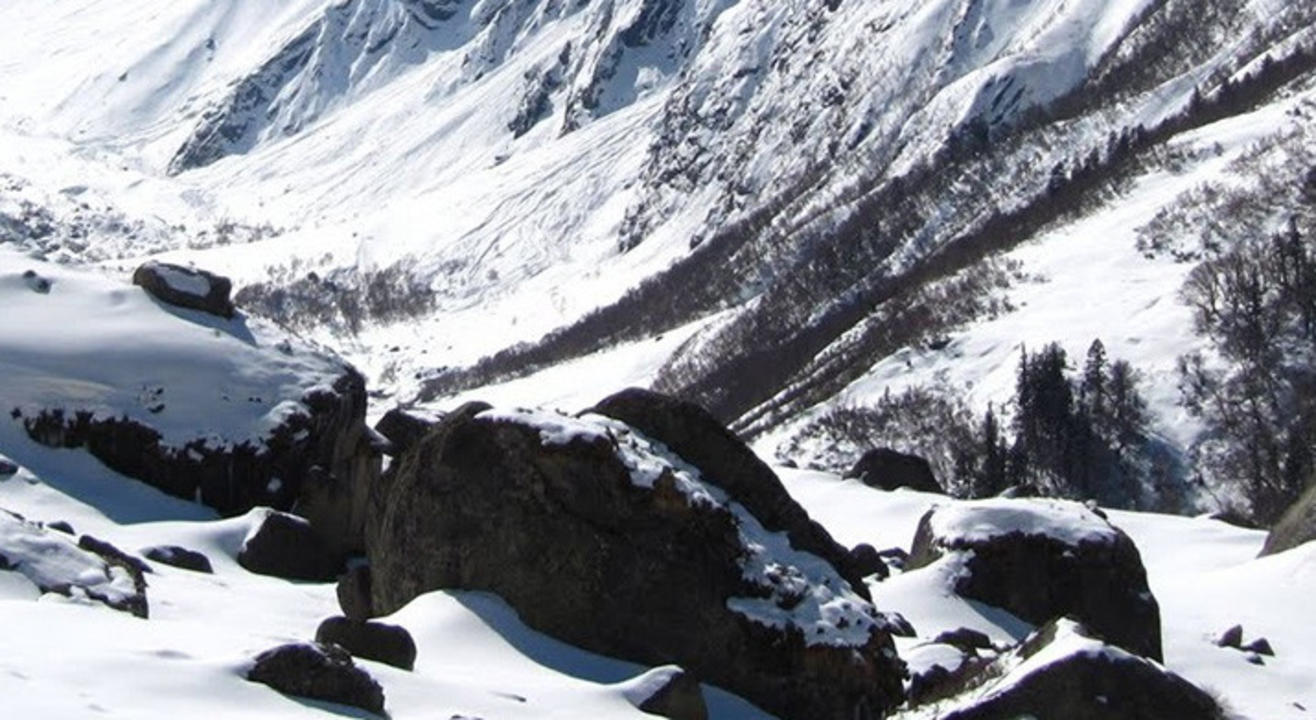 Trek
About
Your experience
Har Ki Dun literally translates to "Valley of Gods", and is no less than a slice of paradise for you. The trail takes you through the same path that was chosen by Pandavas when they traveled to heaven. The civilization in this cradle shaped valley is over 3,000 years old and still untouched.
Har ki Doon attracts trekkers not only for amazingly stunning picturesque locations but also for the cultural beauty of the Garhwal region. It is a doorway or a keyhole to peep into ancient villages of the Himalayas. This trek is the simplest trek for the first time trekkers, and takes them through The stone roofs, the two-story wooden houses and doors with ornate carvings which one can only imagine.
Itinerary
Day 1: Reaching the Base Camp
The journey starts from the capital of the state – Dehradun. We need to start early in the morning; as a 10 hour journey awaits us. The first point; Sankri at 6300 feet above sea level is usually covered by a waft of clouds and is the gateway for your trekking journey. Sankri is an usual authentic Himalayan village surrounded by Swargarohini peaks; literally translating to; "Ascending to heaven." Don't miss the scene of Sirga here; a village that has been built in such a way so as to receive sunlight early; which maximizes their harvest.
Day 2: Sankri - Taluka - Osla
Spending the night will rejuvenate you for the next day's journey and you will get well acclimatized for the high altitude. After a sumptuous breakfast; the trek towards Taluka will start. We expect to cover this 12 kilometres long patch of trek by late afternoon. And obviously the evening in hills remains incomplete without a bonfire; some folklore and spooky stories. Night sky watching is not to be missed before jumping in for dinner.
Day 3: Osla - Har ki Dun
Our next destination for the day is Har Ki Dun; which is situated at an altitude of 2560 meters above sea level. As we move ahead; the terrain offers a spectacular view of lush green vegetation and wild orchids. Chances of encounters with the Himalayan wild life like barking deer; pheasants; Leopard etc. are also there. Going along with the river and crossing the same from time to time will both comfort and make you feel adventurous.
Day 4: HAR KI DUN – JAUNDHAR GLACIER/HATA VALLEY AND BACK
We have the option to trek towards Jaundhar glacier which will be in complete contrast to every landscape you've encountered during previous three days. Jaundhar at 14200 feet altitude will add an element of high altitude mountain scenery to your trek. You catch some close-up views of the Swargarohini peak sitting over 20000 feet that according to legends; the Pandavas scaled on their way to heaven. Jaundhar hike will be about 15 kilometers twoways and it will be a relatively difficult day hike. For members not wanting to go here; we have the option to explore around Hata valley; a beautiful valley nearby.
Day 5: HAR KI DUN TO OSLA
After spending some cherishable moments at Har ki Dun; we will start the journey back to Osla. Familiarity with the trail tells you what to expect on the way back. As we'll come down to the lower altitude; the path will get easier and easier with the scenic beauty along the path which will keep us going.
Day 6: OSLA TO SANKRI
This is the last patch of the trek now. Sankri is the point from where we started and it's here we will complete the circle of our trek. It is a patch of 26 kms long trek. Wild life sanctuaries and parks along the way allow you to take only a glimpse of the diversity of flora and fauna it has to offer; which will leave you wanting to come back here soon again. One can enjoy a fair amount of bird watching on the beautiful way; and the day will end with witnessing one of the most beautiful sunsets.
Day 7: SANKRI TO DEHRADUN
Good or bad;time always flies. Here; starts your journey back to Dehradun and to your normal daily life; packed with beautiful memories from the trek.
You would be provided
Vegetarian meals during the trek (Veg. + Egg starting from Dinner on Day 1 till Breakfast on Day 7)
Transportation (Dehradun to Dehradun)
Accommodation
All Trekking equipment (Tents; Sleeping Bags)
Porter; Cook & Mule charges
Forest Camping Charges & Permits
Services of Experienced Trek Leader & Guide
You need to carry
Have 4-5 Layers of cloths; including heavy jacket
Have something to cover your face
Don't take lot of clothes as you don't feel like changing clothes
Keep your luggage light-weight
Solar Lamps and Solar torches are recommended
Battery operated things may not work properly because of very low temperature
Never skip a meal as there is a requirement of high energy
Let a friend or family member know about your schedule
Excluded
Newly proposed Wildlife and Environmental fee
Any other personal expenses
Airfair
Anything not mentioned under the head "INCLUSIONS"
Meet your host at
Dehradun, Uttrakhand, India