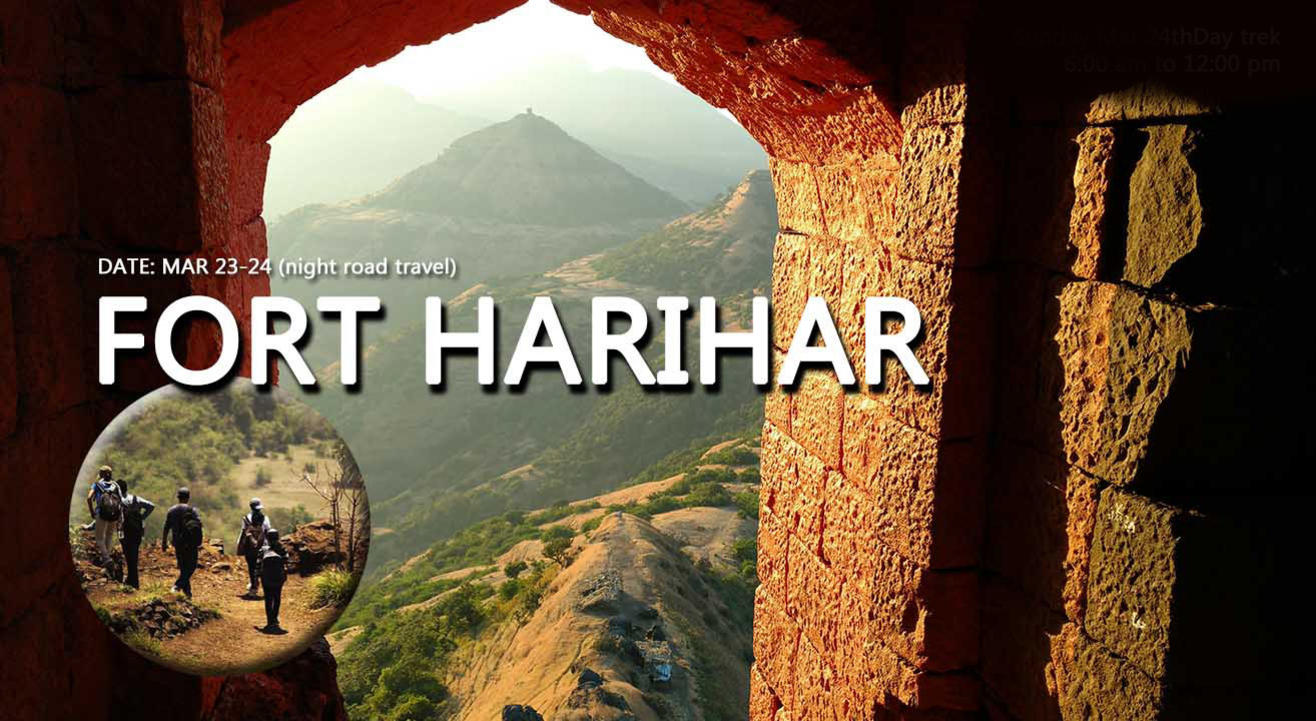 Camping
About
At a distance of 260 km from Pune and 45 km from Nashik, Harihar Fort or Harihargad is a small hill fort in Upper Vaitarana range near Trimbak in Nashik district of Maharashtra.
History:
Harish Fort was one of the forts in the possession of the Ahmadnagar Sultans. In 1636 CE, Harishgad, Trimbakgad, Tringalwadi and few other forts were given by Shahaji to the Mughals. Harishgad was one of the 17 strong places that surrendered to the British on the fall of Trimbak in 1818 CE.
It is an important fort in Nashik district, and was constructed to look upon the trade route through Gonda Ghat.
Construction:
Built on a triangular prism of rock. It's three faces and two edges are absolutely vertical 90 degrees. The edges of this stunning fort is absolutely vertical, further adding to the uniqueness of this stunning ancient fort. Rock carved staircases lead you to the fort! Delight in the ancient beauty of thisfort while trekking through picturesque landscapes accompanying you throughout your HariharFort trekking.
Trekking Grade: Moderate
Itinerary:
Day 1 Saturday 23rd March
11:00 pm – 12:00 am Pick-up from our selected locations (Along Blue Nile Restaurant to Nasik Fata)
Stop for washroom break on the way
End of Day 1
Day 2: Sunday 24th March
05:30 am Arrive at Base Village
05:30 – 06:00 am Freshen up and have breakfast.
07:00 – 12:00 pm explore the fort trekking through Trimbekeshwar Forest. Witness the stunning landscape after climbing rock cut steps (In an 80 degree incline). Explore the remains of the fort and return to base.
12:30 – 02:00 pm Freshen up and have Lunch
2:30 - 9:30 pm Drive back to Pune
Inclusions:
• Travel and toll: Pick up and drop off from our selected pick up points.
• Breakfast-Tea-Lunch on day 2
• Package drinking water throughout the trip.
• Tour guides and camp leaders all along the trip.
• Medical assistance if required.
Exclusions:
• Any food on Day 1 and anything else besides Breakfast and Lunch on Day 2•
• Personal expenses (beverages and snacks)
• Personal medication
Things to carry:
Its summer season but we have a night journey so carry a light jacket for mild cold temperatures.
Please wear non-bulky full body clothing preferably light colour (to avoid the high intensity of the sun).
One spare set of clothing
Good hiking or sports shoes
Caps and Hats
Sunglasses and sunscreen
Hand Towel
Munchies and personal snacks
Personal medication
Camera (optional)
Binoculars (optional)
Shawl (Optional)
One litre water bottle (Compulsory)
Note:
Please take care that you are responsible for all your belongings.
Notify us immediately in case of any medical emergency.
Anyone found under the influence of drugs or narcotics will be requested to leave the trip immediately, without any refund.
Adventure camping and outdoor sports/ recreation are purely for nature lovers and not for party groups; we respect nature and do our best to spread the awareness about wilderness preservation.
We like to keep the wildlife wild, please do not litter the forest/ sanctuary and the campsite.
Buy a ticket & get 15% stashback upto ₹500. Use code: TRAVEL15 (T&C apply)