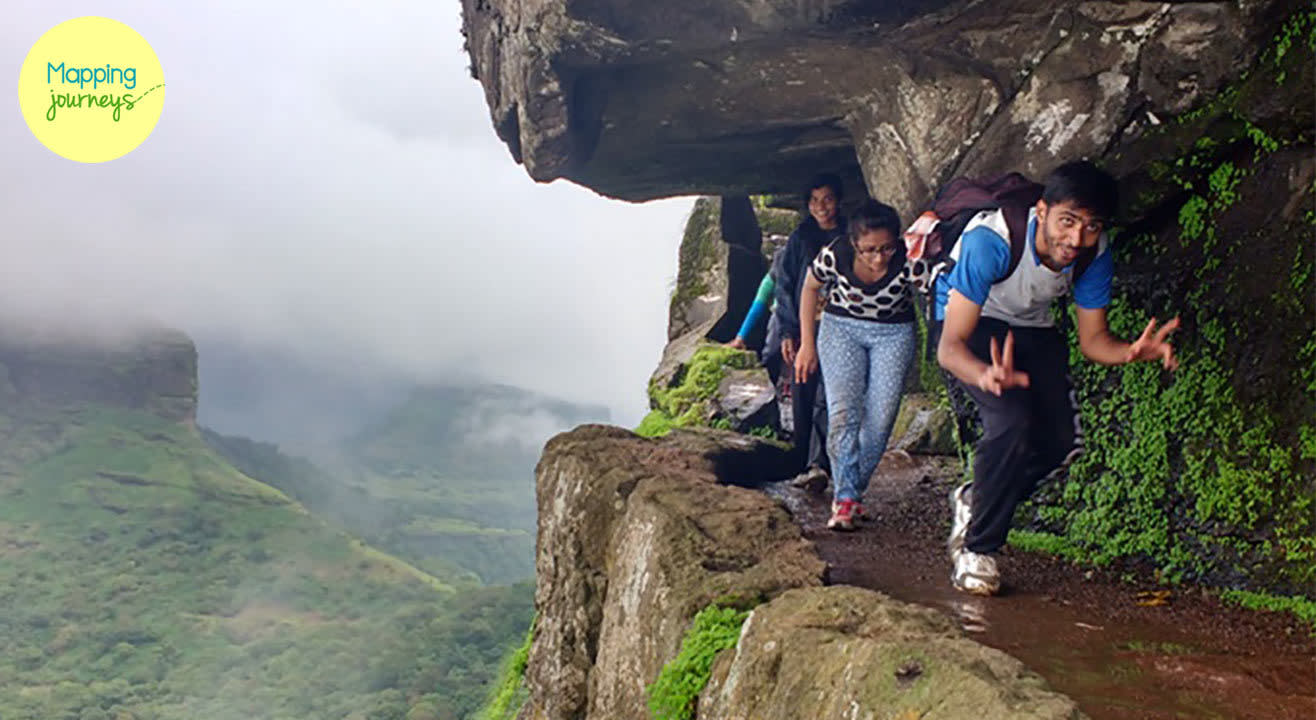 Trek
About
Harihargad lies at an altitude of about 3500 ft. above sea level. This fort is known for its triangular or prism shape. The facts of this fort are downright vertical with rocky steps embedded in them.A small temple of Lord Hanuman and Lord Shiva can be seen. A pond lies right in front of the temple.
Overall five cisterns can be found on this fort out of which water from one of these cisterns is potable. The famous rock cut steps of this fort is a major crowd puller for its shear design and the inclined angle of almost 80 degrees.There are total 117 steps carved beautifully in the rock patch and you really feel like flying on the wings of the wind. Harihar offers breath taking view of the surrounding area.
Why you should trek here?
The rock cut steps : Makes you wonder how did they do it? (Check video link below)
View : Harihargad offers breath taking views of the surrounding area.
Health : Hiking/Trekking is one of the best way to stay in good shape and good health.
Comfort zone : Coming out from our closets to meet new people, share travel stories and ideas is what Team Mapping Journeys offers and looks for.
Meeting Point :05:50 am : Pritam da dhaba, Dadar east.
06:40 am : Nitin Company, Thane.
06.00 am : Proceed from Dadar.
Breakfast will be provided on route.
We will reach the base village called Nirgunpada just before noon afterwhich the trek begins. It takes 2-2.5hrs to reach the top.
All participants are requested to bring packed lunch as there is no availability for proper lunch in this region.
Lunch will be done at the top followed by fort exploration and some much needed rest.
03:30 pm : The return journey from the top begins. Another 1.5hrs and we will be at the base village again where snacks awaits.
05:30 pm : Proceed to Mumbai
09:00 pm : At Dadar(tentative).
Travelling from Dadar to Dadar(non ac bus).
Breakfast and Evening Snacks.
Guide and Professional Expertise.Safety and First aid
Mapping Journeys team alongwith.
Meals during travel.
Personal expenses.
Insurance of any kind.
Medical hospitalization, evacuation and related expenses.
Any item not covered under "inclusions"

Smoking and consumption of alcohol is strictly prohibited. For confirmation of the seat, full amount needs to be deposited prior to the event. Prior to making any payments please confirm about the seat availability.
Venue
Pritam Hotel, Dadar
Dharamputra, Survey No. 32, Pritam Estate, Dadar T. T, Mumbai, Maharashtra 400014