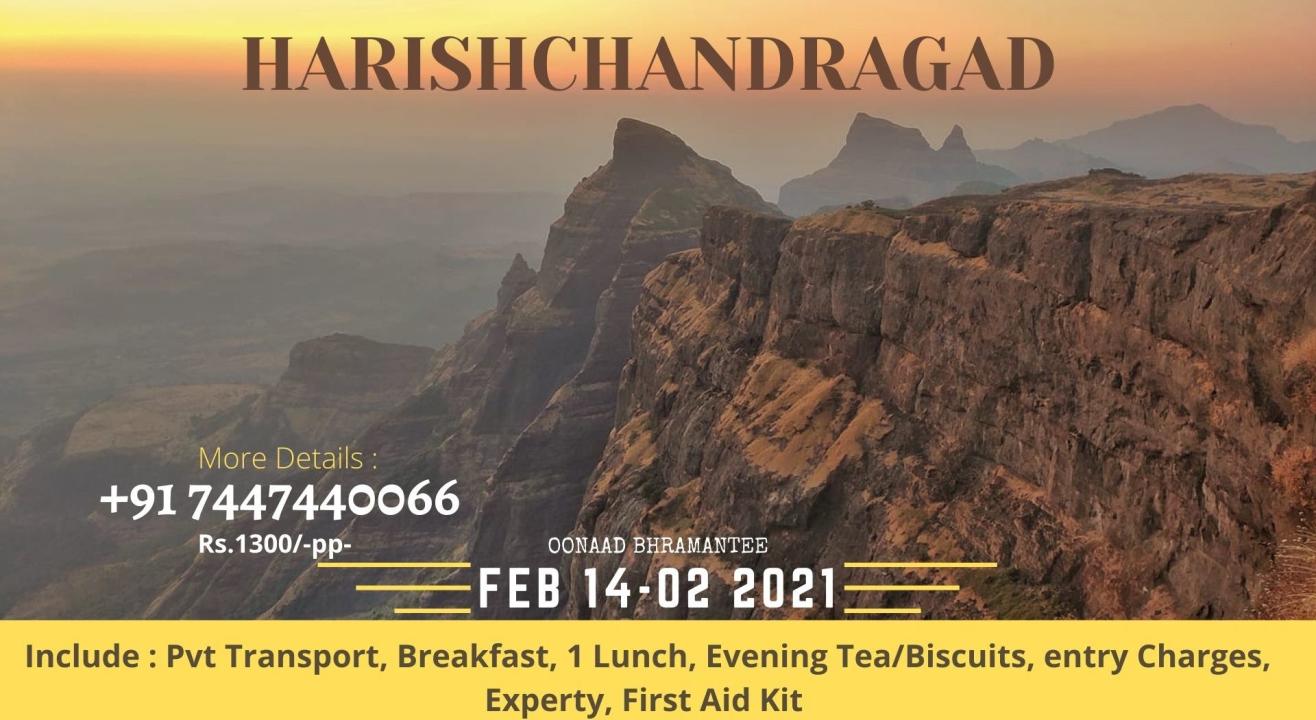 Harishchandragad Trek with Oonaad Bhramantee
February 13 | 11PM - February 14 | 11PM
Cafe Goodluck, Deccan Gymkhana, Pune
Invite your friends
and enjoy a shared experience
Harishchandragad Trek with Oonaad Bhramantee
February 13 | 11PM - February 14 | 11PM
Cafe Goodluck, Deccan Gymkhana, Pune
Invite your friends
and enjoy a shared experience
Covid 19 Safety Measures
This event adheres to the following

Health & safety measures
Hand Hygiene Stations
Limited Capacity
Organisers wear masks
Invite your friends
and enjoy a shared experience
Covid 19 Safety Measures
This event adheres to the following

Health & safety measures
Hand Hygiene Stations
Limited Capacity
Organisers wear masks
Harishchandragad Trek with Oonaad Bhramantee
Overview
Harishchandragad is one of the best high forts near Mumbai, Maharashtra. Strong fortifications of this fort have multiple entry routes such as the Junnar gate route, Sadhale ghat, Nalichi wat, and Indore waat.
The carvings on the temples of Nageshwar (in Khireshwar village), in the Harishchandreshwar temple and in the cave of Kedareshwar indicate that the fort belongs to the medieval period since it is related to Shaiva, Shakta or Naath. Later the fort was under the control of Moguls. The Marathas captured it in 1747. Main attractions on Fort: Sapta Tirta Pushkarini, Kedareshwar Cave, Konkan Kada (Konkan cliff), Taramati peak, Temple of Harishchandreshwar.
Harishchandragad Event Details
Difficulty Level: Medium
Endurance Level: Medium
Trek route: Paachnai
Height of fort: 4650 ft. approx
Region: Igatpuri
Total time required for climbing: 2-2.5 hours uphill climb one way from Pachnai village.
Cost: Rs. 1300/- per person
Payment details*
#Cost : ₹ 899/- only (per person) - with own travel
₹ 1,300/- only (per person) - including traveling
Confirm your seat by contributing 100% amount of the event fees
How to Pay:
#OnlineTransfer:
Bank Name : Central Bank of India
Branch : Kharadi 411014
Name : Jitendra M Shinde
Current A/c NO : 3113051333
IFSC Code : CBIN0283784
#GooglePay : 7447440066
#PhonePe : 7447440066
#PayTm : 7447440066
FEES ONCE PAID ARE NON-REFUNDABLE
Your seat confirmation would be considered only once payment received.
Itinerary
Day 1 – Saturday (13th Feb 21)
10:45 PM Meet us at Deccan Gymkhana pmpml bus stop, Pune
11:00 PM Start journey towards Harishchandragad.
Day 2 – Sunday (14th Feb 21)
05:00AM Reach at base village and freshen up.
05:30 AM Breakfast.
06:00 AM Start ascending.
08:00 AM Reach on top.
Explore - (Veg Lunch around 2-3PM)
Harishchandreshwar temple
Kedareshwar temple
Kokankada
Taramati Shikhar
Pushkarani
Caves
04:30 PM Start descending.
06:30 PM Reach at base village.
07:00 PM Start return journey towards Pune.
11:30 PM Approx. arrival at Pune.
What Includes
Pune to Pune by private bus.
Meal (1 Breakfast and 1 Lunch) Evening Tea.
First aid kit.
License and toll.
Entry Fee
Expertise about fort
Excludes-
Any meal, cold drink, water bottle and snacks of personal orders.
Anything other than above mention inclusions
What To Bring*
सोबत काय घ्याल: एक दिवसीय ट्रेक /
What You Should Carry: One Day Trek
सॅनिटायझर (अत्यावश्यक) /
Sanitizer (Important)
मुखवटा (अत्यावश्यक) /
Mask (Important)
पाण्याची बाटली (अत्यावश्यक) / Water Bottle (Important)
ओळखपत्र (आवश्यक माहितीआणि फोटोसह) / Identity Proof with a Passport Size Photo
टोपी / Cap
ट्रेकिंग बूट किंवा चांगली ग्रीप असेल असे बूट अत्यावश्यक / Sport Shoes with Good Grip
औषधे चालू असल्यास ती सोबत घ्यावी / Essential Medicines
कोरडा खाऊ (प्राधान्याने अधिक बिस्किटे, राजगिरा, चुरमुर्यांचा चिवडा, सुका मेवा आणि कमी तेलकट वस्तू) / Snacks as Needed
थंडीपासून आपले संरक्षण करणारे कपडे स्वेटर / Warm clothes
कपडे एक किंवा दोन जोड्या आवश्यक असल्यास / Extra Pair of Clothes 1 / 2 Pair as You Need
पैसे आपल्याला काही वयक्तिक घेण्यासाठी लागल्यास / Extra Cash if You Wish to Buy Something
दिवा / मशाल (रात्रीच्या वेळी आवश्यक) / Torch, Good at Night
पेन आणि नोटबुक / Pen & Notebook
सुरक्षा साहित्य / Pocket Knife
आपले आणखी काही प्रश्न असल्यास कृपया
खालील क्रमांकावर संम्पर्क साधा- जितेंद्र शिंदे - +९१ ७४४७४४००६६
For any questions or queries, please contact Jitendra Shinde on +91 7447440066.
Cafe Goodluck, Deccan Gymkhana
Fergusson College Rd, Near Goodluck Chowk, Deccan Gymkhana, Pune, Maharashtra 411004
GET DIRECTIONS
Harishchandragad Trek with Oonaad Bhramantee
February 13 | 11PM - February 14 | 11PM
Cafe Goodluck, Deccan Gymkhana, Pune
Invite your friends
and enjoy a shared experience