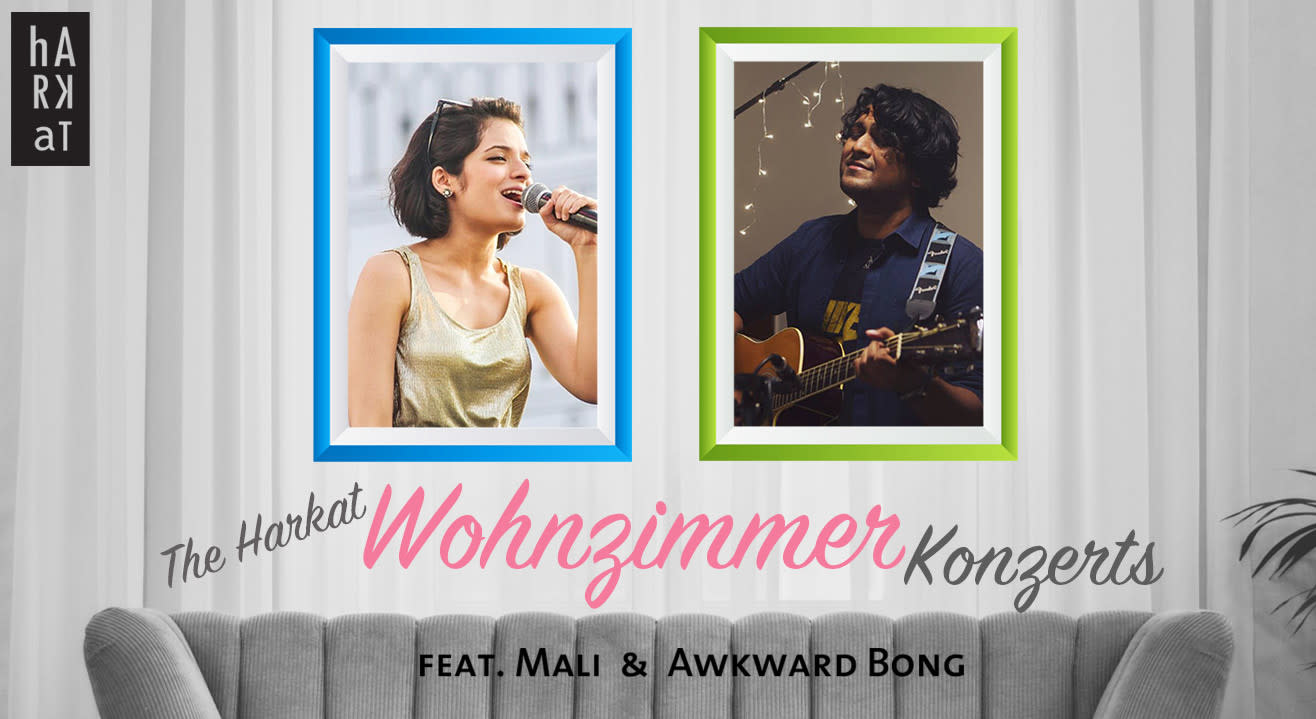 Harkat Wohnzimmer Konzert feat. Mali (Maalvika Manoj) & Awkward Bong
Harkat Studios, Versova, Mumbai, Mumbai
Step out and enjoy this event
Invite your friends
and enjoy a shared experience
Harkat Wohnzimmer Konzert feat. Mali (Maalvika Manoj) & Awkward Bong
Harkat Studios, Versova, Mumbai, Mumbai
Step out and enjoy this event
Invite your friends
and enjoy a shared experience
Invite your friends
and enjoy a shared experience
A heartfelt song elopes from the singer's heart straight into yours. Your are surrounded by pillows, in a maze of fairy lights. In a space that feels like your living room - just with better acoustics.
When a song hummed can wander effortlessly between the lips of its singer and your soul, you are at Harkat Studios WohnzimmerKonzert.
A concert in our living room.. And for a few hours this is YOUR living room. With a singer-songwriter right in front of you, strumming music only for you.
Intimate, pure and absolutely enchanting. Forget the world outside and enjoy music in its most authentic presentation.
Harkat Wohnzimmer Konzerts is a series of singer-songwriter sessions presented by Harkat Studios at their Bungalow in Aram Nagar, Versova.
This presenting 2 set by 2 artists: Mali & Awkward Bong
About the artist:
Mali
Mali (Maalvika Manoj) hails from Chennai and has recently pitched her tent in Mumbai.
She likes to keep her song writing and music simple, natural and honest. Her music is a dreamlike mix of lighthearted songs and ballads with wonderful lyrics.
She plans on taking her music to the world and her EP Rush is her first step towards doing so. The album is about taking a leap of faith to in order to build a dream and getting a rush from doing it.
Mali has gone on to perform with some of the biggest artists from the independent scene in India, including Sapta, Dharavi Rocks, Tejas and has collaborated with Dualist Inquiry.
She has performed at the biggest venues across India and we are very happy to help her grow her fans across Mumbai from our little studio.
Awkward Bong
Ronit Sarkar is a Mumbai-Based singer-songwriter, who performs under the stage name of Awkward Bong.
With an independently produced album, 'In The Brightest Corners', released in June 2015, Awkward Bong has played several stages and festivals around the country, including the Bacardi NH7 Weekender and the Vans New Wave Festival and has been featured on several programs and online publications like Vh1 India's Music Diaries, Rolling Stone India, IndiEarth and Ennui.Bomb's annual "Stupiditties" indie compilations.
Starting out as a solo bedroom project in 2014, the act has now grown into a four-piece band with a lush, organic pop sound. The kind of sound you'd expect at the alternative tent at a good festival. His lyrics are...not at all awkward ;)
Harkat Studios, Versova, Mumbai
HARKAT STUDIOS, BUNGALOW 94, FIRST FLOOR, ARAM NAGAR 2, VERSOVA, ANDHERI WEST, 400061-MUMBAI
GET DIRECTIONS
Harkat Wohnzimmer Konzert feat. Mali (Maalvika Manoj) & Awkward Bong
Harkat Studios, Versova, Mumbai, Mumbai
Step out and enjoy this event
Invite your friends
and enjoy a shared experience