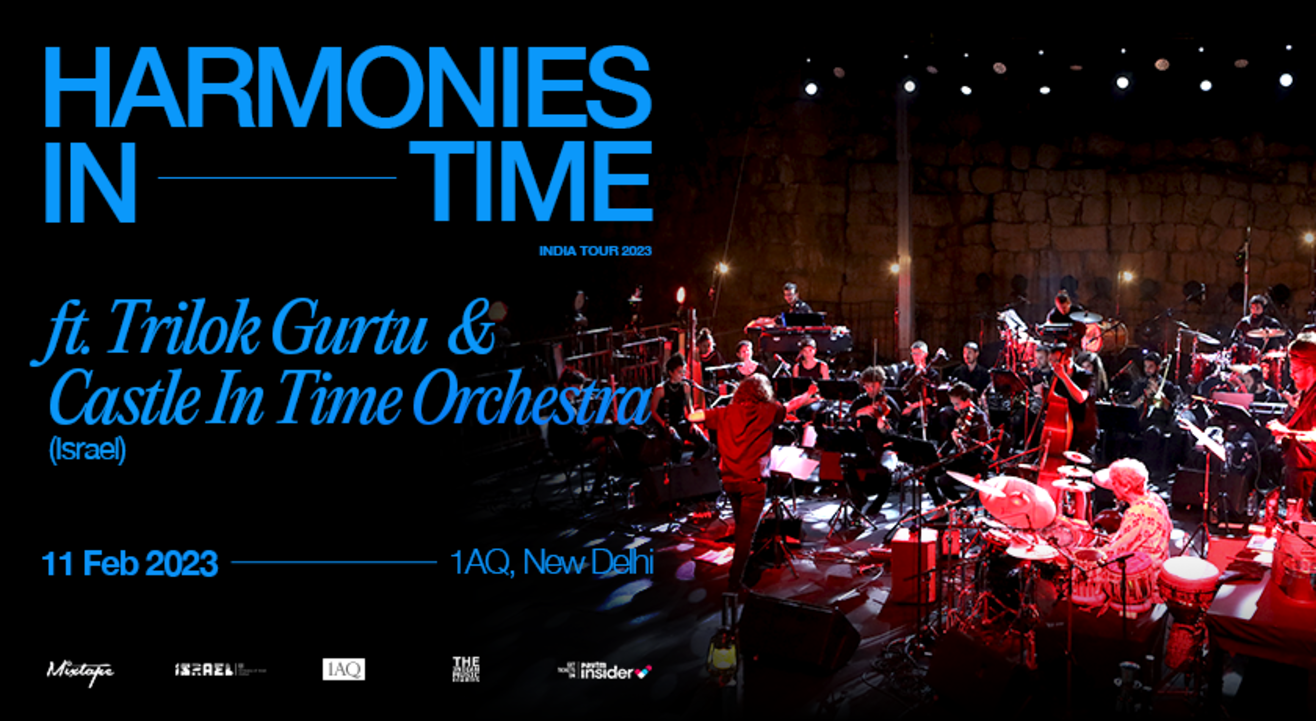 Harmonies In Time ft. TRILOK GURTU and Castle In Time Orchestra (Israel)
Event Guide
For Age(s)
Family Friendly
Invite your friends
and enjoy a shared experience
Harmonies In Time ft. TRILOK GURTU and Castle In Time Orchestra (Israel)
Event Guide
For Age(s)
Family Friendly
Invite your friends
and enjoy a shared experience
Event Guide
For Age(s)
Family Friendly
Invite your friends
and enjoy a shared experience
Harmonies in Time
Respected and known for his work with jazz giants like John Mclaughlin, Don Cherry, Pharaoh Sanders, Dave Holland, Jan Garbarek, and Indian classical luminaries like Ustad Zakir Hussain, Pandit Hariprasad Chaurasia, Sultan Khan and his mother Shubha Gurtu, Trilok Gurtu continues to define and redefine his position as one of the percussive arts' greatest innovators of all time.
Over the past five decades, since the inception of jazz fusion, Gurtu has distinguished himself as a visionary of experimental percussion. In Castle of Time Orchestra, he finds the perfect foil for his genre-defying ideas.
A modular group of extraordinary instrumentalists – from woodwinds, brass, strings, bass guitar, percussions, synthesizers and singers working with analog effects – and a conductor, Castle in Time challenges the concept of an orchestra.
Harmonies in Time is a perfect example of Gurtu's jazz acuity and technical prowess. It uses Indian composition that was written for the human voice and the tabla, and translates it to Western orchestral instruments. Created by Gurtu and Castle in Time co-founders Matan Daskal and Shalev Ne'eman, the piece uses complex polyrhythms from Africa, Western jazz and funk, Indian classical music and even vocal improvisations using the Indian tala talk method.
"Harmonies in Time is an incredibly unique project in that it showcases how different musical cultures like India and Israel can sound like one unit, and it was received very well when we premiered it in 2017," he says of the show, adding, "I am so excited and happy to be able to play at home after a long time, and especially after the past couple of years."
Indian audiences can catch Harmonies in Time – organised by Mumbai-based events agency Mixtape who has earlier brought down Grammy-winning acts like Tinariwen and Jacob Collier to India – at 1AQ in the Capital on February 11.
1AQ
near Qutab Minar, Seth Sarai, Mehrauli, New Delhi, Delhi 110030, India
GET DIRECTIONS
Harmonies In Time ft. TRILOK GURTU and Castle In Time Orchestra (Israel)
Event Guide
For Age(s)
Family Friendly
Invite your friends
and enjoy a shared experience