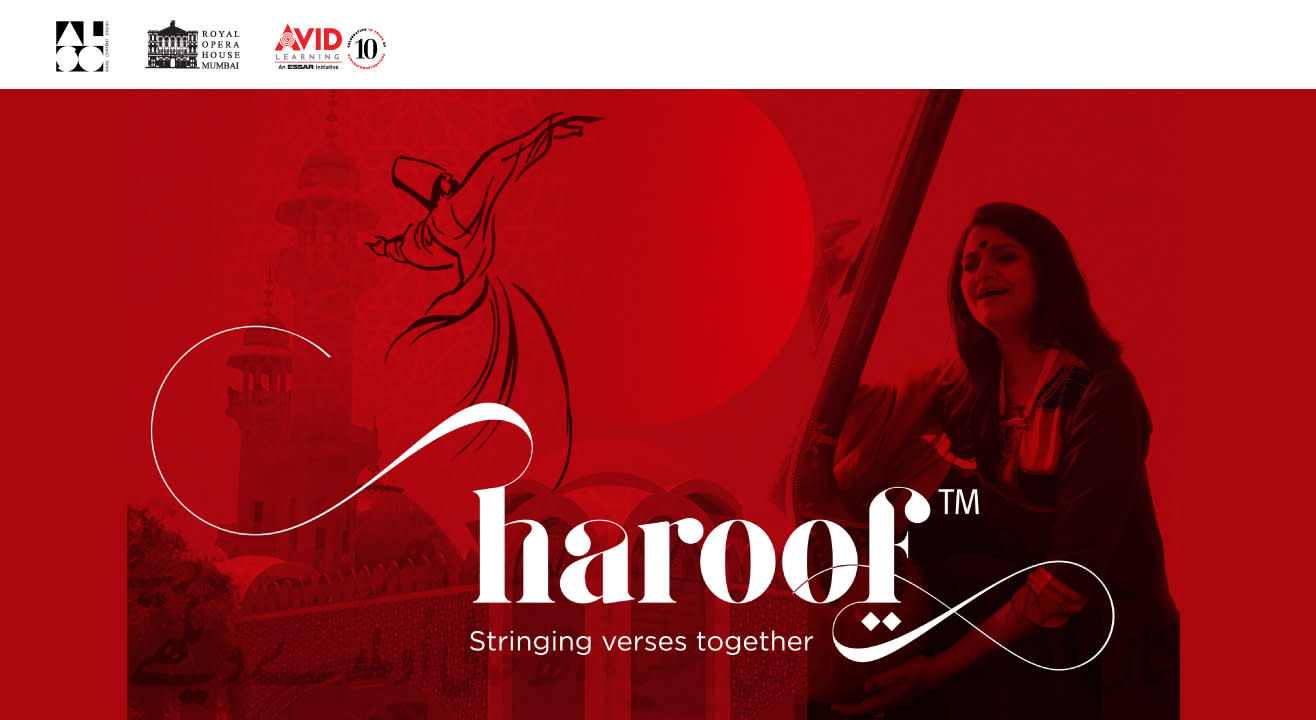 Music
Haroof: Stringing Verses Together
November 22 | 7PM Onwards
The Royal Opera House, Mumbai
About
Haroof is to Urdu, what the Alphabet is to English. Many alphabets or harf strung together make words, which evolve into verse, which then become a bandish or a ghazal.
Royal Opera House, Mumbai in collaboration with ALSO | Ideas. Content. Design and Avid Learning presents Haroof: Stringing Verses Together, an evening of Sufi Music that brings back the era of baithaks.
This unique event of baithak revival, the first of its kind at Opera House will celebrate the tradition of gayaki in in a warm intimate style, spanning genres of music like sufi kalam, ghazal, geet, thumri, and raag, to Bengali and Punjabi folk. This performance will feature Sufi Vocalist Radhika Sood Nayak who will bring alive the verse of Baba Bulleh Shah in her inimitable soulful voice, accompanied by musicians – Neil Mukherjee on the guitar and oud, Sadanand Mulik on the dholak, Vinay Dalvi on the harmonium and Devendra Toraskar on rhythm percussion.
This distinctive evening of saaz-o-mausiqui (melodic compositions and accompaniment) will be an ode to the life and philosophical musings of the Mughal-era Sufi mystic Bulleh Shah. There are many prolific ways in which Sufi poetry is sung in the Indian tradition and Sufi Kalam is one of the most popular renditions. Inspired by the writings of Sufi poets like Bulleh Shah, this music explores the myriad meanings and modes of spirituality. Radhika's distinctive style infuses folk Raag fusion into the more devotional Sufi Kalam tradition and a selection of poetry written by Bulleh Shah.
At this baithak, Bulleh Shah's "absolute surrender" comes alive in the verses that have been carefully chosen to weave his leaning into "ishq-e-haqeequi" - love for the divine. In the times that we live in now, where form, structure and rituals are being radicalised, Bulleh Shah's writing could not be more aspirational.
At the Opera House, we have made a conscious effort to present and promote classical and contemporary Sufi music and dance and its fascinating subculture on our stage by showcasing a variety of styles and instruments. We featured a Sufi performance by Musical Maestro A. R. Rahman, the only non-Asian Qawwali group Fanna-Fi-Allah and launched, Ek hi Rang, by the band Sounds of the Sufis which is widely touted as the first Sufi album that is by the people and for the people. We also showcased a variety of multi-disciplinary performances and styles including Sufi-Folk Fusion and Sufi-Kathak.
With this upcoming event, we are happy to present another program that is sure to expand our understanding of Sufi music, poetry and philosophy in a unique way!
Join us for a hauntingly melodious baithak that brings alive poetry of 17th century Sufi mystic, Bulleh Shah!
Radhika Sood Nayak is a Sufi Vocalist, who has been applauded at the Kabir Festival, Malwa & Rajasthan Kabir Yatras, World Sacred Spirit Festival Nagaur, and a music & dance collaboration "Faqeer Nimaana". Bulleh Shah's kalaam captured her soul at the beginning of her quest for music. A corporate stint in her past, Radhika is a disciple of Shri Dayal Thakur. She has also received 'taleem' from Thumri maestro Smt Dhanashree Pandit Rai and Jaipur-Attrauli veteran Pandita Sudhila Rani Patel. She is also an Akashvani artist and a recipient of the "Sur Mani" Award.

Neil Mukherjee is a guitarist and an award winning composer from Kolkata. Best known for his flamenco, Neil is a Grade 8 in western classical guitar and music theory from Trinity College of Music, London and can play various styles of music with ease on the guitar including the Indian classical forms. From making an 8 string custom guitar to working with A.R. Rahman, Yuvan Shankar Raja, Haris Jairaj , Vidyasagar in the south, he has an very large body of work behind him. he moved to Mumbai in 2008, to work with Shankar Ehsaan Loy & Pritam. He currently works as an independent music composer and producer.

After 12 years of shagirdi under Sangeet Ratna Vilas Buva Patil, Sadanand Mulik grew to be a versatile dholak player. He is much sought after in theatre productions and has performed in Shubha Mudgal composed 'Stories in a Song' directed by Sunil Shanbag. His experience spans dance and children's theatre apart from television and feature film work, both domestic and international.

Vinay Dalvi is the disciple of renowned Harmonium player Pt. Sudhir Nayak. He has also had vocal training under Shri. Prabhakar Parsekar. He has accompanied Marathi playback singers like Uttara Kelkar and Ravindran Sathe. An All India Radio and Doordarshan artist, his performances are also appreciated overseas.
ALSO Ideas | Content | Design is a creative agency, and a production and event company. It's a network of like-minded individuals with expertise in the arena of content, events, strategy and marketing communication. We collaborate and create advantage for artists and brands. Alleyah Asghar is our founder with a two-decade long career spanning advertising, print, broadcast, films. Her first love remains music. Her desire is to give it contemporary value, build a musical community and take it to the next level. Haroof brings alive that dream.

Royal Opera House, Mumbai is widely touted as Mumbai's Cultural Crown Jewel and India's only surviving Opera House. The original idea for the space was conceived of in 1908, inaugurated in 1911 by King George V, and eventually completed in 1916. The design incorporated a blend of European and Indian detailing. The space became a cinema in later years before falling into disrepair and shutting by the 1990s. Fittingly, the space has been owned by the Royal Family of Gondal since 1952 and was eventually restored by conservation architect, Abha Narain Lambah under the leadership of His Highness, Maharaja Shri Jyotendrasinhji of Gondal. The Royal Opera House Mumbai, now one of the last remaining Baroque structures in the city, reopened after 23 years in October 2016. The building was included on the 2012 World Monuments Watch to raise awareness about its history and significance, and support preservation efforts. The building has since been recognized with an Award of Merit in the 2017 UNESCO Asia-Pacific Awards for Cultural Heritage Conservation. The restored facilities feature a 575-seater 3-level auditorium with an orchestra pit and state of the art technological upgradations, including acoustics, stagecraft, lighting and air-conditioning, alongside retaining the old world charm of the proscenium stage, the royal boxes and the magnificent regal chandeliers. Some more enhancements to the venue include a motorized screen, co-axial ceiling speaker system, Four-zone volume control and all round wifi access. Today, it stands as a key performance and creative hub in the city's cultural landscape, while being a premier heritage landmark.

Avid Learning, a public programming platform and cultural arm of the Essar Group, has conducted over 1150 programs and connected with more than 140,000 individuals since its inception in 2009. Driven by the belief that Learning Never Stops, AVID's multiple formats like Workshops, Panel Discussions, Gallery Walkthroughs, and Festival Platforms create a dynamic and interactive atmosphere that stimulates intellectual and creative growth across the fields of Culture & Heritage, Literature, Art and Innovation.