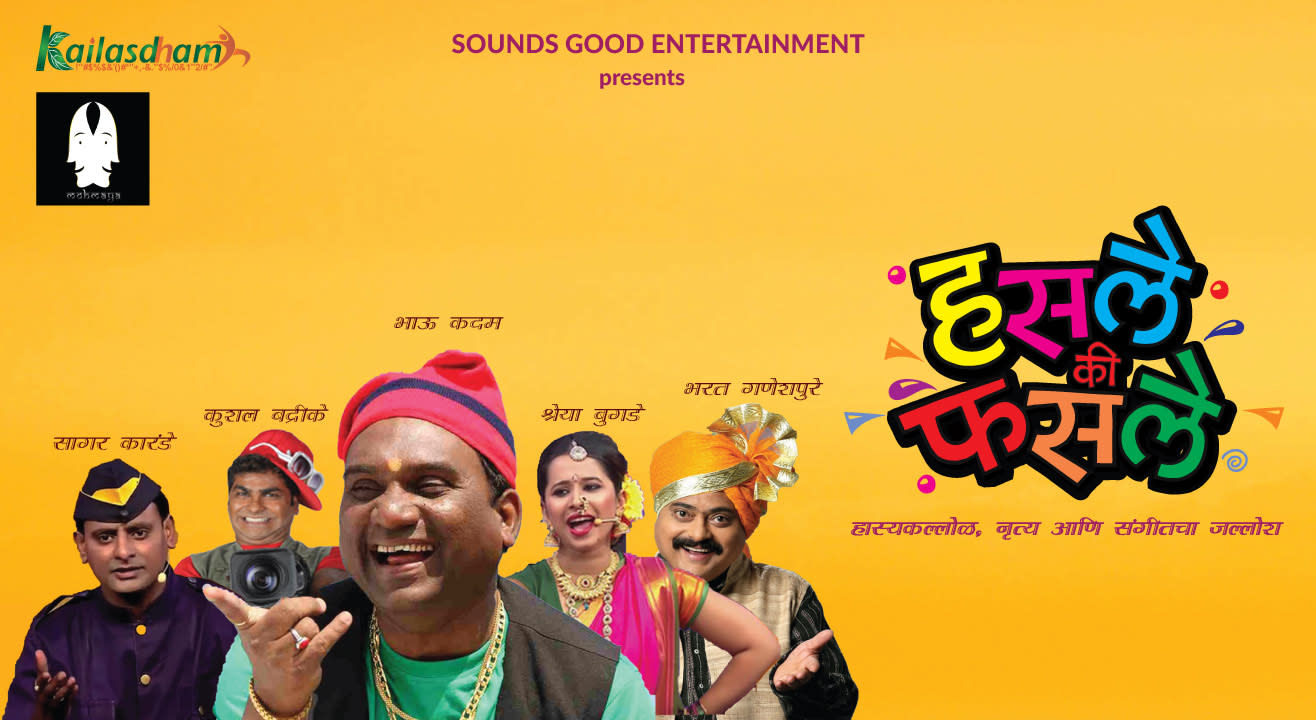 Theatre
About
Sounds Good Entertainment is extremely excited to present to you the biggest comedy event of the year, "Hasle ki Phasle."


For the first time ever in Pune, the entire cast of "Chala Hawa Yeu Dya" will be taking over the stage together on 1st December 2017, Laxmi Lawns, Magarpatta, Pune.


This is going to be a complete package of drama, comedy, music and dance including Lavni dance and singing, thanks to the power packed star cast of Bhau Kadam, Sagar Karande, Bharat Ganeshpure, Kushal Badrike and Shreya Bugade. A team of 40 artists in all will be present to add more glitter, glory and grandeur.
Bhalchandra Kadam, popularly known as Bhau Kadam, is a Marathi theatre and film actor. He is known as a comedian, particularly when working in commercial Marathi cinema and drama. He is also well known for his roles in Fu Bai Fu.

Kushal Badrike is a well known comic actor in Marathi cinema. He is popular for his performances and various characters in Zee Marathi's Comedy.

Bharat Ganeshpure is a Marathi comedian. He is best known for his comical performances in Marathi television shows Fu Bai Fu and Chala Hawa Yeu Dya (CHYD). Bharat Ganeshpure rose to fame with his performance in Chala Hawa Yeu Dya. The typical Vidhrabha Marathi Accent, also known as Varhadi, is the specialty of Bharat.

Shreya Bugde is a popular Marathi actress who was born in Pune, but brought up in Mumbai. Along with Marathi, she has completed plays in English, Gujarati and Hindi as well.

Sagar Karande is a popular Marathi comedy actor, most popular for his roles in the serial Chala Hawa Yeu Dya. Sagar is a great mimicry artist and that forms the base of his comedy. He is very popular for playing female roles as well in stand-up comedy acts.


Sounds Good Entertainment provides the best of cultural entertainment in the state of Maharashtra, with shows across Mumbai and Pune.
Since its inception, Laxmi Lawns has been an "event space par excellence." An ideal venue for engagements, sangeet sandhya, weddings, conferences and events, the setup and mood up is perfect for any kind of entertainment of your liking.