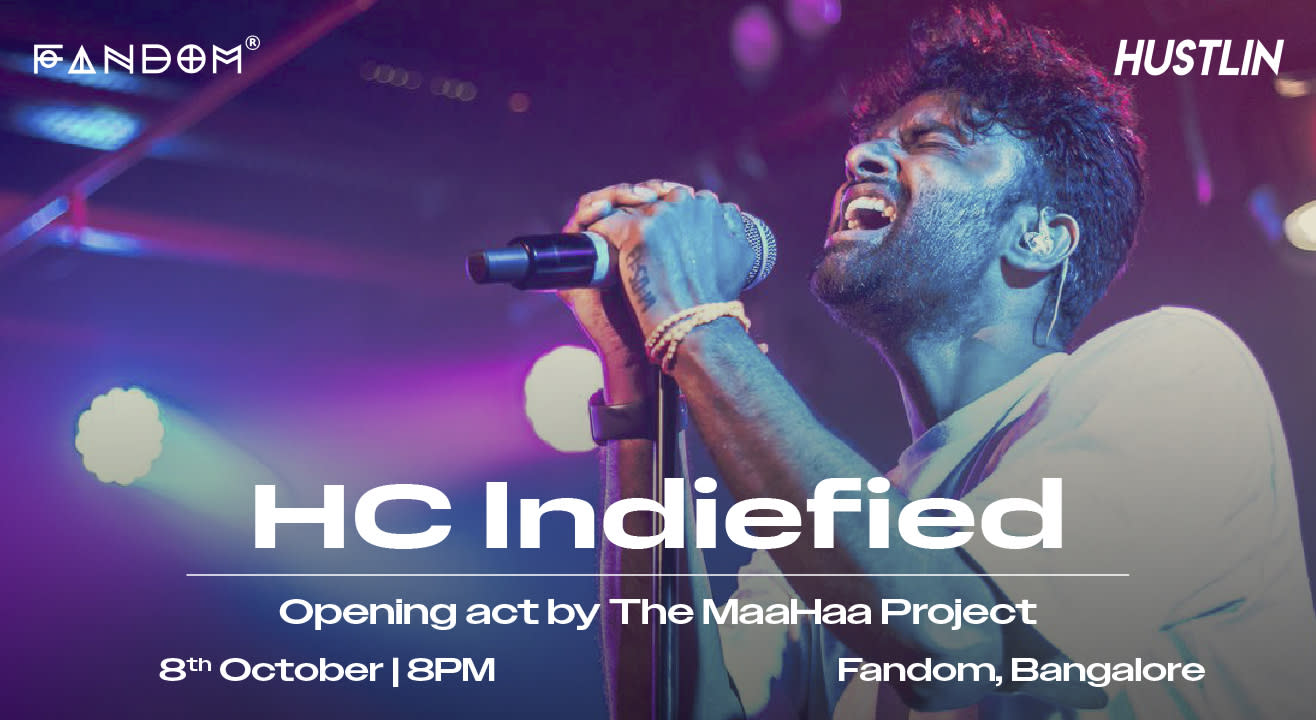 October 8 | Gates Open at 8PM | Event Starts at 9:30PM
Fandom at Gilly's Redefined, Bengaluru
Event Guide
Live Performance
Enjoy a unique experience
Invite your friends
and enjoy a shared experience
October 8 | Gates Open at 8PM | Event Starts at 9:30PM
Fandom at Gilly's Redefined, Bengaluru
Event Guide
Live Performance
Enjoy a unique experience
Invite your friends
and enjoy a shared experience
Event Guide
Live Performance
Enjoy a unique experience
Invite your friends
and enjoy a shared experience
Prepare to witness the musical genius Hemachandra in an entirely new avatar with his passion project, HC Indiefied. The band is all set to present Hemachandra's original compositions, which will offer a fresh and captivating experience for both die-hard fans and new admirers.
Renowned in the music world and South Indian cinema, Hemachandra has captivated our hearts with his melodious tunes. Now, he's all set to take us on a journey into the realm of indie music with an electronic twist.
HC Indiefied promises to be a captivating blend of electronic beats and soul-stirring melodies, creating an irresistible musical experience that will make you groove and dance. This long-awaited indie venture is a testament to Hemachandra's artistic versatility and creativity. It's a chance for him to showcase a side of his talent that has remained hidden from the mainstream, and the remarkable transformation by crafting an experience that goes beyond the usual commercial hits, inviting the audience to delve into the depths of indie music.
So, mark your calendars for the 08th of October and get ready to immerse yourself in the magic of HC Indiefied. Let the music take over, and together, let's celebrate this newfound dimension of Hemachandra's artistry that will undoubtedly leave us craving for more.
About the Artist
Hemachandra is a South Indian playback singer, independent artist, composer with over 15 years of experience in the music and film industry.
He has lent his voice to numerous songs in Telugu, Tamil, Kannada, and Malayalam films. His vocal range, combined with his ability to evoke emotions, has made him a favorite among music lovers.
Over the years, Hemachandra has collaborated with esteemed music directors and composers, delivering hit songs that have garnered immense popularity. His voice is so captivating that his recent song 'Dosti' from the Oscar-winning film RRR still runs in the back of every Tollywood buff's mind when we think of friendship; moreover, He has, to his credit, had multiple blockbusters, which makes him one of the most successful playback singers we have now.
With his talent and dedication, he has carved a niche for himself, leaving a lasting impact on the world of South Indian music. In his journey towards creating this impact he has started independently composing music and adding to the growing landscape of regional independent music scene. He has written, produced and performed many Telugu Independent songs in the last half a decade and is only adding more to his catalogue of successes. The biggest milestone yet in this space has been "HC - Indiefied" arguably the first ever fully independent Telugu musical act. Youtube,Spotify
Fandom at Gilly's Redefined
1st floor of Gillys redefined,# 413, 100 Feet Road,, 4th Block, Koramangala, KHB Block Koramangala, Koramangala 4-B Block, 5th Block, Koramangala, Bengaluru, Karnataka 560034, India
GET DIRECTIONS
October 8 | Gates Open at 8PM | Event Starts at 9:30PM
Fandom at Gilly's Redefined, Bengaluru
Event Guide
Live Performance
Enjoy a unique experience
Invite your friends
and enjoy a shared experience