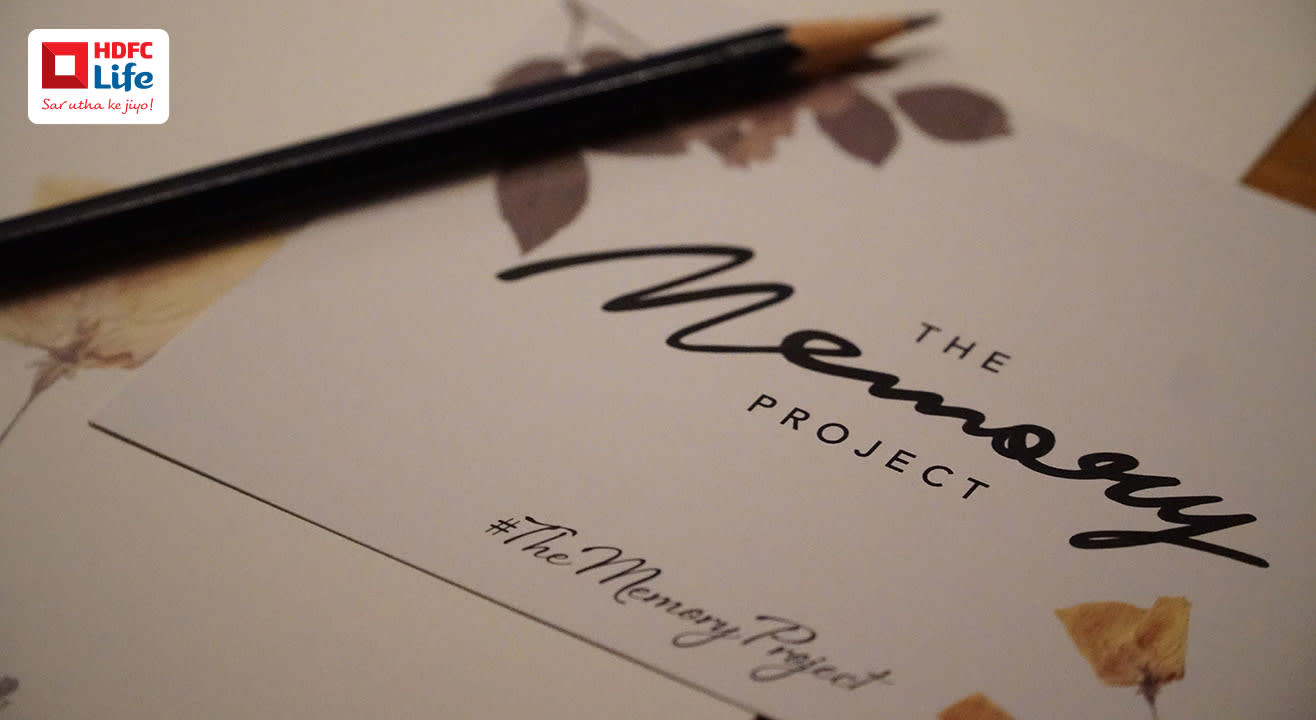 Experiences
Share memories of the loved ones you've lost at The Memory Project!
Reminisce and experience all the emotions through heartfelt performances at this initiative by HDFC Life.

The moment when we lose a loved one, there's a heart-wrenching feeling of sadness and loss. It's like the ebb and flow of grief remains constant. We tend to reject reasoning as the feeling dips, soars and resurfaces unexpectedly leaving you in a confusing array of emotions. So then, how does one really prepare for the inevitability of loss, empathize with another's pain or learn to eventually accept it?

While that seems impossible, there are ways to cope with this kind of grief and The Memory Project by HDFC Life attempts something like this. Remembering loved ones lost through the little things. This project is an initiative to build a community where people can share their memories and cope during this difficult time.

The Memory Project aims to help people go beyond sorrow and cherish the lives of their loved ones lost.
The third edition of The Memory Project features heartfelt performances by artists who relate to the feeling of losing a loved one. By lending artistic expression to the stages of grief, it will be an attempt to mould grief into an identifiable form.

So, on September 29 at 6 PM, join an evening of intimate, evocative performances by Khalid Ahmed, Sahil Vasudeva, Soulmate, Sambit Chatterjee and many more at Famous Studios.

How do I attend this event?
All you have to do is go click on Share Your Memory, submit a memory of your loved one and get a special invitation!

Lineup for The Memory Project 2019
Amandeep Singh
Amandeep Singh is a storyteller and writer who has reached over 20 million people online with his stories. Apart from all the love he has garnered online, Amandeep has been featured by Netflix, Buzzfeed India, Aaj Tak, Being Indian, The Indian Express and many other media houses. He has also performed for different festivals across the country including Spoken Fest, Jashn-e-Rekhta and colleges like Delhi University, BITS Hyderabad, LPU and many others. He has also shared the stage with Rahat Indori at NIT Jamshedpur and has been appreciated for his work.
Dasha Fogel
Dasha is an aerial artist and instructor based in India with almost 10 years of experience. Her goal is to share the joy of doing circus, creating art and building the circus community. She is trained in multiple apparatuses like aerial silks, rope and hoop and loves sharing her skills and passion with the audience and her students.
Khalid Ahmed
Khalid Ahmed, the vibrant frontman of Parvaaz, will be sharing his soulful voice invoking memories from his home that sits nestled in the Himalayas. Khalid has spent a decade as a professional performer and the city's independent music scene has fallen in love with his voice. His love for the city and its diverse audiences has produced dozens of enchanting performances at little and large venues. Khalid's culturing in music started at an early age. He developed an interest in listening to diverse genres from near and far. He started singing and composing in his teens and has never looked back from performing only original renditions. While poised to release new material with his band, he is working on releasing his solo material soon.
Sahil Vasudeva
Amongst India's most talented young classical pianists, Sahil is widely credited with bringing the piano out of conventional spaces into performance art. He studied piano under Dr. Nelson Harper at Denison University, Ohio (2004-2008) and with Irina Biryukova (2012-2015). He was selected from a national pool of pianists to perform at the Young Talent Concert Series at NCPA, Mumbai (June 2015) and has since been performing in leading venues across the country. His most recent production, The Un-Recital, looks at the struggle of a young pianist juxtaposed with the chaos and turbulence of the urban capital, New Delhi. Accompanied by mixed media and an introspective narrative, the performance breaks away from a traditional concert recital.
Sambit Chatterjee
Singing with classical vocalist Girija Devi to jamming with Kolkata guitar veteran Amyt Datta, drummer and percussionist Sambit Chatterjee had already experienced quite a bit by the time he was in school. Born to tabla artist Subhen Chatterjee and vocalist Sutapa Chatterjee, Sambit grew up in a fusion environment. Sambit was trained in the Lucknow Gharana of tabla, but around the time he started college, he began experimenting with drums, guitar, keyboard and bass as he entered Kolkata's rock circuit. After about a decade of intense riyaz, Sambit, who now lives in Mumbai, had become one of the most sought after drummers. In addition to having toured with his father's band, Bandish Fusion, Sambit has played with bands like What Escapes Me and Alluri, and with artists like Tajdar Junaid, Mohini Dey and Rhythm Shaw, among others. Sambit is on drum duties for some of the biggest bands in the country namely, Tajdar Junaid, Noiseware & aswekeepsearching.
Soulmate: Rudy Wallang & Tipriti Kharbangar
Rudy Wallang
Anyone with an interest in the western music scene in India will recognize guitar player/singer/songwriter Rudy Wallang, who leads this tight-knit musical unit. Today, Rudy is one of the foremost Blues guitar players/singer/songwriters in the country with a long musical history of 38 years making and performing his music and having been part of the country's most well-known blues-rock acts, Great Society & Mojo.

Tipriti Kharbangar
The beautiful and talented vocalist and rhythm guitarist of Soulmate, Tipriti 'Tips' Kharbangar, who has earned a name as one of the finest female singers to have emerged out of Shillong and India as a whole! If there is one thing Tip's is happy doing, it is singing and reflecting this, she vocalizes with a joy and exuberance that is unmatched and original. She has also begun to write songs for the band as well. She started out singing gospel songs at the local church choir and is now drawn to the Blues, Soul and Jazz.

Previous editions of The Memory Project
When a loved one passes away, they live-on through the objects and the emotional memories they've left behind. The first edition was an evening where these treasured memories were immortalized. Musical performances by Barbie Rajput, Mali, Alif, Sandunes, and Rohan Mazumdar, along with Ankita Shah's spoken word and storytelling sessions by Mehak Mirza Prabhu left audiences to join in and celebrate the lives of their lost loved ones.

The second edition of The Memory Project was a beautiful evening of remembering the values, traits and traditions left behind. Melodious performances by Alif, Dhruv Vishvanath, and Kavya Trehan stirred happy memories of their loved ones, and spoken word performances by Sanya Malik, Vairali Nagpal and Pooja Sivaraman left audiences reliving their cherished moments.
Joohee - "I'm here because I lost my Naanu, 18 years ago. What I miss the most is, He used to bring us breakfast every Sunday."

What I miss the most about them: "He also got me these sweet and sour candies called Chatar Matar. My father never liked that I ate those because I was only 6 years old, and was not encouraged to eat junk food. But Chatar Matar was too good to say no too!"
Vinayak - "I'm here because I lost my Grandmother, 2 years ago. What I miss the most is, The 'Pallu' of her 9-yard saree. My grandmother was a typical Maharashtrian lady. Always clad in 9-yard saree, jewellery and with a warm smile on her face. She used to look like a queen.

What I miss the most about them: "As a kid whether I had to wipe my face or play hide and seek with cousins or sleep on her lap, her 'Pallu' was always a great help. whenever I open her cupboard to find her old sarees, I meet my grandma again through the 'Pallu'."

Shubhangi Chaturvedi - "I'm here because I lost my Chachu, 5 years ago. What I miss the most is, His warm smile every time I met him, and the safe feeling when he hugged me."


What I miss the most about them: "Generally, people love one's parents the most, but for me, the love for Chachu was more than my parents. And so was his love for me. I've been told that he was the first person who held me when I was born so I guess that's when the connection started. He used to be very proud that I wished him before my mother on mother's day :)"
Debopama Tarat - "I'm here because I lost my mother, 9 years ago. What I miss the most is, Her caring nature.

What I miss the most about them: "Her ever-smiling face."
Vaibhav - "I'm here because I lost my Father, 10 years ago. What I miss the most is, The way he used to say "Action!"."

What I miss the most about them: "My father was an ad-film director. The feeling when he used to say "Action!" can't be put into words. It was like the whole world will act according to his direction, made me feel very proud and happy."
Subscribe to receive our newsletter!
Find the best experiences happening out there in your city or enjoy handpicked content while sitting comfortably at home. Paytm Insider is your go-to place to figure out what to do today!