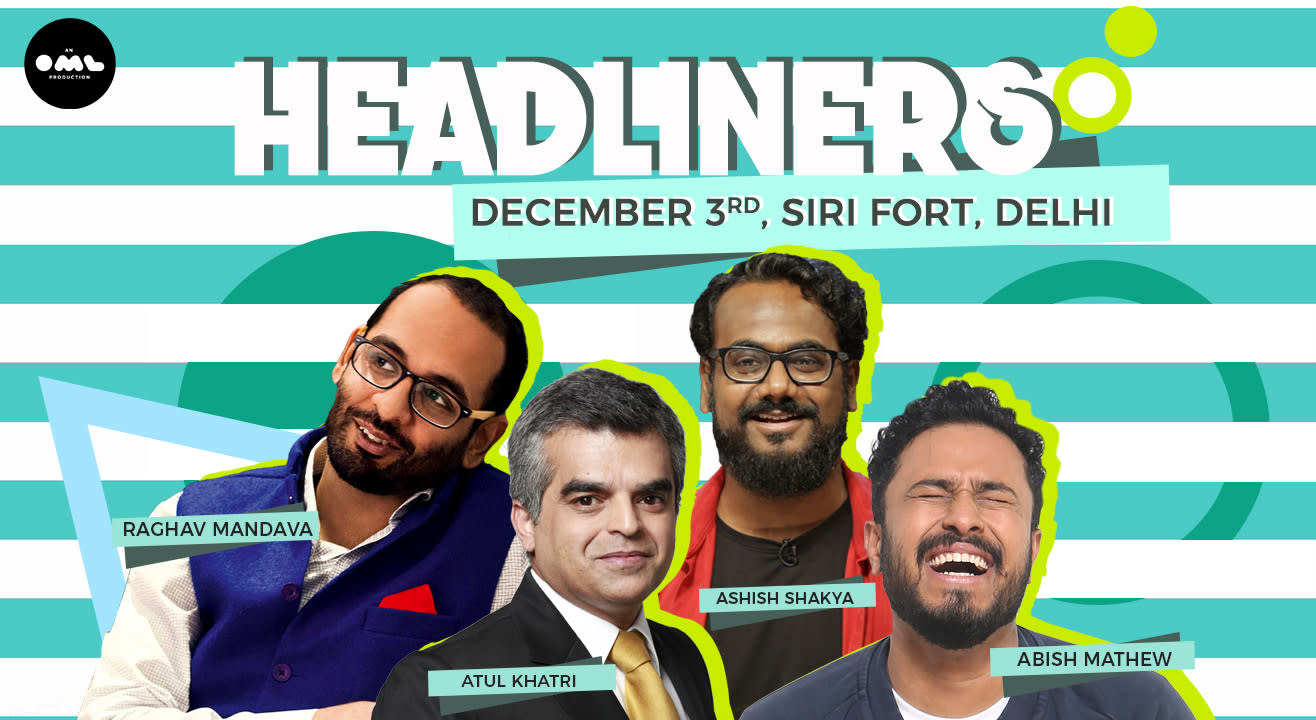 Headliners ft. Abish Mathew, Ashish Shakya, Atul Khatri & Raghav Mandava
Siri Fort Auditorium I, Delhi, Delhi
Step out and enjoy this event
Invite your friends
and enjoy a shared experience
Headliners ft. Abish Mathew, Ashish Shakya, Atul Khatri & Raghav Mandava
Siri Fort Auditorium I, Delhi, Delhi
Step out and enjoy this event
Invite your friends
and enjoy a shared experience
Invite your friends
and enjoy a shared experience
Abish Mathew
He sings, he dances, and when neither are enough, he tells jokes. One of the most recognized faces of Indian comedy, Abish Mathew was one of the first Indian Youtube stars, who has over 30 million views on his channel. These videos include sketches, stand-up, and of course, his hit talk-show, Son of Abish, which has featured stars like AIB, Vishal Dadlani, Kanan Gill, Badshah, Taapsee Pannu, Cyrus Broacha, and Vir Das. The stand-up comedian has performed 1000+ shows across India and the world, including New York, Canada and the prestigious Utrecht International Comedy Festival (Holland). The comedian has created content for brands like Breezer Vivid and Netflix, and his brand of clean humor has won over crowds in clubs, colleges and corporates alike.
Atul Khatri
Can businessmen be funny? Yes. Meet Atul Khatri, a middle-aged businessman-tuned-comedian who now makes a living making people laugh harder than they ever have. A former member of one of the country's leading comedy collectives, East India Comedy, Atul has often been spotted on their YouTube series like EIC Outrage, and specials such as EIC vs Bollywood. Bringing his 40+-year-old perspective with every show, he performs regularly at comedy clubs and does private shows in India and abroad. The comedian has showcased his skills at the prestigious Utrecht International Comedy Festival in the Netherlands and Belgium, and at the 8th Annual Hong Kong International Comedy Festival in 2014. CNN-IBN recently rated him as one of the Top 20 Comedians in India to Watch Out For, , post winning the competition Ceo's Got Talent.
Ashish Shakya
Shy boy Ashish Shakya is a member of AIB, India's edgiest comedy collective. As part of AIB, he has been a part of the collective's ambitious projects such as India's first ever comedy roast, AIB Knockout (a full-day open-air comedy show), AIB Diwas, the satirical news show telecast on primetime television and Hotstar, On Air with AIB and the Bollywood-themed Royal Turds.As a stand-up comedian, he has performed hundreds of shows across the country, and has written for brands like the Filmfare Awards, ET Now, the Hero Group and the Aditya Birla Group. His 4-year-old piece humour column The Blunder Years had a devoted following and has also co-written the hit news comedy show The Week That Wasn't with Cyrus Broachaon CNN-IBN.
Raghav Mandava
One of the first successful stand-up comedians to emerge out of Delhi, RaghavMandava has performed to sold-out shows at Indian Habitat Centre, Epicentre and LTG, at bars and at open-mic's around the city, where he strives to try something new every time he takes the stage. Raghav is also the founder and director of Cheese Monkey Mafia, a free-willed collective pushing performance arts in the Delhi/NCR region. Time Out has named him as "One of the few stand up acts in town, capable of drawing in an audience by name alone," and Mail Today says he is "Arguably one of the better ones." Business Insider remarked saying "RaghavMandava's own brand of comedy spares no one!" He sure knows how to put up a great show.
Siri Fort Auditorium I, Delhi
Asian Games Village Complex, Gautam Nagar, Delhi
GET DIRECTIONS
Headliners ft. Abish Mathew, Ashish Shakya, Atul Khatri & Raghav Mandava
Siri Fort Auditorium I, Delhi, Delhi
Step out and enjoy this event
Invite your friends
and enjoy a shared experience