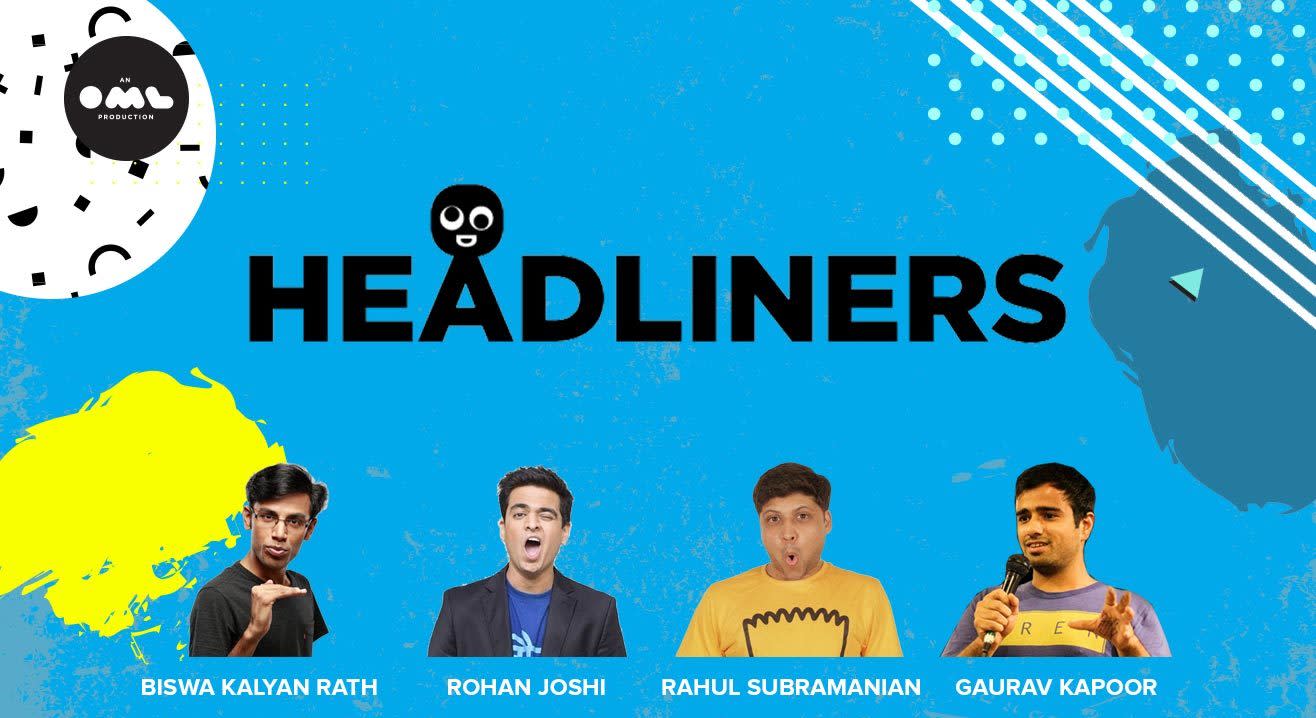 Comedy
Headliners ft. Biswa Kalyan Rath, Rohan Joshi, Rahul Subramanian, Gaurav Kapoor
Siri Fort Auditorium I, Delhi
About
Biswa Kalyan Rath
Remember the Pretentious Movie Reviews on YouTube? Good. Now forget them. That was just a warm-up to comic Biswa Kalyan Rath's full comedy prowess. The comedian has moved up a few notches since his YouTube glory days and is using his IIT-Bombay education, along with his knowledge of mathematics, language and life, to make jokes that have never been cracked before. He recently released his comedy special, Biswa Mast Aadmi, to rave reviews, with which he toured every pocket in India. One of the most-followed comedians in the country, Biswa's angry rant-styled delivery and his unique perspective turns every topic he touches into comedy gold, making audiences crack up instantly. The stand-up comedian, writer, actor, size-zero enthusiast and blogger, has done countless shows across all sorts of venues in the country and has managed to garner 14+ million views on YouTube. Need we say more?
Rohan Joshi
Rohan Joshi is a member of popular comedy collective AIB. As part of AIB, he has been a part of the collective's ambitious projects such as India's first ever comedy roast, AIB Knockout (a full-day open-air comedy show), AIB Diwas, the satirical news show telecast on primetime television and Hotstar, On Air with AIB and the Bollywood-themed Royal Turds.One of the earliest stand-up comics in the country, he was on the Times of India's list of top ten comedians in India in 2012, with over 250 shows at premier venues in India and internationally. He performs regularly for corporate clients across India. Rohan has co-written the prestigious Filmfare awards. He is also a humour columnist for several publications, including a long-running column in Mid-Day.
Rahul Subramanian
Often called Vidya by those who know him well, Rahul Subramanian is a Tamilian engineer-turned-comedian who realized he was too good for the world of mechanics. The 29-year-old is a regular at all the leading comedy venues in the country, and recently came out with a fresh set of jokes, a solo set titled Kal Main Udega that makes fun of all his break-ups, and his time at B-school. The Mumbai-based comedian has been performing since 2014, as he broke into the scene by winning comedy competitions like Virgin Pants and Canvas Laugh Club - all India open-mics. His personal interests include seeing, waiting, sending and traffic, all things that help him write better jokes, puns and sketches that make you go "that's happened to me too!"
Gaurav Kapoor
A journalist by qualification, Gaurav Kapoor is another by-product of the famous Bollywood Kapoor family. Just kidding. The comedian is a sweet Delhi boy who does what he is expected to – hold a respectable job (he has one in retail) and make people laugh when needed (his secret profession). His razor sharp wit and candid humor lead him to win almost every open-mic he has ever participated in (yes, he is that good), including the Big Mic, Canvas Laugh Club, Chalta Hai and Buzz Off. So good that he opened for the world famous comic Russell Brand on his Indian tour. His favorite topics to talk about on stage are Jaat culture, people who buy Royal Enfields and poverty (mostly his own), a variety that makes the Indian audiences fall in love with him. And with his recent spelling change (Kapur to Kapoor), he has got all the validation he needs, and is ready to take over the world.
Biswa Kalyan Rath: 25 minutes
Rohan Joshi: 25 minutes
Rahul Subramanian: 30 minutes
Gaurav Kapoor: 25 minutes