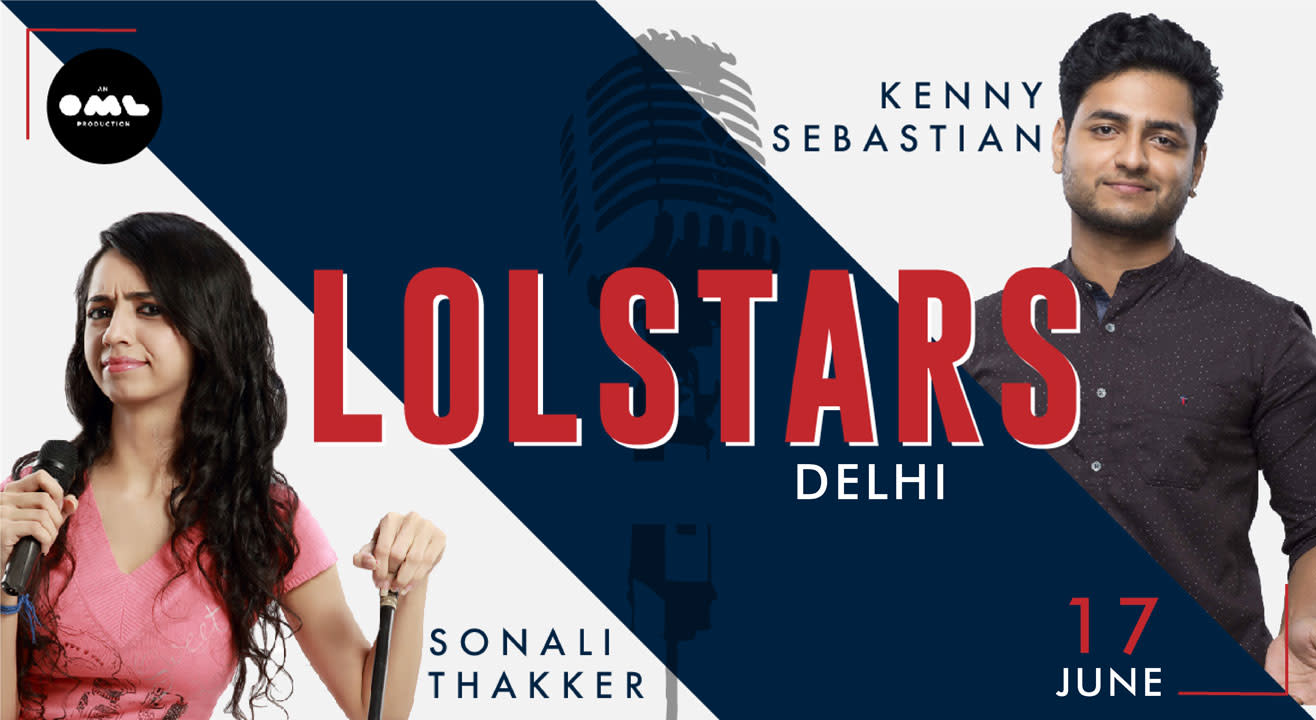 LOLStars ft. Kenny Sebastian & Sonali Thakker, Delhi
Siri Fort Auditorium I, Delhi, Delhi
Step out and enjoy this event
Invite your friends
and enjoy a shared experience
LOLStars ft. Kenny Sebastian & Sonali Thakker, Delhi
Siri Fort Auditorium I, Delhi, Delhi
Step out and enjoy this event
Invite your friends
and enjoy a shared experience
Invite your friends
and enjoy a shared experience
A LOLStars Comedy night promises you an evening of the finest comics giving you new comedy, which is guaranteed to leave you red in the face and give your abs a good workout. You will see one of the top comics on tour, supported by a rising star who has recently brought comedy club audiences to its collective knees. Keep checking this page because more and more shows will keep getting announced - and more cities as well. There could be a few surprises in there as well!

With a great sense of humour touching on everyday topics, a singing voice and a rare ability to make the stiffest faces smirk, Kenny Sebastian has the world at his feet. The Bangalore-based stand-up comedian is arguably one of the biggest comedy acts in the country, creating content fit for both the Internet and the stage. When not directing short films, the comedian is performing at leading venues like Canvas Laugh Factory (Mumbai) and has delivered over 1000 shows around the world. Kenny is one of the forefront members of Bangalore's comedy group- The Polished Bottoms, with comedians Sundeep Rao, Sanjay Manaktala and Praveen Kumar. His Internet prowess is seen in his Amazon special, Don't be That Guy, along with the sci-fi comedy web series Starboyz, and Comedy Central's The Living Room. And finally, he has an adoring female fan base as well!
Part-time stock-broker, a dance enthusiast and a full-time Gujju who performs comedy on the weekends, Sonali Thakker is an exciting new comedy talent in the town. Talking about grave topics like travelling, shopping and chaprigiri in her sets, Sonali's has performed on the biggest of stages including Canvas Laugh Club and NCPA. In 2017, she took her special 'Almost There' to stage across the country.

Siri Fort Auditorium I, Delhi
Asian Games Village Complex, Gautam Nagar, Delhi
GET DIRECTIONS
LOLStars ft. Kenny Sebastian & Sonali Thakker, Delhi
Siri Fort Auditorium I, Delhi, Delhi
Step out and enjoy this event
Invite your friends
and enjoy a shared experience