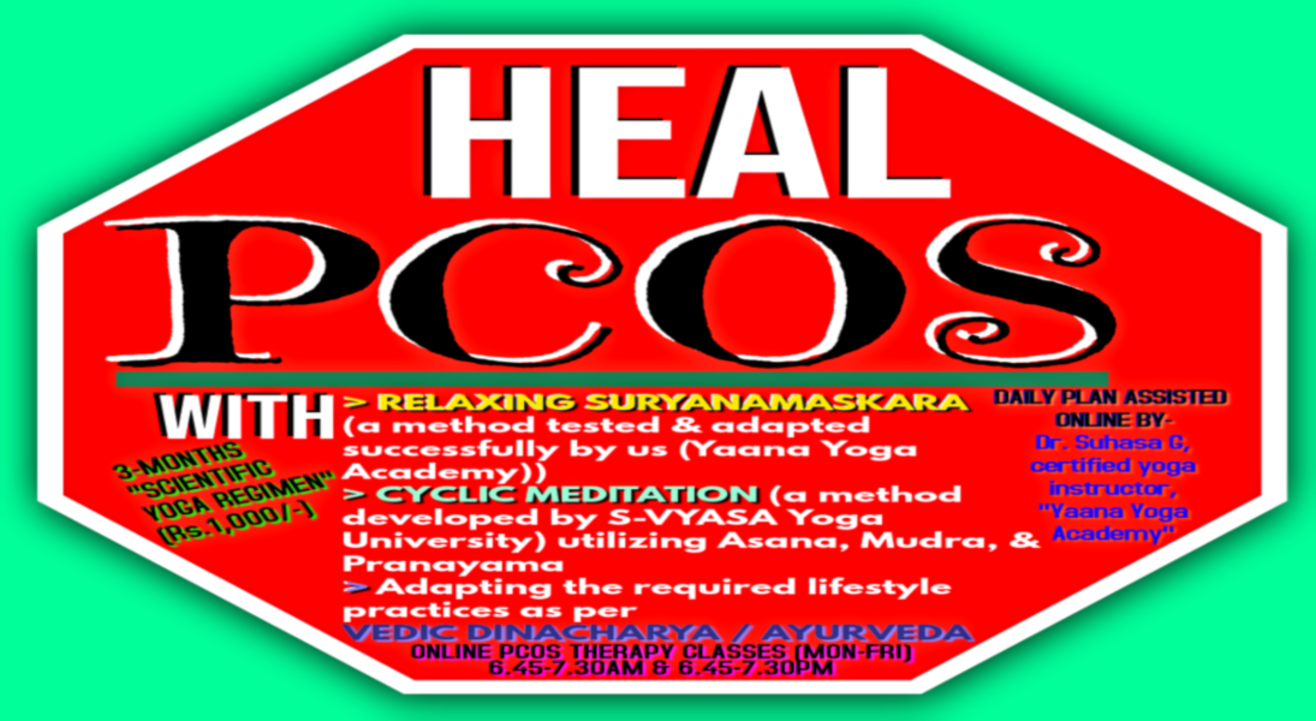 Heal PCOS - Online Yoga Therapy
₹1000
Tickets are sold out for this show
Invite your friends
and enjoy a shared experience
Invite your friends
and enjoy a shared experience
About the Event
NAMASTE,
I'm Dr. Suhasa G, certified yoga instructor, in "Yaana Yoga Academy", & am also an organizer of our "Daily, Online Yoga Classes" as well as "Yoga Practices-Based PCOS Healing Classes".
OUR "PCOS HEALING CLASSES" UTILIZE:-
1. RELAXING SURYANAMASKARA (which includes an original version of Bhramari Pranayama that is practiced in an entire cycle of 12-steps for a single round that spans 8-9 min.) :: It was developed by us, Yaana Yoga Academy, tested, & successfully adapted.
2. CYCLIC MEDITATION (using a set of Asana, Mudra, & Pranayama followed by Practicing Shavasana, after being/staying in an Asana, in Mudra & Pranayama-TESTED & SUCCESSFULLY ADAPTED BY "YAANA YOGA ACADEMY") - The original form of "Cyclic Meditation" was discovered by Dr. Nagendra HR, Chancellor, S-VYASA Yoga University, Bengaluru, Karnataka, India, by realizing a Shloka said in "Mandukya Upanishad".
3. "VEDIC DINACHARYA / AYURVEDA" - A set of adaptable lifestyle practices.
These classes are conducted for 3-months from the day you join.
The timings of these classes are:
MORNING BATCH - 6.45-7.30AM
EVENING BATCH - 6.45-7.30PM
PRESENTLY, THERE ARE TWO PARTICIPANTS IN OUR EVENING BATCH & ONE IN OUR MORNING BATCH.
>INSTRUCTIONS ARE GIVEN IN THESE CLASSES, SEPARATELY IN KANNADA, HINDI, & ENGLISH LANGUAGES
>DAILY MONITORING OF EXPECTED RESULTS IS PERFORMED WITH "PRE-CLASS EVALUATION" & "POST-CLASS EVALUATION"
>OUR FEES - "Rs.1,000/- FOR 3-MONTHS" (YOU CAN PAY Rs.1,000/- AT-A-
TIME "OR" YOU CAN PAY Rs.300/- OR Rs.400/- MONTHLY)
>KINDLY WATCH ONE OF OUR RECENT "HEAL PCOS ONLINE CLASS" THAT WAS LIVE-RECORDED, & HAVE BEEN SHARED ON
THIS EVENT PAGE. ALSO HAVE A LOOK AT THE COMMENTS SECTION OF THIS YOUTUBE VIDEO, WHEREIN, I HAVE DESCRIBED THE ADAPTED YOGA PRACTICES,
>>TO HEAL PCOS, &
>>THEIR EFFECTIVENESS, &
>>THEIR UTILITY IN EXPLORING HIGHER
POSSIBILITIES IN YOGA,
>> ADAPTED "SUPPORTIVE TECHNICAL REFERENCES" & "ACKNOWLEDGEMENTS".
31st July 2020-"HEAL PCOS-ONLINE YOGA THERAPY CLASS"-"Relaxing Suryanamaskara" & "Sharanagata Mudra"-In C.M.
₹1000
Tickets are sold out for this show