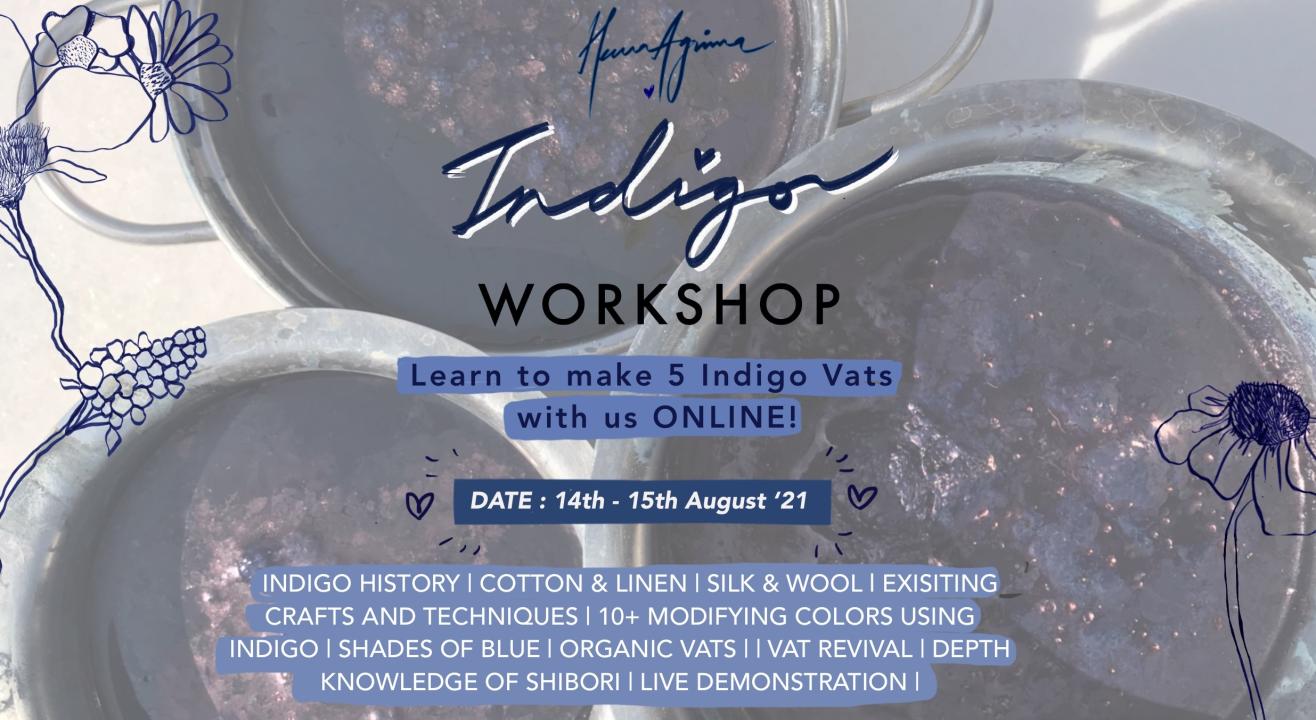 HeenaAgrima's Indigo Dyeing Workshop
August 14 | 2PM - August 15 | 5PM
Event Guide
Masterclass
Learn from an expert
Invite your friends
and enjoy a shared experience
HeenaAgrima's Indigo Dyeing Workshop
August 14 | 2PM - August 15 | 5PM
Event Guide
Masterclass
Learn from an expert
Invite your friends
and enjoy a shared experience
Event Guide
Masterclass
Learn from an expert
Invite your friends
and enjoy a shared experience
Let's go to the royalties of Natural colours now and bring in a touch of our lovely Royal BLUE! We are here with the Organic Indigo Dyeing Workshop! We would love to help all those eco-enthusiasts out there to gain more knowledge about the roots of Indigo colour and take you through this journey of Indigo dyeing through live-demonstrations.
The schedule of the workshop would be as follows:
Day 1️⃣
We will discuss about the history of Indigo dyeing and the varying cultures that used to practise Indigo Dyeing in different regions.
Discussion on types of Indigo plants and how it varies from one to the other.
Understanding the process of indigo extraction and the chemical reactions that take place to apply it on textiles.
Local communities practising Natural Indigo Dyeing and some traditional recipes.
Indian crafts involved in Indigo dyeing and its techniques.
Day 2️⃣
Preparation of fabrics for dyeing in the VAT.
Learning the technicalities of colour extraction from Indigo.
Understanding and preparing 5 organic vats with multiple different ingredients for a large range of blues in your royal palette.
Also, on request, we can make a book for you all with the swatches that we dye with you over the video call and then send them to you by post with the recipes and all the other details so you can have it handy! Or you can do it by yourself as well.
Lots of flowers,
HeenaAgrima
HeenaAgrima's Indigo Dyeing Workshop
August 14 | 2PM - August 15 | 5PM
Event Guide
Masterclass
Learn from an expert
Invite your friends
and enjoy a shared experience