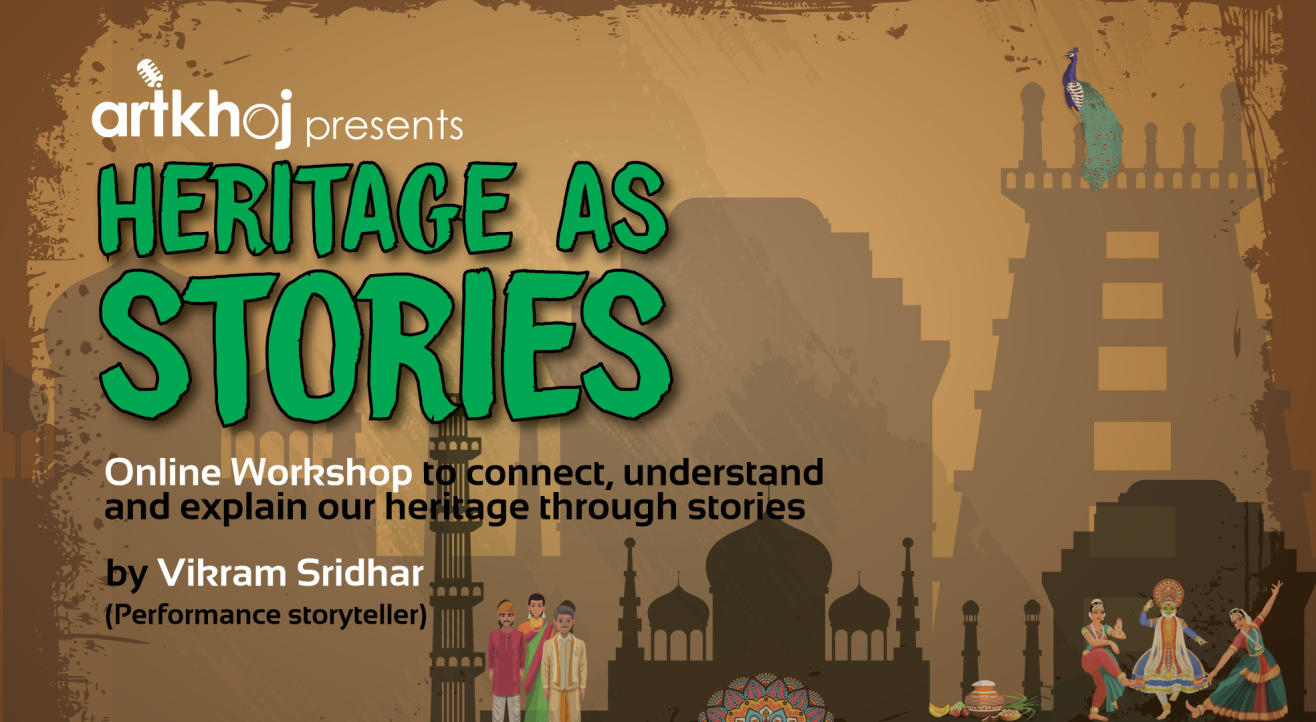 Heritage as Stories - Online Workshop
Invite your friends
and enjoy a shared experience
Invite your friends
and enjoy a shared experience
About the Event
Artkhoj in collaboration with Vikram Sridhar brings a very engaging and interactive online workshop to explore how we can look at Heritage as a way to connect to our culture history and environment through stories.
A rich country like India has so many facets to it when we look at it as a rich heritage and not just as history. From Monuments to fauna to food to festivities if we can look at the spectrum of our Culture from the view of heritage and stories we can cherish and celebrate the diversity.
The workshop explores the ways to look at our rich heritage in different ways and how to create stories out of them to connect with our audience/readers/viewers
What will you learn through the workshop:
• Heritage Vs History
• 360 degree view of Indian Heritage
• Connecting to varied strengths of History Geography etc.
• Adding life to the least loved subject for children teens and young Adults
• Facets of Heritage stories
• Creating a memorable Story through the Heritage lens
The workshop is suitable for
• Teachers
• Parents
• Writers
• Storytellers
• Video Makers/Bloggers
• Script Writers
• Theatre Artists
• Anyone who works through a story based on Heritage and anyone willing to learn something new.
About the Workshop:
The workshop will be conducted online through Zoom platform.
The link to join the workshop will be shared on the day of the workshop
Anyone over the age of 16 is welcome
No prior experience is required.
About the Facilitator:
With an interest in school theatre and contemporary English plays during college days in the early 2000s, Vikram Sridhar began his journey into the professional theatre during his MBA days in Chennai. Over the last decade, he has learned workshopped and worked with numerous theatre productions in Bangalore.
He Co-founded one of the city's most active theatre group Tahatto in 2009. As a theatre practitioner, his work has gone beyond the stage to work with corporates colleges schools children differently-abled and adults in public spaces across the country.
He is part of multiple theatres and literature-based festivals like the Bangalore Literature Festival, Bengaluru Poetry Festival, Dum Dama Dum - Children theatre and reading festival etc.
He also specializes in the theatre form of Performance Storytelling which is Improv in nature like the olden times.
He calls himself a SIT-DOWN STORYTELLER as like olden days he sits and shares stories with anyone who has an ear for them.
About the Organizer:
Artkhoj is an aggregator of artists hosts vendors and art institutes across the country. Artkhoj provides opportunities to artists from all the genres thus helping them pursue their passion.
Artkhoj also helps hosts (corporate colleges apartments etc) find the right talent/artists for their requirements thus making the event experience smooth and fun.
Feel free to reach out to us if you also want to book an artist or conduct a workshop.
Contact us on +918971492903 for more queries.
Tickets once sold for an event are not transferable to other event or person.