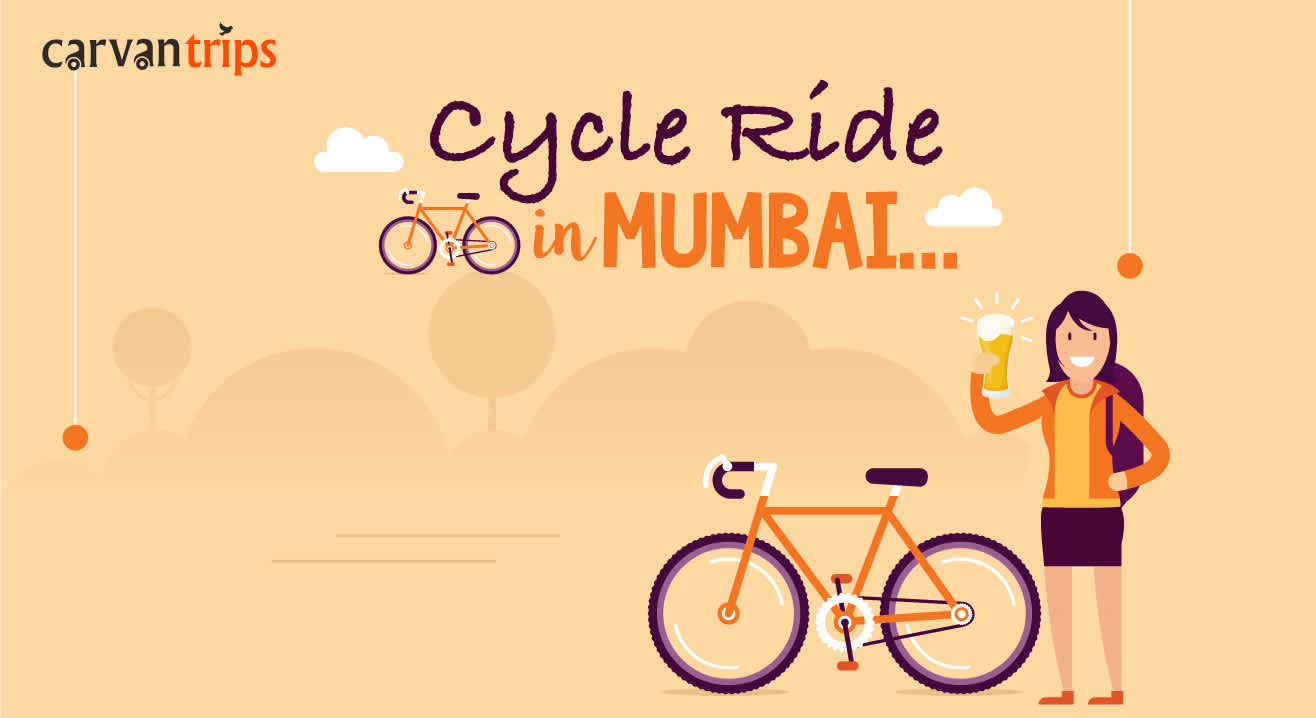 Cycling
Heritage Cycle Ride Ending With Beer!
November 12 | December 3 | 6:30AM
About
"If you ever wanted a motivation to get up in the morning & go cycling, we give it to you now – BEER!"
Get ready as Carvan Trips take you for an epic heritage ride down the historic lanes of South Mumbai! Cycling is one of the best ways to explore these parts of town as everything is nearby; the streets are in excellent condition and the best part - No Traffic!!
We all might have whiz past through these colonial heritage structures at some point, wondered for a second about them, and then probably went on with our busy city lives. However, these structures reveal a different story as they wake up from their slumber, and the first rays of sunlight on the brown washed British era buildings provide a heady mix of beauty, history & nostalgia.
We'll start our cycling trip from Colaba towards Gateway of India, explore the nearby structures and then cycle along the numerous heritage sites. On the way, we will stop for interesting stories, fun facts, and of course, selfies!
Now, we can understand that riding through South Mumbai can make you really, like Reaallly thirsty…So how about tanking up all those calories you burn, Guilt Free ;)
And so, we will end our epic ride at a Heritage Bar with a chilled beer, On the House!
06:30 AM – Meet and Greet at Colaba Sweet Mart, Colaba. Proceed to pick your cycles
(The early birds get the better cycles!)
06:45 AM – After introduction and important instruction, start your heritage ride
09.00 AM – BEER! Finish your Ride at a Heritage Restaurant with a refreshing pint of beer (you have earned it)
Cycle rental + Mechanic for backup + Organizing charges + Expertise charges+ Refreshments + Pint of Beer / Mocktail drink.
Transport till the start point and Transport from the end point. Anything not mentioned above.
Standard Terms and Conditions of Service (TACS)
You ("The user") understand that there are inherent risks of the services which may or may not be directly provided by Carvan Trips ("Us"/ "The Company") in which the user may engage.
The user confirms that they are physically and mentally capable of availing the service. The users' participation is voluntary and the user shall under no circumstance hold Carvan Trips responsible for any injury, accidents, illness and damage to or loss of personal property as the result of any incident or accident that may occur during the period of service.
The conduct and behavior of the user should not cause distress or harm to anyone including other user members, Carvan Trips' staff, service providers etc; in which case we/ service providers reserve the right to ask you to immediately leave, or in certain circumstances, hand you over to the appropriate authorities, in which case the financial liability would be of the user.
If for any reason the user wishes to abruptly end the trip before its scheduled completion, or is unable to participate due to being unfit, we will not be responsible to provide any refund and the financial liability for making any alternate arrangements would be of the user.
The user is responsible to follow the instructions of the leader/ service provider and the user has to bear all the expenses which may arise in case for medical exigency or any emergency condition.
Cuts, bruises and minor injuries are normal for an adventure activity. First aid kit is provided and the coordinators are trained to respond in such situations. Carvan trips take all the reasonable steps to provide basic safety required for the particular activity. During the trip, the trip leader's decision will be final decision, whatsoever.
Carvan trips hold the rights to change the itinerary or even cancel the activity in case of any unexpected change in weather or other unpredicted situations occur that are beyond our control. Carvan trips will not be liable for any costs such as travel or accommodation incurred by the participant in such circumstances.
All activities are described as accurately as possible; however, the exact arrangements may differ slightly on any given day. Photographs are used for representation purpose and should be taken as a guide only.
It is mandatory to disclose any personal medical conditions so that prior arrangements can be made. Carvan trips do not hold any responsibility for the outcome of any undisclosed medical condition during the trip.
Smoking and drinking is strictly prohibited during the nature treks.
If participants are found violating the rules, Carvan trips reserve all the rights to remove the participant from the group. In such situation, no refund shall be provided.
Jersey/T-shirt and shorts (Avoid full/ loose pants as they may get stuck in the cycle chains)
Cap
Sport shoes
Sunscreen
Goggles
Water proof Jacket
Ready to eat Snacks
Personal First Aid Kit and Medicines
A small backpack (to carry water, snacks etc)
Electral powder / Glucon D / Tang
1 Liter water bottle
Change of clothes
Venue
Colaba Sweet Mart
37, Ruby Terrace, Colaba Causeway, Apollo Bandar, Colaba, Mumbai, Maharashtra 400005