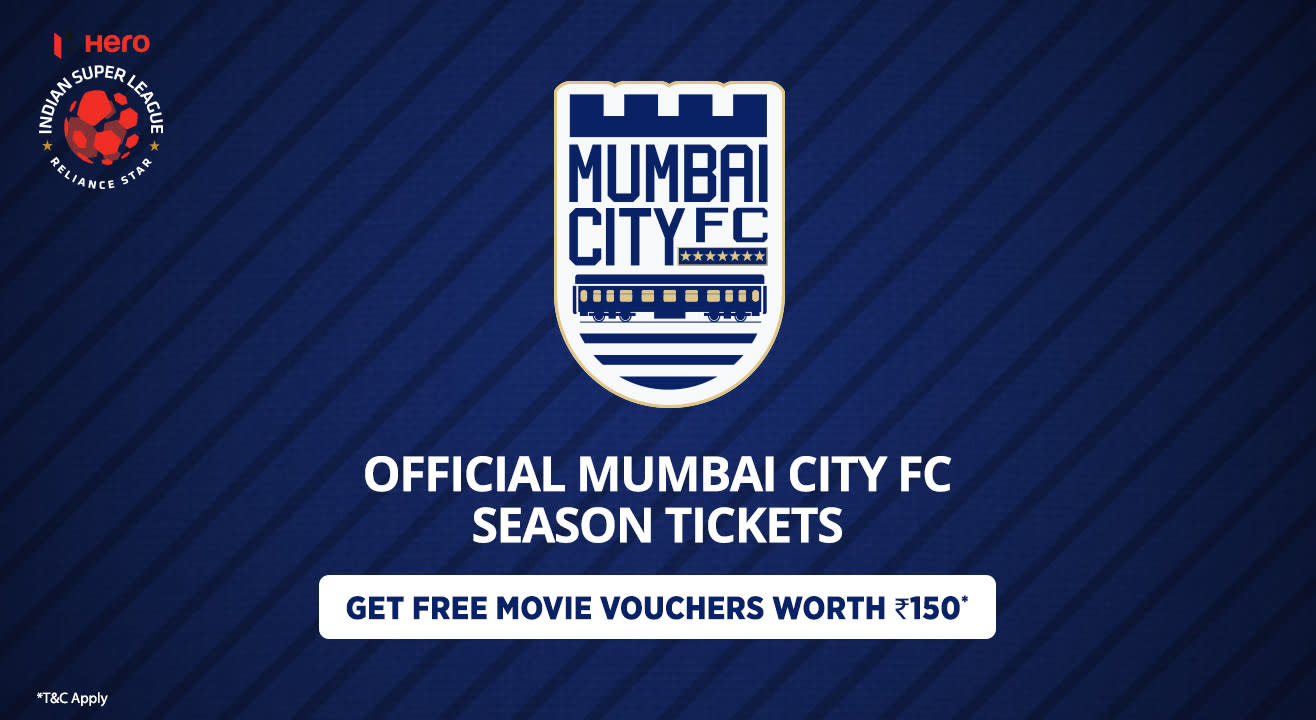 Football
Hero Indian Super League 2018 - 19 Season Tickets: Mumbai City FC Home Matches
About
Limited time offer: Get a free Paytm movie voucher worth ₹150 on each transaction. (T&C apply)
This Season Ticket is valid only for the first 6 home matches for Mumbai City FC in ISL 2018-19 (2 Oct - 16 Dec), and not for matches after that
Live your fandom with the Season Ticket for the Islanders' home games. The benefit? You get to watch the first 6 matches at the cost of just 5! Be a part of the West Coast Brigade at the Mumbai Football Arena, Mumbai. Book your season ticket now.
Mumbai City FC is a football club from the city of Mumbai, playing in the Indian Super League. The Islanders, as the club is fondly called, are co-owned by Bollywood actor and football enthusiast Ranbir Kapoor and chartered accountant Bimal Parekh. The club's logo is a reflection of a resilient fortress that stands proudly, signifying the unrelenting, determined spirit of the city. The seven stars symbolise the seven islands that form Mumbai along with the trains, the lifeline of the city.
After consistent attacking displays over the last four seasons, with reaching the semifinals in 2016 being the highlight in the history of the club, The Islanders now enter into a new era under new head coach Jorge Costa. The fans in the City of Dreams will be expectant when The Islanders take to the field at the Mumbai Football Arena on October 2 to kick off the 2018-19 Indian Super League season! Can Mumbai City FC go all the way this season and win the coveted ISL trophy?
Have questions regarding this event or your order?
Please mail help@insider.in or call us at +91-22-61548585 / +91-9136622662.
For corporate (bulk and hospitality) bookings
Please mail corporatebookings@insider.in, or call us at +91-22-33604736.
Mumbai City FC - ISL 2018-19 Schedule
ISL Season 5 starts on 29 Sep, 2018. While the 2019 dates are not announced yet, they will be updated shortly. Check out the schedule as it stands currently, here. Matches in bold are home games. Matches that are linked have tickets on Insider - click to buy. The season ticket is valid on the 6 matches from 02 Oct to 16 Dec.

24-Oct-2018, Wednesday, 19:30: FC Goa vs Mumbai City FC, Jawaharlal Nehru Stadium, Goa
03-Nov-2018, Saturday, 19:30: Chennaiyin FC vs Mumbai City FC, Jawaharlal Nehru Stadium, Chennai
09-Nov-2018, Friday, 19:30: NorthEast United vs Mumbai City FC, Indira Gandhi Athletic Stadium, Guwahati
03-Dec-2018, Monday, 19:30: Delhi Dynamos FC vs Mumbai City FC, Jawaharlal Nehru Stadium, New Delhi
09-Dec-2018, Sunday, 19:30: Bengaluru FC vs Mumbai City FC, Sree Kanteerva Stadium, Bengaluru