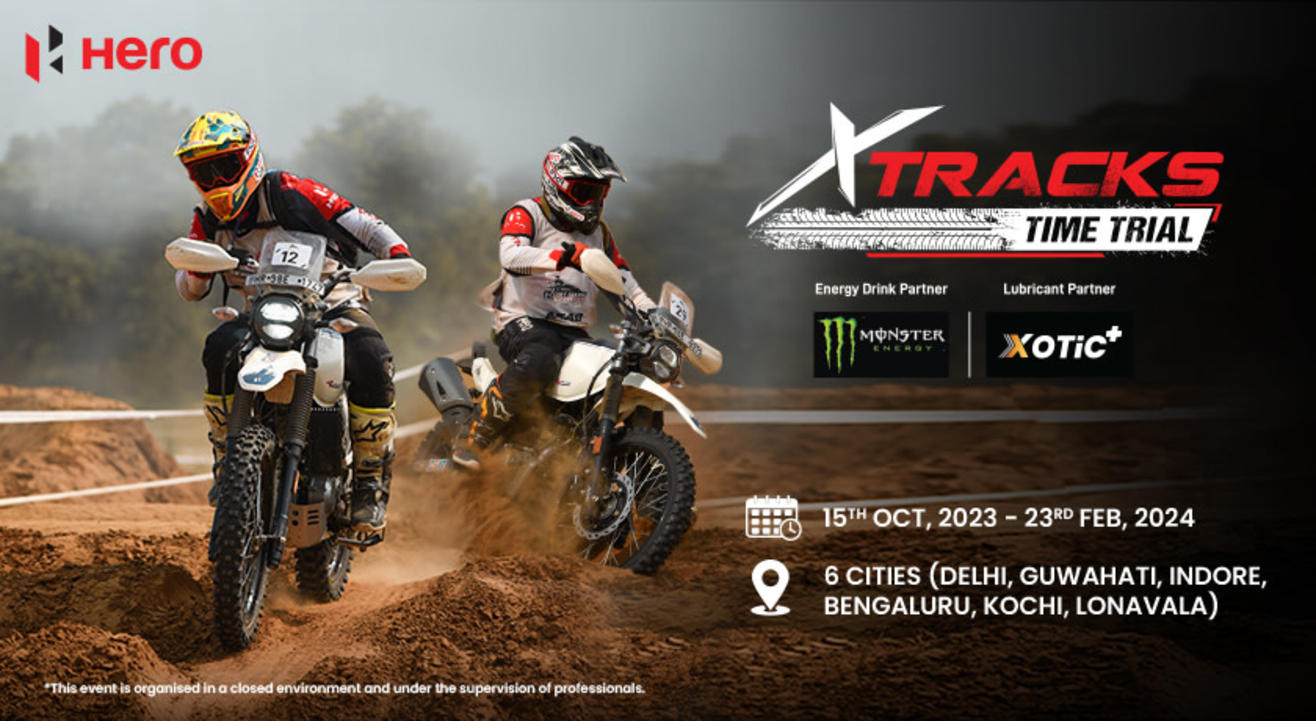 Throttle Shrottle Moto Ranch, Gurugram
Event Guide
Live Sports
Get in on the action
Invite your friends
and enjoy a shared experience
Throttle Shrottle Moto Ranch, Gurugram
Event Guide
Live Sports
Get in on the action
Invite your friends
and enjoy a shared experience
Event Guide
Live Sports
Get in on the action
Covid 19 Safety Measures
This event adheres to the following

Health & safety measures
Social Distancing
Limited Capacity
Invite your friends
and enjoy a shared experience
Covid 19 Safety Measures
This event adheres to the following

Health & safety measures
Social Distancing
Limited Capacity
Get ready to rev up your engines and conquer the rugged terrain at the XTracks Time Trial season 1! This adrenaline-pumping competition is your ticket to an off-road adventure like no other.
Join us for an action-packed season as we traverse six diverse cities across India, putting your off-road skills to the ultimate test. Here's a sneak peek at our calendar:
1. Delhi | October 15, 2023
2. Guwahati | November 19, 2023
3. Indore | December 10, 2023
4. Bengaluru | January 7, 2024
5. Kochi | January 28, 2024
6. Lonavala | February 23, 2024
And mark your calendars for the grand finale in Lonavala on February 25, 2024.
Whether you're a seasoned professional or an enthusiastic amateur, we've got categories for everyone:
1.Professional Overall
2.Amateur Overall
3.Professional Female
4.Amateur Female
But the excitement doesn't end there! Winners of this epic showdown will take home incredible prizes, including the chance to win a Hero Xpulse 200 4V, an exclusive opportunity to experience the Rally Life alongside the Hero Motorsports Team Rally, and some fantastic Hero Merchandise Gift Hampers at each city round, not to mention the prestigious trophies and certificates.
Don't miss out on this unique opportunity to prove your off-road prowess and be a part of the XTracks Time Trial legacy.l
Gear up, rev up, and we'll see you at the starting line!
In case of any further queries, reach out to us :-
ridesteam@heromotorcorp.com
Rahul Kumar
Contact Details :- 9711883646
Terms & Conditions
1. Eligibility: Participation is limited to individuals who are at least 18 years old and possess a valid motorcycle driving license.
2. Travel & Accommodation: Participants are responsible for their own travel and accommodation expenses. The event organizer is not liable for covering any costs related to transportation or lodging.
3. Motorcycle: Professional Class participants must bring their own Xpulse 200. In such cases, the event organizer is not responsible for any expenses incurred related to damages, transportation, etc. For amateur classes, the Xpulse 200 4V will be provided at the venue, along with fuel and service.
4. Riding Gear: All participants are expected to bring complete off-road riding safety gear to the event, including helmets, gloves, boots, armours and other necessary safety guards. In case a participant is unable to bring their own gear, spare sets will be available, shared among multiple participants.
5. Sobriety: Consumption of alcohol or any substances that may impair participants' riding skills and judgment is strictly prohibited during and before the event.
6. Safety: While the event organizer will take measures to ensure participants' safety, each participant is primarily responsible for their own safety and must exercise caution at all times.
7. Medical Emergency Services: Medical emergency vehicles and personnel will be present at the event, but participants are responsible for any medical expenses resulting from accidents or injuries during the event.
8. Insurance: Participants in the Professional class using their own Xpulse 200 must have insurance coverage for their bikes. Additionally, it is recommended that all participants, both in the Professional and Amateur classes, obtain High-Risk Table 3 personal insurance to cover potential medical expenses during the event.
9. Code of Conduct: Participants are expected to maintain responsible behavior and adhere to all rules and regulations set forth by the event organizers. Failure to do so may result in disqualification.
10. Liability Waiver: By participating in the event, participants agree to release the event organizer and its affiliates from any liability for personal injury, property damage, or any other loss that may occur during the event. Participants are required to sign a legal indemnity form as prescribed by the organizers.
11. Event Changes and Cancellation: The event organizer reserves the right to change, cancel, or modify any aspect of the event, including format, dates, locations, prizes, or any other relevant details, at their discretion.
12. Entry Fee: A non-refundable entry fee of 1500 is applicable for each round of participation. Participants wishing to participate in multiple rounds must purchase additional entries. In the event that the event is canceled for any reason, participants will receive a full refund of their entry fee. If the date or location of a round is changed, participants have the right to withdraw their participation and receive a full refund. Otherwise, the entry fee is non-refundable and non-transferable.
FAQs
Q1 - Is there a fee to participate?
Yes, it is ₹1500 per city qualifying round for all classes.
Q2 - What is included in my participation fee?
The participation fee includes the FMSCI license fee, if required, a specially designed XTracks Time Trial goodie bag, and a Lunch Coupon. It also grants you an opportunity to participate in XTracks Time Trial.
Q3 - How many qualification rounds are there, and in which cities? How does it work?
There will be a total of five qualifying rounds in five cities. You can participate in any one or multiple rounds to try to qualify for the finale. The top five riders from each class in every city will qualify for the finale.
Q4 - Will the organizers cover my cost of stay for qualifying rounds or the finale?
For qualifying rounds, every participant is responsible for managing their own stay and arrangements. For the finale, one night's stay will be provided for all the qualifiers.
Q5 - If I am unable to qualify from one city, can I still attempt to qualify from another city? Do I need to pay separate participation fees for each round?
Yes, you are allowed to participate in multiple rounds if you are unable to qualify from one city. Participation fees for every round will be separate, and you will need to register again for the next round.
Q6 - Do I need an FMSCI License to participate?
Yes, you can obtain an FMSCI license on the day of the event. To obtain a single-event FMSCI license, you need to bring a copy of your driving license and passport-size photographs. The fee is included in the participation fees.
Q7 - If I am less than 18 years of age, can I still participate?
No, individuals above 18 years of age with a valid driving license will be allowed to participate.
Q8 - How many classes/groups are there?
There are a total of four classes:
Class 1: Professional Overall
Class 2: Amateur Overall
Class 3: Professional Female
Class 4: Amateur Female
Q9 - How do I determine if I will come under professional or amateur classes?
You will be considered a Professional if:
You have ever held an FMSCI full rally license
You have ever participated in a National Championship or National Status motorcycle racing event
You are a podium holder in any local/FMSCI approved races
You have participated in an HDBC Zonal round in Bangalore
Please note that the responsibility of providing correct information on the above status lies with the participant only. If the organizers find out, or a protest filed by other participants is found true, that a participant wrongly declared their group, the participant will be immediately disqualified from the event.
Q10 - Will I get a bike to participate?
All participants in Amateur classes will be provided with an Xpulse 200 4v for participation. All participants in Professional classes must bring their own Xpulse 200 to participate in the event.
Q11 - What bikes are allowed in Professional classes?
Hero Xpulse - All variants are allowed to participate in the competition. No other makes or models are allowed to participate in the event.
Q12 - What modifications are permitted in Xpulse 200 in Professional classes?
All modifications are allowed except for Engine Swap or Chassis Swap.
Q13 - If I qualify for the finale, will I be provided with a bike?
Only Amateur classes will be given a motorcycle to participate.
Q14 - Will I get service from Hero?
Only Amateur Classes will receive service assistance. Professional Classes will need to arrange their own service team if required.
Q15 - Do I need personal high-risk insurance?
Yes, participants are required to have personal high-risk insurance. Normal insurance policies issued in India do not provide cover for racing/motor sports. You must provide proof of such insurance at pre-event scrutiny, or you will not be permitted to start.
HERO XTRACKS TIME TRIAL 2023-24
Throttle Shrottle Moto Ranch
Faridabad - Gurgaon Rd, Baliawas, Gurugram, Bandhwari, Haryana 122003
GET DIRECTIONS
Throttle Shrottle Moto Ranch, Gurugram
Event Guide
Live Sports
Get in on the action
Invite your friends
and enjoy a shared experience