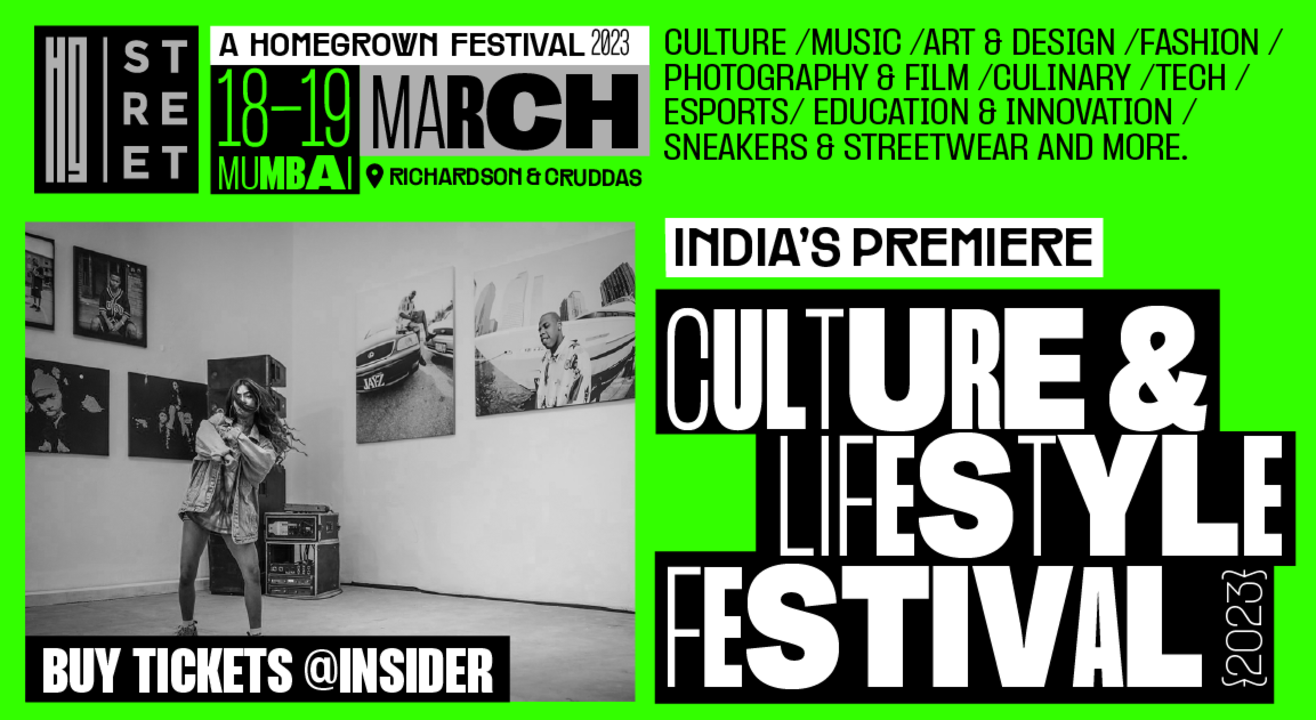 #HGStreet by Homegrown- India's Premiere Culture & Lifestyle Festival
March 18 | 12PM - March 19 | 10PM
Richardson & Cruddas, Mumbai
Invite your friends
and enjoy a shared experience
#HGStreet by Homegrown- India's Premiere Culture & Lifestyle Festival
March 18 | 12PM - March 19 | 10PM
Richardson & Cruddas, Mumbai
Invite your friends
and enjoy a shared experience
Covid 19 Safety Measures
This event adheres to the following

Health & safety measures
Face Masks Required
Contactless Service
Sanitisation before the show
Organisers wear masks
Proof of Vaccination Required
Invite your friends
and enjoy a shared experience
Covid 19 Safety Measures
This event adheres to the following

Health & safety measures
Face Masks Required
Contactless Service
Sanitisation before the show
Organisers wear masks
Proof of Vaccination Required
#HGSTREET - ABOUT THE FESTIVAL:
A first-of-its-kind culture and lifestyle festival in India that will weave Homegrown, South Asian, and global talent to reimagine the fabric that defines contemporary Indian culture and creativity today. It's a platform for exchanges of ideas, and diverse perspectives matched with the energy of next-generation talent. And everybody is welcome - it's space for all ages, perspectives, and interests.
Please note: The #HGStreet festival is wheelchair accessible with ramps for entry & at the washrooms. All signages at the festival are of high contrast colouring too.
More details: HOMEGROWNSTREET.COM
Official Offline Ticketing Partner
LiveFiesta
Mob: 9833070733, 9821261553
#HGStreet is a 2-day festival that is at the intersection of:
Music | Art and Design | Fashion | Photography and Film | Technology | Sneakers x Street culture | Sports | Education | Innovation I F&B and more.
Festival Timings: 12pm -10pm (on both days)
WHAT TO EXPECT? An adventurous playground of various disciplines
A conversation with actor Siddhant Chaturvedi on 19th March
#HGMUSIC: DISCOVER 40+ NEXT-GEN MUSIC acts from India and Los Angeles I 4 MUSIC STAGES | 4 AFTER PARTIES
MUSIC LINE-UP:
Adi | Ahmer | Anoushka Maskey | Akshath | Dappest X Adl | Dj Proof | Emanuel | Hanumankind | Film | Irfana Hameed | Kavya | Kohra | Ksc | Lojal | Mary Ann | Kampai | Nash | Nate08 | Nida | Og Shez | Paloma | Parimal Shias Rae Mulla | Sumit Roy | Ranj X Clifr | Reble | Sahirah | Shahrule | Sickflip | Shia X Zero Chill| Soopy | Sindhi Curry | Spryk | Tsumyoki | Yashraj
& Artists From D36 |LA : Cable | Rahul | She Loves Boon
#HGART: 8 CURATED EXHIBITIONS: ART I DESIGN I 3D AND FUTURE TECH
30+ visual artists | Immersive audio visual installation | Indo-futurism 3D art | AI art | Type Art | | Graffiti/ Street art | Tattoo ink
8+ Visual art and photo exhibits
THE CURATED EXHIBITIONS:
+'Through Their Lens': THE PHOTO EXHIBIT
The curated artists: Farheen Fatima | Shibani Mitra | Lekha Rathnam | Bhavya Pansari | Hunar Daga | Pretika Menon
+'Future of': THE 3D/2D DIGITAL ART EXHIBIT
Reimagined Indo-futuristic spaces/environments, humans/ humanoids, products & commodities
The curated artists: Rishidev | Johnny Ganta | Vabyvel | Vartika Jangid |Sidharth Vohra | EchoFloat | Prateek Arora (AI) | Abhishek Choudhury (AI)| Nidhi Iyer
+'Untranslatable words & the feelings they evoke': THE TYPE PROJECT
The curated artists: EkType | Manav (ManVsType) | Yash Prajapati (The Bearded Jedi) | Kimya Gandhi
+ Stand-alone installations/ exhibits by: Sawant Sanskar | Sumit Roy | Sujat Roy | Sushisurge
#BRANDLABS: 4+ Brand labs with immersive experiences, exclusive launches and workshops
+CASA BACARDÍ
Bringing the Caribbean way of life to Mumbai city! With a main stage that includes international music acts,dance workshops, a screen print shop & much more!
+DEWAR'S STAY CURIOUS HQ
Expect an immersive audio-visual, future-tech experience with 6 visual artists & musicians,mixology workshops & an exclusive t-shirt drop. Stay Curious!.
Immersive audio-visual, future-tech experiences by: ANTARIKSH SANCHAR | ANNIRUDH MEHTA X MYLES | AKANKSHA JAIN
+BREEZER VIVID ZONE
An experiential space to 'PLAY ON' with workshops by Creative Director and Artist Sawant Sanskar, a fun slushy counter, Poke tattoo workshop and emerging homegrown Gen-Z brands, with more in store.
+BUDWEISER
BudX LAB with creator workshops, immersive bars and Main music stage with top tier hip hop , techno & A/V Artists + clothing drop.
+JOHN JACOBS JAZZ RECORD STORE
A cool vinyl jazz record space + John Jacobs eyewear shop that celebrates the rich history of Jazz music through a collection of Indian and International records & intimate vinyl listening sessions.
#HGSUMMIT: FIRE SIDE CONVERSATIONS AND PANELS WITH LEADING CULTURAL AND CREATIVE THOUGHT LEADERS
+ Democratization of Storytelling with OTT
The panel will focus on how the art and process of storytelling has witnessed a democratic transformation since the advent of OTT platforms. With panelists Shakun Batra - Director of Gehraiyaan and Kapoor&Sons, Sonam Nair - Director of Masaba Masaba, Abhay Pannu - Director of Rocket Boys, Nimisha Pandey - Content Chief Officer of ZEE5, Sayani Gupta - Actor - Four More Shots Please!, and Moderator - Smriti Kiran - Craetor, Curator, Development and Creative Consultant.
+ Through Their Lens
Through their Lens' is an exploration into the world of cinema and storytelling through a lens that has long been overlooked. Each of the panelists is, in their own right, reframing the narrative. With panelists Reema Maya - Filmmaker, CATNIP, Anvita Dutt Guptan - Director and Scriptwriter - Qala, Bulbul, Panchami Ghavri - Casting Director, Priya Seth - Cinematographer, Shriya Pilgaonkar - Actor - Guilty minds, Mirzapur, and Moderator - RJ Prerna Nahata of Radio Mirchi.
+ The Evolution & Future of Homegrown Movements
The panel will cover homegrown movements that are currently shaping the course of the artistic, creative and commercial zeitgeist in India as well as across the world with panelists Sakshi Juneja - Co-founder of Gaysi, Pranav Mishra - Co- founder & CEO of Huemn, Richa Shrivastava - Co-founder Maker's Asylum, Aditya Mehta - Founder CEO Art&Found, and Moderator - Aneesh Bhasin - Co-founder of Swami drinks.
+ Navigating The Future Of Homegrown AI
An open ended conversation navigating how technology led innovation is shaping the future with the likes of Midjourney, ChatGPt and more. With panelists Sanvar Oberoi - Ex-Responsible AI for Gov of India, Co-President of AI Club at Stanford University Graduate School of Business and Moderator, Raghav Aggarwal & Abhinav Aggarwal - Co-founders of Fluid AI, and moderator Mangalam Maloo - News Anchor & Asst Editor of cnbctv18india.
#HGACADEMY:
10+ workshops and masterclasses in creativity
#HGSUPPLY:
Shop featuring curated next-gen homegrown 25+ brands
+ NEXT-GEN FASHION SHOW: featuring 10+ homegrown fashion labels on the rise
Johargram I BALAV I Simran Merwah I Blueprint I Two point two I Grandma Must Approve I Walking Vertical
+ GLOBAL SNEAKER AND STREETWEAR MARKETPLACE
Sole Search India I Capsul
+ 15+ homegrown and Mumbai street food pop-ups
+ Mixology and beverage experiences
++ And lot more to be announced in the coming weeks
This festival is accessible++
For more updates and announcements, follow @homegrownstreet on instagram or head to www.homegrownstreet.com
#HGStreet2023: India's Premier Culture & Lifestyle Festival
src="https://media.insider.in/image/upload/c_crop,g_custom/v1678961087/qttpk8ixe7fctsxl9zdq.png">
#HGStreet by Homegrown- India's Premiere Culture & Lifestyle Festival
March 18 | 12PM - March 19 | 10PM
Richardson & Cruddas, Mumbai
Invite your friends
and enjoy a shared experience