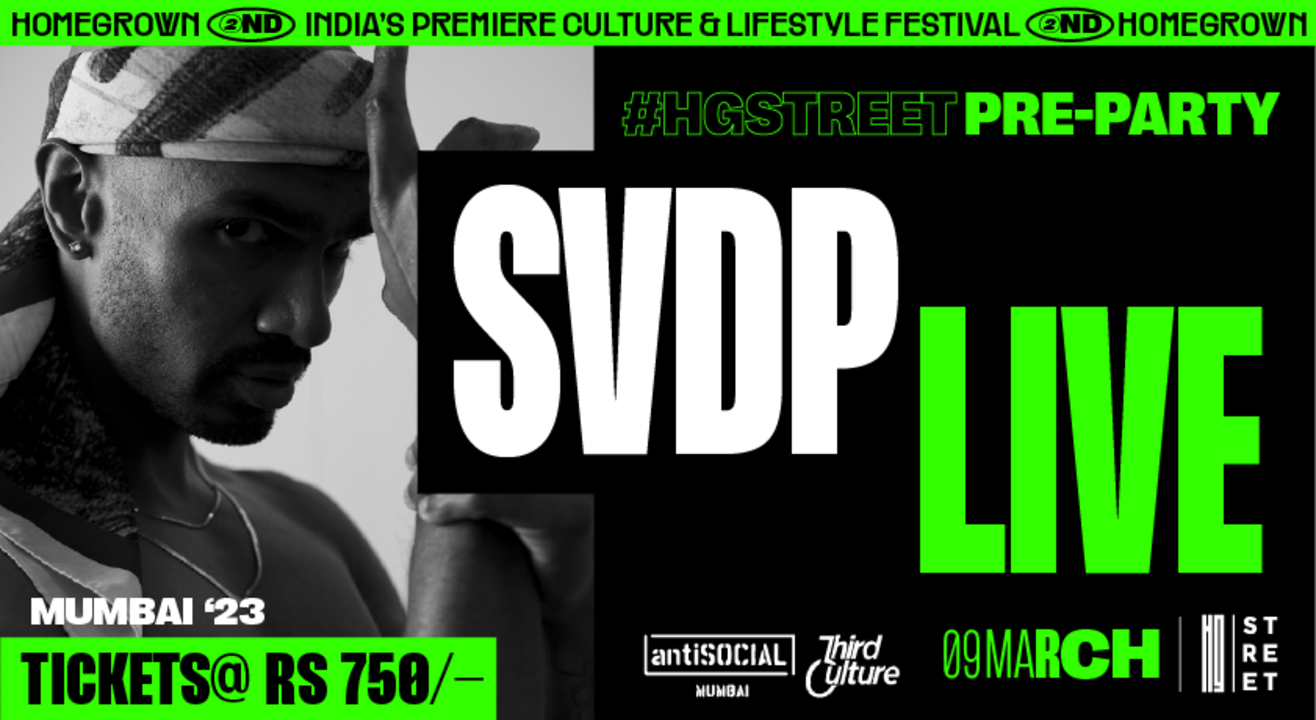 #HGStreet Pre-Party: Shan Vincent De Paul LIVE
March 9 | 9PM - March 10 | 12AM
antiSOCIAL, Lower Parel, Mumbai
Step out and enjoy this event
Invite your friends
and enjoy a shared experience
#HGStreet Pre-Party: Shan Vincent De Paul LIVE
March 9 | 9PM - March 10 | 12AM
antiSOCIAL, Lower Parel, Mumbai
Step out and enjoy this event
Invite your friends
and enjoy a shared experience
Invite your friends
and enjoy a shared experience
Leading up to the HGStreet festival Homegrown is hosting SVDP for a one off exclusive show at Anti Social on March 9th , alongside other acts to be announced.
About ARTIST playing the HGSTREET PRE PARTY : Shan Vincent De Paul : 9TH MARCH - antiSOCIAL, Mumbai
SVDP is an award winning Tamil-Canadian artist based out of Toronto. Having released five solo studio projects since 2016, SVDP has become a notable name in the global hip-hop scene. Known for his versatile song writing and his striking self-directed visuals, SVDP fuses his Tamil roots with his contemporary hip-hop influences.
#HGStreet Festival: The Homegrown Festival : 18/19th MARCH - RICHARDSON CRUDDAS MILLS, Mumbai
Is Homegrown's expression of India's evolving culture movements and voices. #HGStreet is a 2 day festival that is at the intersection of creativity, music, art and design, fashion, film and photography, technology, sneakers and street culture, sports, education, culinary, innovation and more.
TICKET OPTIONS
PRE-PARTY ONLY @ INR 750 | Gets you access to only the pre party on March 9th
FESTIVAL PASS @ INR 1500 | Gets you access to 2 days of the festival on March 18/19 & Pre Party on March 9th
#HGSTREET FESTIVAL PRE-PARTY WITH SVDP
antiSOCIAL, Lower Parel
CS #242, Near Viva Centre, Mathuradas Mill Compund, Lower Parel West, Mumbai
GET DIRECTIONS
#HGStreet Pre-Party: Shan Vincent De Paul LIVE
March 9 | 9PM - March 10 | 12AM
antiSOCIAL, Lower Parel, Mumbai
Step out and enjoy this event
Invite your friends
and enjoy a shared experience