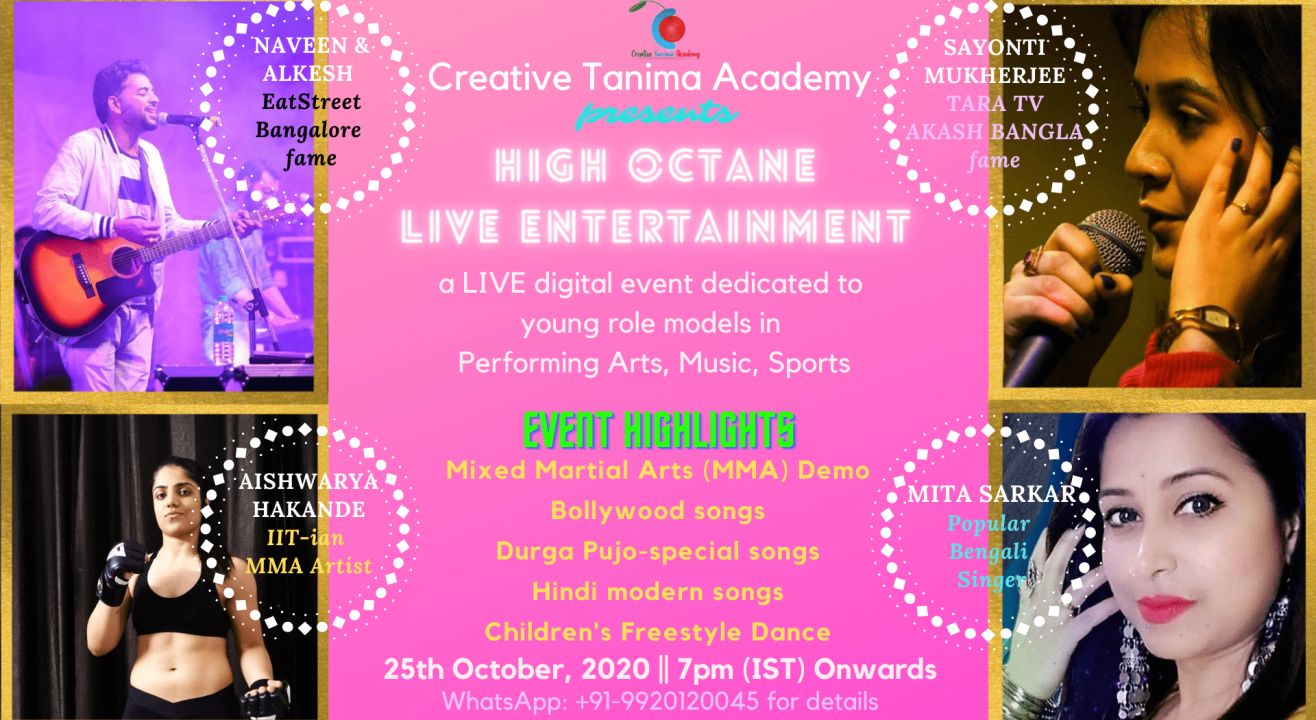 High Octane LIVE Entertainment
Event Guide
Digital Event
Watch on Zoom
For Age(s)
Family Friendly
Live Performance
Enjoy a unique experience
Invite your friends
and enjoy a shared experience
Event Guide
Digital Event
Watch on Zoom
For Age(s)
Family Friendly
Live Performance
Enjoy a unique experience
Invite your friends
and enjoy a shared experience
About the Event
If you're getting bored staying indoors or seeking innovative ways to chill & have fun, this LIVE digital event is perfect for you and will surely leave you wanting for more. We've engineered it with our passion to nurture your inner romance. And in doing so, we will re-imagine entertainment, with you, your friends and family.
We started an initiative to offer online classes in Music, Dance, Yoga, through the format of an Academy, in the wake of the COVID19 global pandemic, in India, when 41% of the creative sector shut down. 53% of the events and entertainment management sector experienced 90% of their business cancelled between March 2020 – July 2020.
During our journey through the process, we received hundreds of messages from human beings from all across India & abroad - expressing their need for inclusive socializing, experiencing LIVE music, meeting new people and getting to know inspirational human beings who are dedicated to being the change that the world wants to see right now.
We listened, handpicked young role models (aged 20 - 40) in their respective domains - Performing Arts, Music, Mixed Martial Arts (MMA), and have put together a LIVE digital event that will also feature a freestyle dance performance by kids (aged 7 - 10) of our Academy.
Profile of our Artists for the event:
NAVEEN HIREMATH
Naveen is the Lead vocalist of band "The Acoustic Saga" - popular in Bangalore, India. He has learnt Hindustani classical music from his mother and Western vocals from a reputed school of music, where he is a teacher of music. He has been a "playback singer" of a Kannada movie and performed in more than 400 shows with his band 'The Acoustic Saga' and 'Indian Ark'. He has toured with the renowned Kannada Music Director - "Hamsalekha" - throughout Karnataka, for music concerts. He was a part of JASON ZAC music album and sung in a couple of devotional albums. He was also part of a Kannada Reality show 'Kannada Kogile: Season 2'.
SAYONTI MUKHERJEE
Since 2011, Sayonti has been a disciple of Padmabhushan Pandit Ajoy Chakrabarty. She also receives tutelage from Shrimati Chandana Chakrabarty, Shri Anol Chatterjee, Shri Ayan Banerjee and learnt Nazrulgeeti from Shri Sanjay Bhattarcharya. She has performed at the famous Thumri festival, Kolkata, in 2019; 10th Banga Sanskriti Utsav, Kalyani; performed at TAJ BENGAL with Pandit Ajoy Chakrabarty at the Sesquicentennial celebration of Shapoorji Pallonji; performed thrice at Tuesday Concert, SHRUTINANDAN
She has won the prestigious Aninda Mitra Purashkar and has been awarded with the scholarship. She secured 1st position in relevant category of vocal music in Banga Sanskriti Utsav; 1st position in relevant category of vocal music in 37th Barshik Mukangan Pratiyogita (Kolkata); 1st position in relevant category of vocal music in Yuba Mela (Kolkata); 1st Prize in Senior category for vocal music in a national level singing competition organised by Techno India; received Certificate from Rajya Sangeet Academy - West Bengal
She has also recorded a song for Ragranjani and has performed several times on TARA TV and AKASH BANGLA
AISHWARYA HAKANDE
Aishwarya is a B.Tech graduate in Computer Science & Engineering, Indian Institute of Technology (IIT) Kharagpur, Class of 2017. She is an inspirational Youth Role Model dedicated towards promoting womens' involvement in Sports and Games.
In 2019, she won a Pro Mixed Martial Arts (MMA) Fight organized by Boom Indian Premier Fighting League with "Pro MMA record 1-0-0". She won 1 GOLD under 68 kg and 1 GOLD open weight at the Open Asian Federation Brazilian Jiu-Jitsu; GOLD in Karnataka State Brazilian Jiu-Jitsu. In 2016, during her Engineering studies at IIT Kharagpur, she was awarded the First Institutes Girls sports nominee in Gymkhana, IIT Kharagpur.
In 2015, she won BRONZE in Discuss Throw at the Inter-IIT Athletics. During 2013 to 2016, she was the Inter IIT AQUATICs Captain. In 2010, she was a State-level Swimming player in the Indian state of Maharashtra; District-level player in Cricket (team Captain), Volleyball and Kho-Kho; won Aurangabad Divisional GOLD in Discuss Throw and SILVER in Shotput
In the event, she will present a demonstration of MMA and for the first time in the history of LIVE entertainment in India, we will witness a woman sportsperson showcasing her talent at a digital event curated by Creative Tanima Academy.
MITA SARKAR
Mita is a popular Singer and stage show performer from Kolkata, West Bengal. She is popularly known as the nightingale of Kharagpur, a small town in West Bengal, and is a sought-after performing artist by the popular FMCG brands in the largest District of the State. Mita has won millions of hearts with her unique style of singing and melodious voice and excels at enthralling the audience with her simple presence and powerful performance. She has also earned a reputed position with TAPATI Studio, a popular media & entertainment brand in West Bengal. She has nurtured her passion for singing ever since she was 12 years old and has performed at 1000+ LIVE shows all over Bengal at popular festivals and events.
Showflow:-
Subject: Artists will perform and present their creations - Singing, MMA Demonstration, Dancing. The event will begin with peppy performance by Naveen & Alkesh, followed by melodious musings by Mita, high-octane MMA demonstration by Aishwarya and enchanting encounter of Sur & Taal by Sayonti. The event will end with an energetic dance performance by kids aged 7 - 10.
Re-Imagine Entertainment: Viewers will interact with the Artists during their slot of performance, by positively engaging in creative conversations - with an intent to understand the mind-space of the Artists and get a 1st-hand perspective about the process of creation.